Indeed Hospitality Trends 2019 vs 2022: A Two-Fold Crisis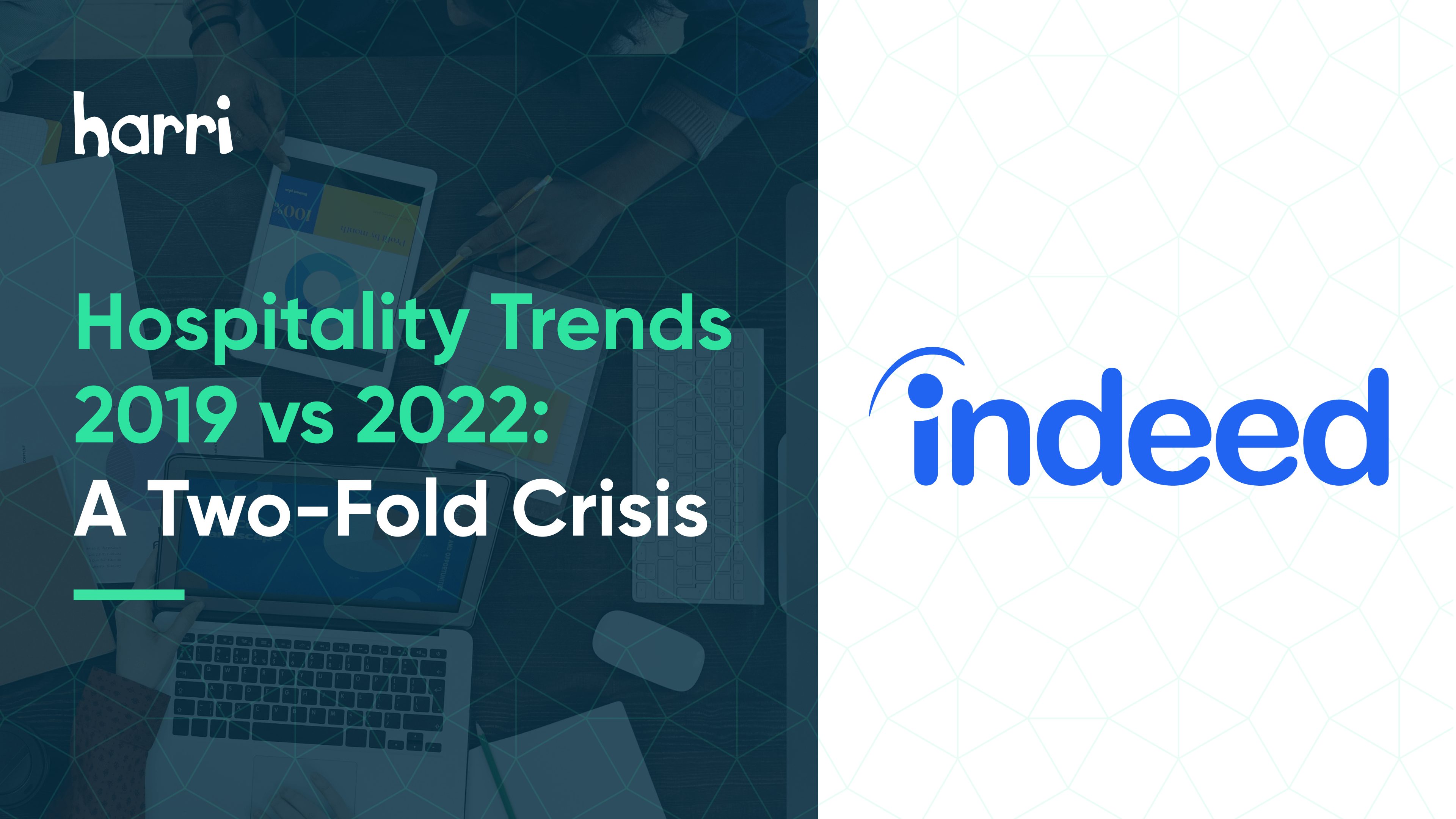 The hospitality industry is experiencing a shortage of skilled front-of-house staff and chefs, as workers continue to quit their jobs en masse. While this was both inevitable and unavoidable, it looks like things could be far worse than imagined. 
Our partner Indeed – one of the top job search websites in the world – recently published a report comparing hospitality job statistics in New York from 2019 and 2022. The findings reveal a two-fold crisis on our hands relating to assistant managers and recruitment managers.
Assistant managers 2019 vs 2022
As of March 2022, there's been a 12% increase in assistant manager jobs posted in New York compared to 2019. But there are now 27% fewer applicants, despite the attractive salary on offer. If hospitality businesses don't have assistant managers in place to lead change and guide front-line staff, it can cause gaps in areas like training and progression. That's why you need to rethink the way you recruit, so you can attract and identify the very best candidates (more on this soon!).
Recruitment managers 2019 vs 2022
With hiring activity finally picking up after the pandemic, it's no surprise that there's been a 50% increase in New York-based recruitment manager jobs this year. Despite this, there are 47% fewer applicants for the role. This could indicate that these people sought work in other sectors, such as retail. What's more, bringing them back could prove costly in terms of time and money. But what if you don't have to?
It's time to rethink recruitment
Indeed's report also revealed that in 2022, 60% of candidates are viewing job ads on their phones. This is a reminder to the industry that mobile recruitment is the way forward – and that's where Harri comes in. Our convenient mobile solutions enable managers of all kinds to recruit, hire, manage, and engage their teams from the palm of their hands. 
Using the Harri Hire™ mobile app (available for iOS and Android), you can: 
Create and manage job postings 

Discover top hospitality talent and invite them to apply to your open positions 

Communicate with applicants on the go 

Keep track of interviews, and conduct them from your mobile 
Stay connected with your people
When your new hires are onboarded, stay connected with them via the Harri TeamLive app (also available for iOS and Android). Once downloaded, managers and their teams can keep track of company goals, status updates, schedules, and so much more – all from a single dashboard. 
Ready to transform the way you recruit and retain your people? Download these free apps today and stay connected wherever you are!
Receive content that matters to you
Want to receive more exclusive content like this? Become an Insider and gain unlimited free access to the latest labor-related research, panels and trends.