Employee Referrals: Source the Best Talent from Your Best Talent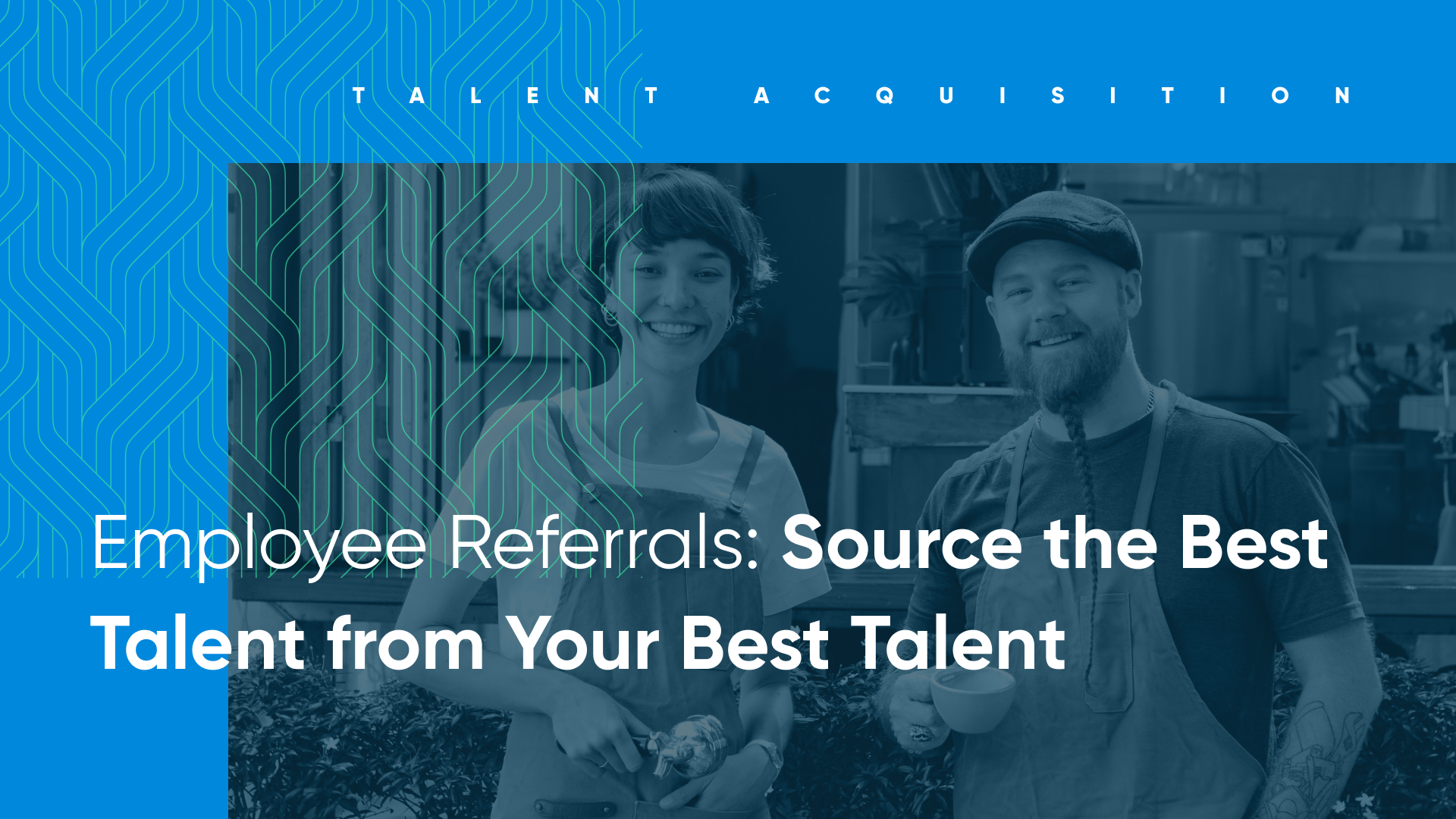 This blog covers the Harri Talent Acquisition Suite. Dive deeper into each of our hospitality-driven talent acquisition products below:
By now we're all well familiar with the labor shortage. Brands are getting creative with their talent acquisition efforts, and employee referrals have risen as a leading strategy to hire star employees.
According to Drafted's 2020 Employee Referral Programs Benchmark Report, 88% of employers say that referrals are the most effective way to hire with 70% of employers agreeing that employee referrals make a great culture fit. 
Not to mention that 45% of referred hires stay more than 2 years (more than any other source of hire).
What does that tell us? Referrals produce quality talent that's pre-screened to a certain extent.
Whether you're trying to hire someone quickly or find a lasting team member (realistically, you're probably looking for both), employee referrals are an integral part of your talent acquisition strategy. 
Hospitality is about its people
It's no secret why referrals are so successful. 
Half of the employee experience hinges on a worker having positive interactions with their teammates and managers. Giving candidates and employees the ability to essentially choose their colleagues is a big win for both parties. 
Think about it this way: realistically, most of your frontline workers don't plan to stay with you long-term for financial reasons unless you have a transparent career progression plan lined up. Even then, you're prone to losing workers if a competitor can offer higher wages.
But when working with friends or relatives, employees are less likely to rush out the door. Great teamwork can encourage them to stay,  just like a positive company culture boosts retention. At the end of the day, talent attraction and retention are all about creating an amazing people experience.
And because your workers are bringing someone into the brand on their own merit, they're much less likely to refer someone who is a bad cultural fit or will drop off after a few months.
What does a hospitality employee referral program look like?
Examples of hospitality referral programs can range from one-off benefits to long-term, progressional rewards.
Setting up the plan
The first step to setting up your referral program is defining award criteria.
To give an example of what this might look like, say you have two employees, Vivian and James. Vivian refers James into your business to work as a line cook. Once James has been at your business for 3 months Vivian will receive a thank you bonus of $100.
Referral program criteria have two major benefits: First, they ensure that both the referrer and the referee stay with your business for a certain period of time. Second, they encourage long-term retention for the referred employee — that's because unexpected employee drop-off is most likely to occur within the first 90 days of employment. 
Define your referral rewards
How will you reward your employees for referring a new team member? Will you reward the referee as well?
Offering flat cash bonuses and free PTO days are common rewards. You may consider donating to an employee's preferred charity or cater a free meal from your brand for the employee to enjoy with their friends or family.
Some brands have even set up referral tiers to encourage multiple referrals per employee.
In an employee referral tier, a team member might earn $50 for their first referral, $50 and an extra PTO day for the second referral, and $75 for their third referral. These rewards might reset annually or after every quarter.
If you take the tiered referral approach, make sure to keep rewards attainable! An employee is unlikely to refer 10 new team members per year, so setting the bar too high might discourage them from going the extra mile.
Examples of restaurant employee referral programs
Hospitality referral programs come in many different shapes and sizes! They might be corporate-determined or subject to whatever a franchisee is willing and able to offer. 
Here's how industry giants are tackling referral schemes:
Chick-fil-A:

cash bonuses ($25-$100) per referral depending upon how the referred employee stays with the business 

Chipotle:

$200 cash bonus for crew members and $750 cash bonus for managers

Wendy's:

$100 cash bonus for every referral

Shake Shack:

$500 cash bonus if the referred employee stays 6 months
Inform your team
Ramp up those internal marketing efforts and let your team know about the program and its rewards as well as who they should contact when they find a referral.
Are there any challenges with employee referral programs?
Yes! Even the most successful employee referral program isn't without its challenges. Operators should be aware of two major roadblocks that can damage the effectiveness of their recruiting efforts as well as ham team morale.
Issuing timely payments
For hospitality brands that don't automate their employee referral programs, rewarding team members can prove challenging.
But if an employee expects to receive a reward on their referred team member's 90th day on the job they're going to expect a timely payout.
Failing to deliver on your promises can discourage employees from proactively seeking new referrals and can even decrease retention.
Tracking employee referral programs
Having an employee referral program in place is all well and good, but for a truly successful referral strategy, you need to track the success of your program.
Which employees/locations are bringing in the most referrals? Do referrals actually stay with the company for extended periods of time? What are the retention rates of employees who received referral rewards? Which social media platform tends to bring in the most referrals?
As we navigate a worsening labor crisis, operators need to understand these metrics to ensure an effective employee referral program.
How to set up an employee referral program with your HCM tech stack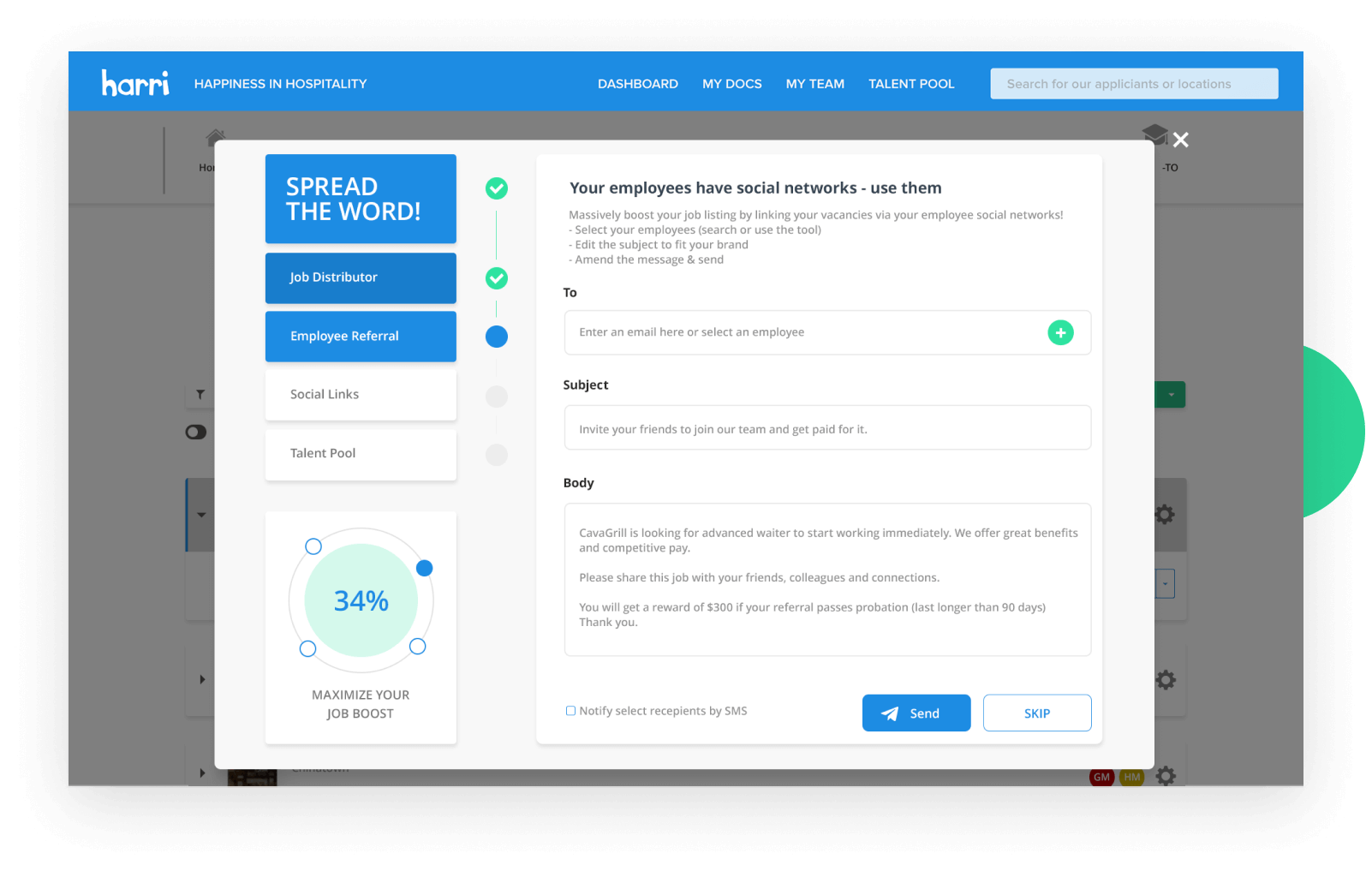 Because employee referral programs touch many aspects of human capital management, like employee start date and payroll, working with an all-in-one HCM platform is the best route to creating and automating a successful referral program.
Automatic employee referral payouts
Setting up and managing an employee referral program should be just as easy for your managers as it is for your employees to refer a friend. But as we mentioned earlier, keeping tabs on every employee referral start date, payout date, and reward tier can be challenging — especially if your brand has hundreds of incoming referrals across all locations
As part of our Talent Acquisition Suite, our customizable hospitality employee referral programs pull every key HCM data category into your referral database. 
That means your referral program connects in real-time with key data like:
Employee start date (for referred employees)

Employee referral number per X time period (for employees making referrals)

Employee payout method (for employees making referrals)
So as long as the referred employee is in your system until your pre-defined referral deadline (for example, 3 months), then your team members will automatically receive their rewards as soon as the deadline is hit using their preferred payment method.
Not only is this a huge burden off of your managers, who otherwise would need to keep track of every new employee's time with your company but it ensures accurate payouts while fostering trust and retention in your team.
Give employees more ways to share
The success of your employee referral program hinges on your team's ability to effectively share new opportunities. That means providing them tools beyond just word-of-mouth.
One reason why enterprise restaurants love our employee referrals program is because it provides multiple, trackable channels to market your referral efforts.
Social referrals are one piece of the puzzle. Harri will generate a custom link for all employees that wish to participate in the program. All they need to do is share the link on their social media channels (or via email/text!) and any signups will automatically be attributed under that employee's name. Thus streamlines the process of social referrals for employees and For prospects that prefer a more direct approach, Carri, an AI-powered conversational ambassador, can be directly integrated into your employee referral program to enable text-to-apply functionality. As soon as someone texts the number, they will be initiated into a text-based application submission process, screening questions included, that can be completed in minutes. During the process, candidates will be asked to give the name of their referrer, if applicable. If this step is accidentally skipped by the prospect, they can ask Carri to amend it into their application or a manager can manually adjust that on the back end.
Track key employee referral metrics
Your employee referral program is set up, but the work is far from over. To optimize employee referral programs, Harri empowers operators to understand where and how top-quality referrals are coming in, then double down on efforts to keep them inbound.
Say you have 3 locations…
Location 1: Consistently brings in new employees via your referral program, and those employees stay with your business for long periods of time.
Location 2: Consistently brings in new employees via your referral program, but those employees tend to drop off early.
Location 3: Only brings in a few employees via your referral program here and there, but when they do, they stay for long periods of time.
Smart operators would dive deeper into the data to perfect their employee referral programs.
Perhaps location 2 would perform better by extending the referral program deadline to 6 months and promise a small bonus for the referred employees as well. 
Location 3 might benefit from an internal marketing campaign showcasing cultural aspects that might appeal to their friends or family members. If possible, perhaps the referral bonus can be increased slightly.
To dive even deeper, what types of employee referrals are most successful? Are social referrals king, or do prospects prefer your text-to-apply number? Understanding these metrics can be used to raise the bar for underperforming channels or double down on your most successful ones. From there, you can even provide additional rewards to top-performing employees if necessary.
There are countless ways to optimize your employee referral program, but they won't be revealed unless you can zoom out and view the data no matter how large your business is.
Source the best talent from your best talent
Implementing a fully integrated employee referral program is an extremely strong restaurant talent acquisition tool that shouldn't be slept on. As brands fight over existing talent during the labor shortage, it's all hands on deck to secure new team members.
Ready to see how our automated employee referral programs can be easily set up across your brand? Reach out to one of our hospitality professionals to learn more.