Inside Gregorys Coffee: Transforming the Candidate Experience

Gregorys Coffee is a fast-growing coffee roaster and retailer on a mission to establish and cultivate a community of people who see coffee differently – or in their words, to "get specialty coffee into the hands of more people." Founded in 2006, the specialty coffee brand already has over 35 locations across New York, New Jersey, Connecticut, and Washington, D.C. – and shows no sign of slowing down. 
Their ever-expanding team of managers have been using our suite of solutions to source, interview, and onboard talent while complying with Fair Workweek laws. To learn more about their experience with Harri, we spoke with VP of People, Jessica Day.
Q: We've heard you have a great relationship with your Customer Success Manager, Jovan. Can you tell us more about that?
Jessica: Gosh, Jovan is the best. The Customer Success team is very responsive and always has a quick turnaround time. Jovan has been very helpful to us. He provides excellent and informed advice. Sometimes, I'll throw an idea out there and share something I'm thinking of doing, and he'll say, "Let me speak from experience and give you a few other options that will achieve that." I really appreciate that sort of counseling. It never feels like the work we're doing together is difficult or a pain. I'm currently revamping our recruiting and onboarding processes, and infusing the brand into our candidate experience – Jovan has been helping me with that. My employees and I love Jovan. I mean, we sent him a Christmas gift – that's how much we love him.
Q: How does Gregorys' employer branding play a role in the applicant experience?
Jessica: If you engage with the Gregorys brand, you're going to see our "we see you" language everywhere. We have decals and hats that say, "we see you," and progress pride flags on the doors of our stores. 
I've been building out the employee experience, branding it as "see me," which is very specific and unique to the individual employee. The vision for this is that the "see me" platform is going to have three different pillars underneath. One pillar is skills training – you've got to know how to do your job, but it's okay if you don't know much about coffee and it's okay if you've never been a barista. We can teach you. The other two pillars heavily emphasize mental health and emotional well-being as well as diversity, and inclusion. When you come into the Gregorys fold, we see you. As an employee, you get to raise your hand and say, "I want to be seen."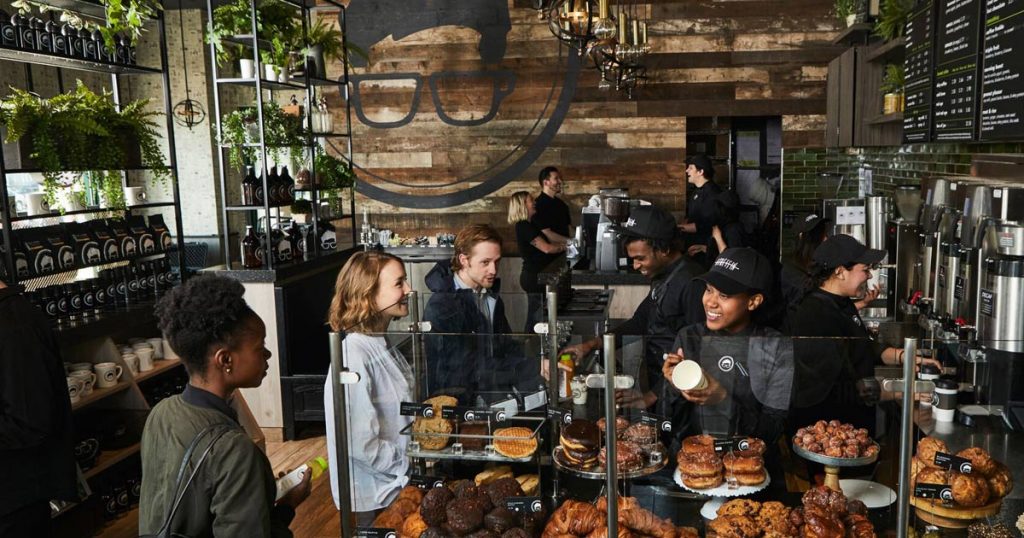 Q: Can you share what it's like to use one system for hiring and managing your team?
Jessica: I've used a few different systems in the past and each one claims to do it all. Harri is exactly what we need right at the time that we need it. I'm leveraging Harri to be our center of record. When any employee changes occur, Harri will reflect them. If there's anything from a compliance perspective, any form of documentation, or a record we need on the employee, we're funneling that all into Harri. 
We have Harri linked to our careers page, and for me, it's super helpful that it drives people automatically into the ATS. I love that from pre-hire all the way to living, breathing employees, Harri is our system that captures everything. 
Q: Gregorys has had a lot of growth recently! How have you leveraged Harri to support new openings?
Jessica: We're in the midst of three openings right now – we're moving really fast. We have an opening coming up in Connecticut in the middle of May. I'm so excited because we had an applicant that we were able to onboard very thoughtfully in advance. We've trained him how to use Harri so now, he can turn around and start the applicant flow of hiring his own barista team with minimal oversight from me. 
Through the lens of HR, I have the process and the interviewing question bank in place, and he understands how to leverage the system. I don't have to micromanage recruiting at the store level or new store openings because the manager is empowered with the tools to do it. Harri is so common in this industry that there's a wide pool of potential candidates already.
Q: How have you been able to transform your candidate experience?
Jessica: Having a one-stop shop has transformed the candidate experience. There's nothing more frustrating to a candidate than having to apply in multiple places and upload their resume in several different ways. In the food and beverage industry, many people are applying to Gregorys as their first job. When the process is difficult – and difficult could mean too many buttons to click – you lose people. We work with our hands and we work directly with people. This is a deskless job, so when something feels administrative or bulky through the lens of technology, it doesn't work for the type of candidate that we're really seeking to hire. 
Harri makes it simple for candidates to apply. Once candidates have applied, they're in our system. There's an app for Harri TeamLive, which everyone is familiar with and understands well. I think having a one-stop shop for the whole experience is really nice for the applicant. It makes our new hire experience seamless.
Q: How efficient would you say your interview process has been for candidates?
Jessica: We've gotten better. We just rolled out our new standardized interview process. I'm really keen to implement principles that I've learned throughout my career. So, if you need multiple perspectives on a candidate, what would it look like to collapse that and view it all at once? In Harri, you can see all the information you need while also protecting the candidate – we don't have to ask them to show up multiple times for multiple interviews. That's really thoughtful and compassionate. We don't want them to have to uproot their schedules, so I think we're trying to make the process as easy as possible for a candidate.
We're respecting their time, respecting the fact that if you're applying for a role as a barista, you probably really need a job, so how can we make that process quicker? At the same time, we can't hire everyone, so we also ask ourselves how we can be very thoughtful to ensure someone wants to continue to be our customer or perhaps apply again in the future. 
The phrase I use constantly in food and beverage is, "We've got to leverage technology to eliminate pain points and not to replace human connection." 
Harri frees us up to be so efficient that we're really able to engage and humanize hiring and managing our team – it's easy and seamless.
Do you want to speak to an employee experience expert about your business priorities? Connect with us here!