5 Tools to Optimize Employee Scheduling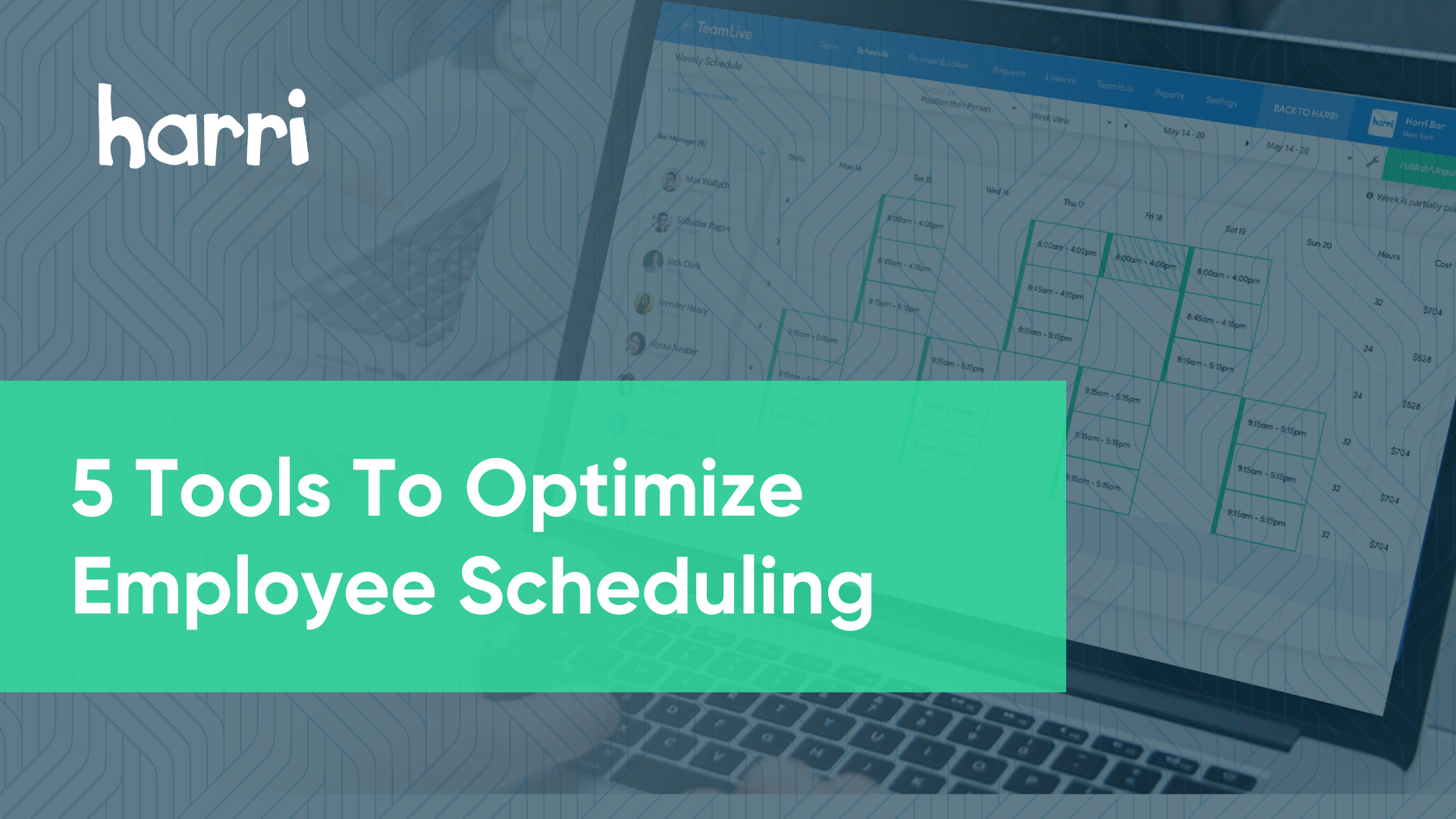 Employee scheduling is essential to running a successful business. But getting it right can be challenging – especially when it comes to hourly workers. You need to consider your budget, overtime, availability, and local labour laws when scheduling staff, which can be incredibly stressful for managers to handle alone – but it doesn't have to be. 
What is employee scheduling software?
As the name suggests, employee scheduling software is part of a workforce management platform that enables employers (or anyone for that matter) to effortlessly manage their hourly workers. The technology is particularly valuable in the fast-paced hospitality sector, where shift working is common, and effective time management is key. 
Why use employee scheduling software?
Employee scheduling software allows managers to track staff attendance, create shift assignments, manage holiday requests, and improve employee engagement quickly and easily. And that's not all it can do. Let's dive into the specifics. 
1. Shift management and rules
Ensuring you have the right number of employees, with the right skills, in the right place, at the right time is a complicated task – unless you take advantage of tech. Good employee scheduling software enables you to easily configure and define shift-related rules for clocking in and out, flexible shifts, and employee-driven swaps. Some tools even auto-fill shifts based on employee roles and availability, while factoring in swap requests, breaks, and labour costs – saving you the headache.
2. Wage and hour compliance
In addition to scheduling based on availability, businesses need to ensure payments and working hours are in accordance with local labour laws. An employee scheduling software solution guarantees compliance with ever-changing regulations around wage and hourly requirements, so you can monitor and define working hours, breaks, wages, and overtime – all from a single platform. 
3. Leverage historical data
A data-driven approach to employee scheduling can revolutionise your operations – that's why managers across the globe harness employee scheduling software. These platforms can leverage historical data, employee skills, and team availability to enhance operational efficiency, inform labour needs, and maximise sales. This saves hours of administrative work with schedules that drive optimal performance. 
4. Revolutionary integrations and features
In today's technologically advanced world, employee scheduling software comes equipped with game-changing features, including point of sale (POS) integration and time-tracking tools. These ground-breaking additions provide access to real-time sales data and inform managers of employee working behaviours as they happen – such as early or late clock-ins and attendance. 
5. Mobile apps 
Employee scheduling platforms often include mobile applications for convenient, on-the-go shift swaps, pick-ups, approvals, alerts, and communications. Plus, mobile apps help managers to stay connected with their teams via direct or group messages, which can improve employee engagement and retention. This is particularly important with the current shallow talent pool – as sourcing and hiring employees is more difficult than ever.
Intelligent scheduling with Harri
Employee scheduling doesn't have to be a full-time job. Our intelligent scheduling platform saves managers time (and employers money) by streamlining labour management and ensuring compliance with local labour laws. Book a demo with one of our employee experience experts today to see how it could work for you. 
Want more content like this in your inbox?
Subscribe to our newsletter for free content delivered directly to your inbox every single month. Harri Insider is your one-stop shop for the latest labour-related news, essential panels, industry trends, and more!