Employee Intent to Return: Health and Safety at the Forefront of Consideration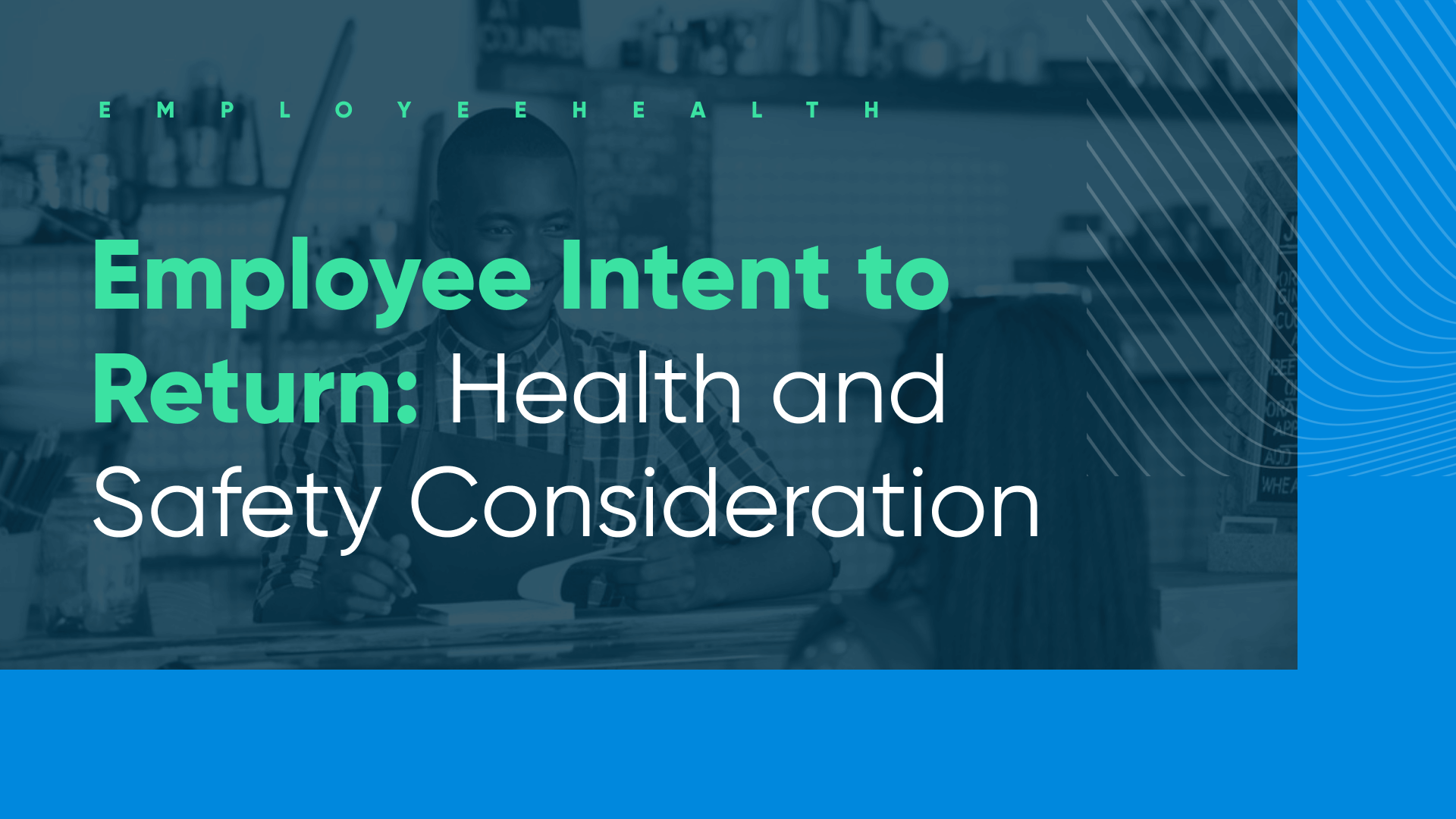 Danny Klein, Director of Digital Content at QSR Magazine, recently published an article raising the question of if hospitality employees will actually return to work following COVID-19. With over 35 million Americans (and counting) filing for unemployment, the answer may not be so clear. The restaurant and hospitality industry has accounted for a majority of furloughs and layoffs since COVID-19 started. The rhetoric is, employees who are receiving unemployment benefits are making their 40-hour-a-week salary, as well as an additional $600 a week as part of the stimulus bill. These benefits can account for a minimum of 160% of their typical wage, but could be as high as 270% in some states. Considering unemployment and stimulus, if an employee was working 35 hours a week at $14 per hour, he or she has the potential to make their entire year's earnings in as little as four months. Although, Harri recently produced an employee impact survey that articulates a harsher reality. The general fear is that furloughed, laid off, and potentially new employees will not be in a quick desire to go back to work, and this is elevated by concerns for safety. The intent to work looks bleak, but providing employees with transparent and innovative safety measures is the key to success. In choosing your methods, remember not all health and safety precautions are created equal.
What does our research say?
Employer and employee impact survey results
Since the start of COVID-19, the restaurant industry has lost more than three decades worth of jobs. Black Box Intelligence, leaders in data and insight, found that 25% of furloughed and 67% of laid-off employees are not planning on returning to their former employment if given the opportunity. Our recent survey on COVID-19 employee impact found similar results. The survey was composed of over 8,000 respondents in the hospitality industry. Our research found that of the 73% of respondents who reported to be currently unemployed (furloughed or laid-off), only 46% said they would be "very likely" to return. There is palpable discomfort impeding on employees' intent to return to work. With so much hesitation, employers need ways to ensure safety and reestablish trust. 
In the same survey, we found that 74% of respondents claimed they were not making any more money on unemployment benefits than they typically would. This statistic is drastically at odds with the assumption that unemployment and stimulus checks alone will dissuade employees from returning to work. Despite the need to work, it is troubling that over half of those surveyed still did not claim to be "very likely" to return. This most likely has to do with a fear for personal safety rather than a preference for the unemployed lifestyle. 
With the concern for safety comes the importance of clear and consistent communication. In our survey, 59% of respondents claimed that their previous employer has not been in constant contact with them. 71% reported that they were not being updated on reopenings. Communication builds trust and accountability with employees. There is ambiguity and uncertainty coming from every angle, one's employment status should not be one of them. With regards to health and safety, the path of these practices is only as good as what you can communicate. Keeping your employees informed on changes, news, and procedures is a way to keep people involved, even while at home.
How does employee health and safety play a role in ensuring trust and ultimately retainment?
Implementing efficient health checks
When it comes down to it, restaurants have to make an investment in being a safe space. Many restaurants are implementing mandatory PPE usage, increased sanitation methods, and employee health screenings to combat uncertainty and instill a sense of ease. These are changes people can see, and seeing is definitely believing. Although, cultivating a sense of security for your employees can be challenging when there is so much fear.
As part of the CARES Act's Pandemic Unemployment Assistance Program (PUA), employees can be more particular about what quantifies a "safe work environment". Employees can refuse work and continue to collect unemployment if they claim that their business is providing them with unsuitable working conditions. This complaint would then have to be filed through OSHA and can become a liability for businesses that are suffering already. In our employer impact survey, 61% of respondents felt that they had a "somewhat understanding" or less of PUA, another detriment to rehiring confidently. With employers not fully comprehending this program, it becomes difficult to combat the hesitations in an employee's intent to work.
Another complicated element is what qualifies as "substantial changes". This varies on a case-by-case basis. For instance, in Iowa a 25-30% pay cut could justify an employee collecting unemployment benefits if they quit. Making work environments as safe as possible to ensure employees feel confident is the paramount challenge for employers to navigate. The only way to empower an employee's intent to work, despite any benefits he or she may be receiving from unemployment or related claims, is to prove that his or her health and safety is your top priority.
Harri Health Check Platform
Rebuilding confidence, together
One way to prove to your employees that you are aware of their concerns for personal safety is to implement daily employee health checks and screenings. The importance of these procedures has been made more apparent across the United States. More and more states are implementing some form of employee health screening tool as states begin to reopen. These practices build transparency and accountability that your employees are privy to. A proper health screening tool should be easily administered and time efficient. We have developed our own screening platform easily accessed through the Harri Live mobile application. The Harri Health Check Platform utilizes screening questions from the CDC to ensure that every employee is symptom-free before entering the workspace. Through our platform, an employee or manager can:
Utilize our mobile apps to access the employee health check

Quickly log symptoms at the touch of a button

Efficiently capture temperatures before employees enter the workplace

Audit health checks at the unit, area, and enterprise level

Receive proactive alerts when an employee fails a screening

Generate a Health Check summary to be displayed for customers or attached to your delivery orders for peace of mind
Through transparent health screenings, you eliminate any ambiguity to your employees. Our platform is meant to keep that line of communication open and available. Together, we can empower employees to return to work knowing that they will be taken care of and safe. At Harri, we are working to demonstrate that the hospitality industry is a 'people first' business, and that begins with employees.