Fair Workweek: By The Numbers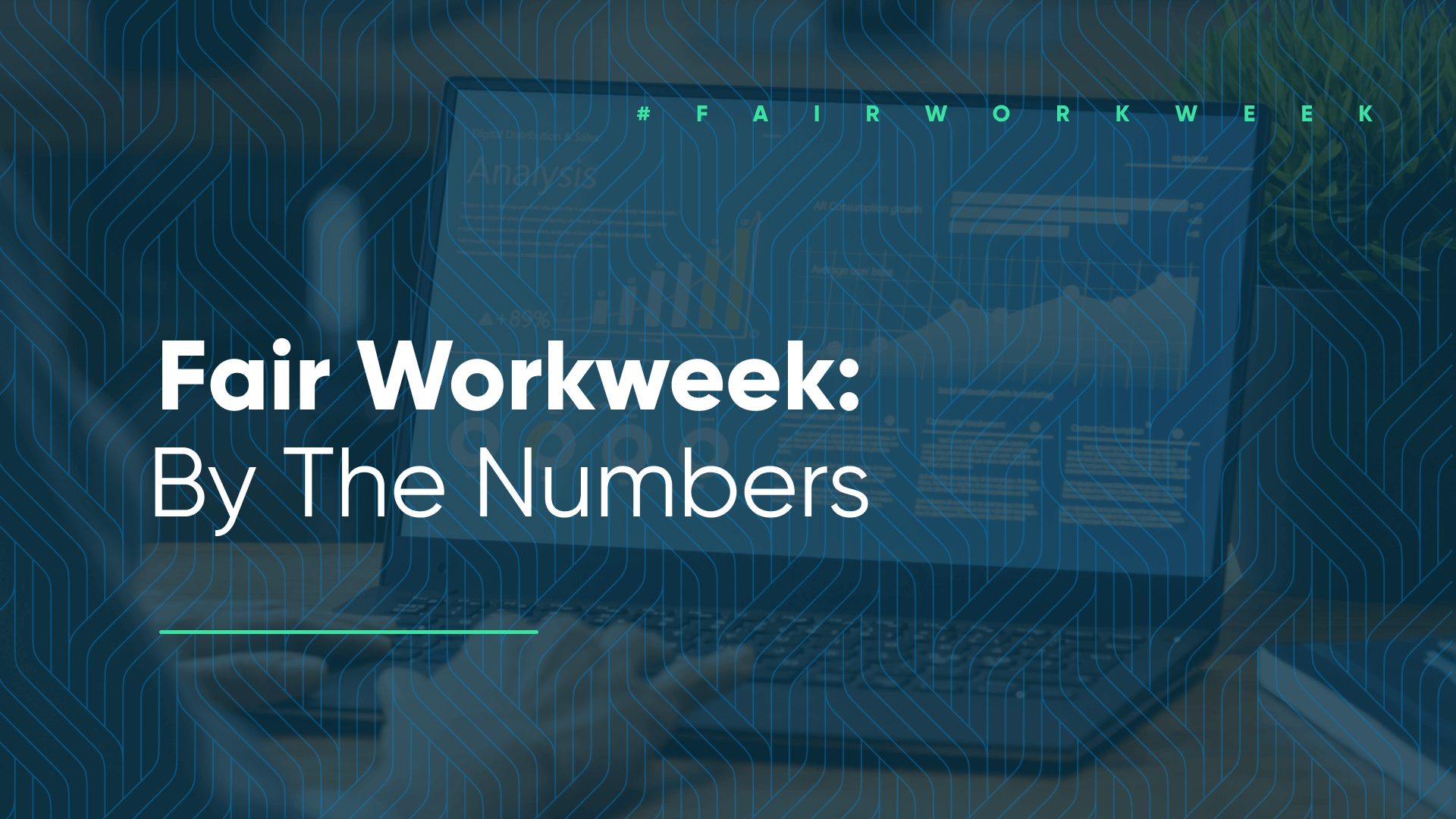 In July 2020, more cities across the country will be implementing these predictive scheduling laws. With all the good these laws aim to do, there are inevitable challenges for businesses. Proving compliance and carefully following each step to ensure not having to pay a fine can be complicated. The ramifications for not following the new ordinances can lead to penalties and restitution. Your business needs a solution to mitigate compliance risk, but our numbers provide a sobering reality. We collected Fair Workweek data to understand top business needs and find the best solution available.
What happens when Fair Workweek is implemented?
In March, we released our 2020 Hospitality and Food Service Fair Workweek Readiness Survey. The survey consisted of restaurant operators from over 45,000 employees and  about 5,300 restaurant operators. We wanted to see how this Ordinance will directly impact businesses in the more than 26 cities across the U.S. proposing predictable scheduling laws.
Our Fair Workweek data results found:
37% percent experienced labor costs increases ranging from 3-9%

To counteract rising labor cost, 41% reduced employee hours while 12% eliminated jobs 

51% reported a significant increases in weekly time spent by managers creating compliant schedules and 40% accounting for premiums in payroll and reporting workflows
The following graphic details how these indirect costs are affecting businesses attempting to be compliant: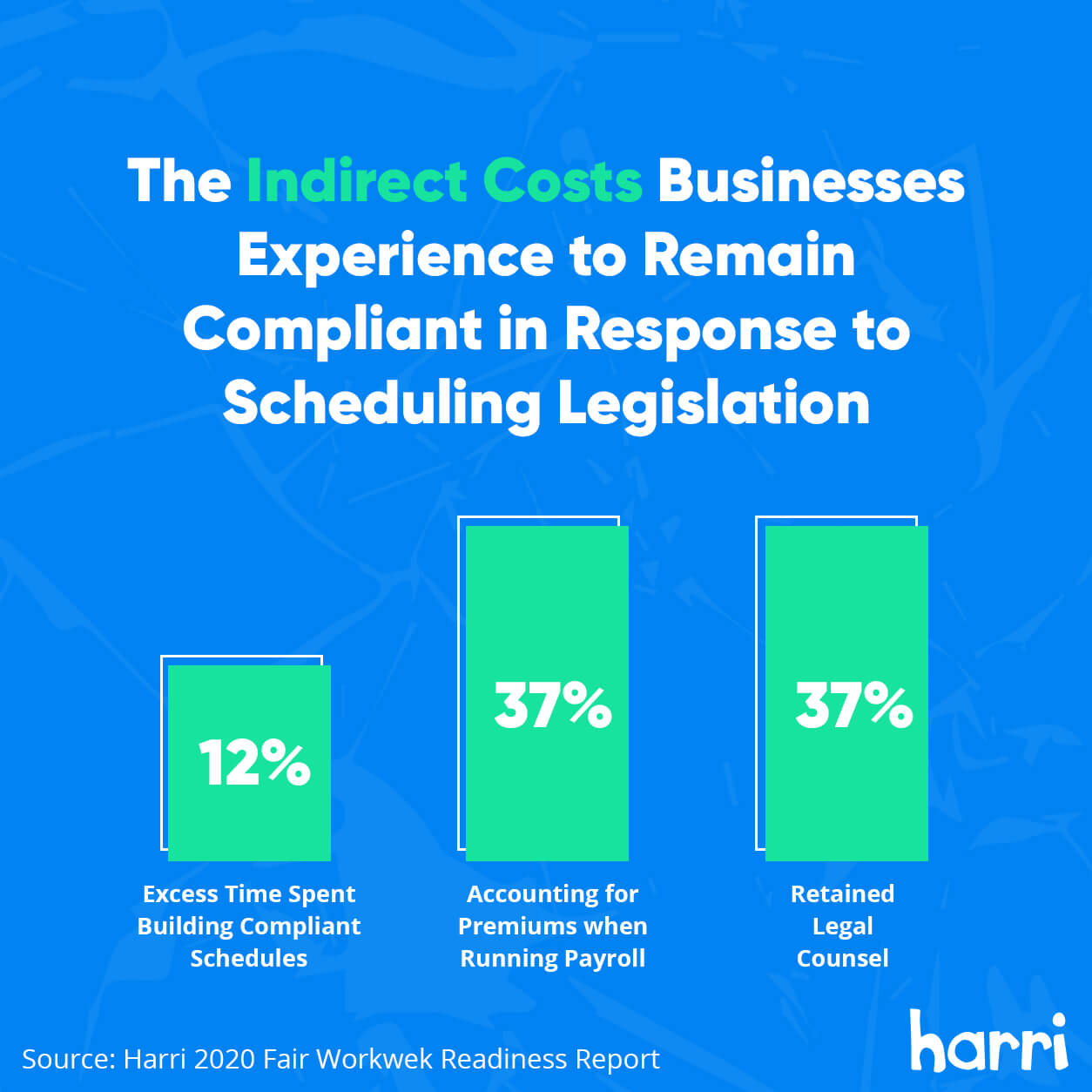 Fair Workweek is going to change many work realities for restaurant and hospitality businesses. In a time with so much change, adding rules on top can seem impossible to navigate. Proving compliance and finding a service that can do this effectively is crucial to success.
What are the issues with compliance?
Fair Workweek, as part of the rules and regulations, exercises significant fines when not being adhered to properly. Collecting Fair Workweek data is crucial to understanding what areas are most troublesome for businesses. Our restaurant operator respondents reported that these areas of compliance were their greatest concerns:
54% –

tracking employee and manager-driven scheduling changes

49% –

publishing compliant schedules to employees well in advance

39% –

calculating and updating good faith estimate documentation

39% –

providing evidence that available shifts are first exposed to existing employees prior to posting jobs externally

29% –

avoiding scheduling penalties

27% –

reporting, tracking and paying premiums resulting from scheduling change
The following graphic articulates more challenges that come from following the ordinances: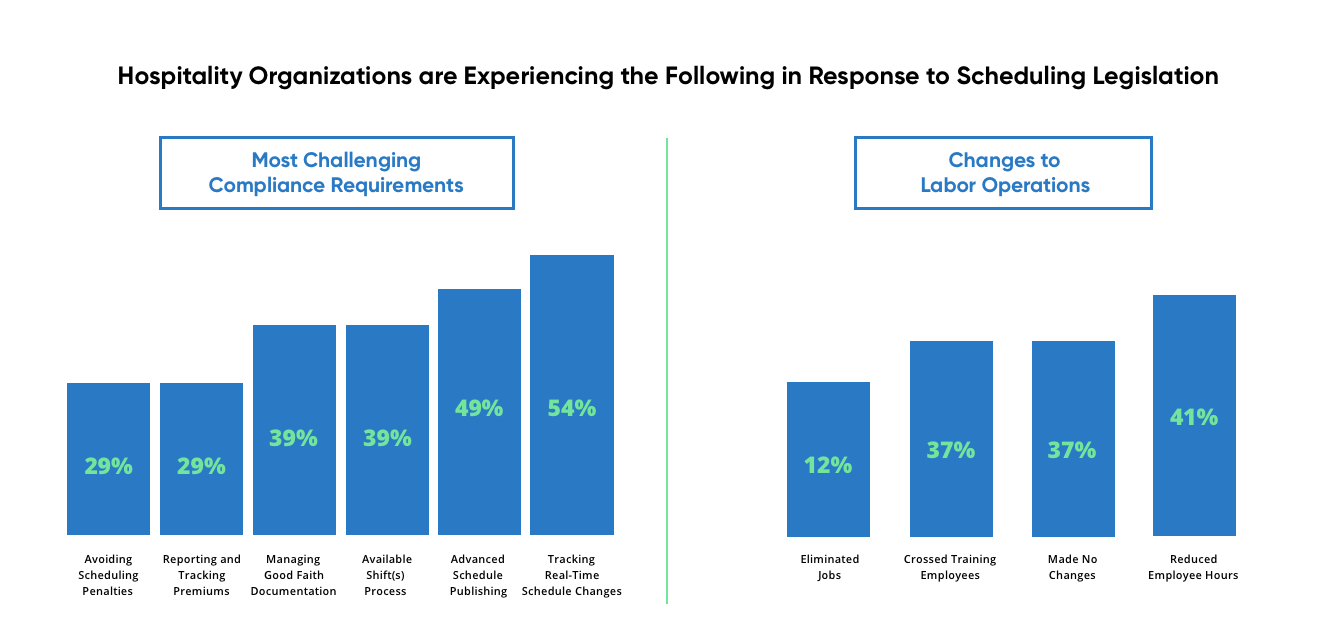 With so much change already, is the restaurant and hospitality industry ready for more regulations? Businesses are now tasked with reevaluating their scheduling practices and structure to control costs as much as possible. With this fear for complying comes the need for Fair Workweek data to plot a course towards compliance.
Employees at a restaurant chain in Brooklyn, New York articulated their distaste for the way the company was operating back in September. This led to the state of New York suing the company for violating Fair Workweek laws. The regulations went into effect in New York in November 2017, and clearly states fast-food employers need to provide their employees with a good faith estimate and 14 days notice of schedules. Employees then have to agree (in writing) to schedule changes less than 14 days beforehand and have to be offered extra hours before the hiring of a new employee. In New York, a quick-service restaurant cannot force an employee to work two shifts with less than eleven hours between the end of the first and beginning of the second shift. Workers are paid $100 per instance. This kind of premium pay is one of many. A lawsuit of this caliber is not only costly, but unattractive to customers. 
Another major quick-service chain voiced in a QSR article, "These regulations add a significant amount of inefficiency to our labor model, removing the ability for more dynamic scheduling, and adding payroll costs and administrative burden to our managers…".
In Seattle, where Fair Workweek has been established since 2017, violations to the ordinance are still being committed.
This Fair Workweek data graphic shows by percentage what companies are struggling to comply with: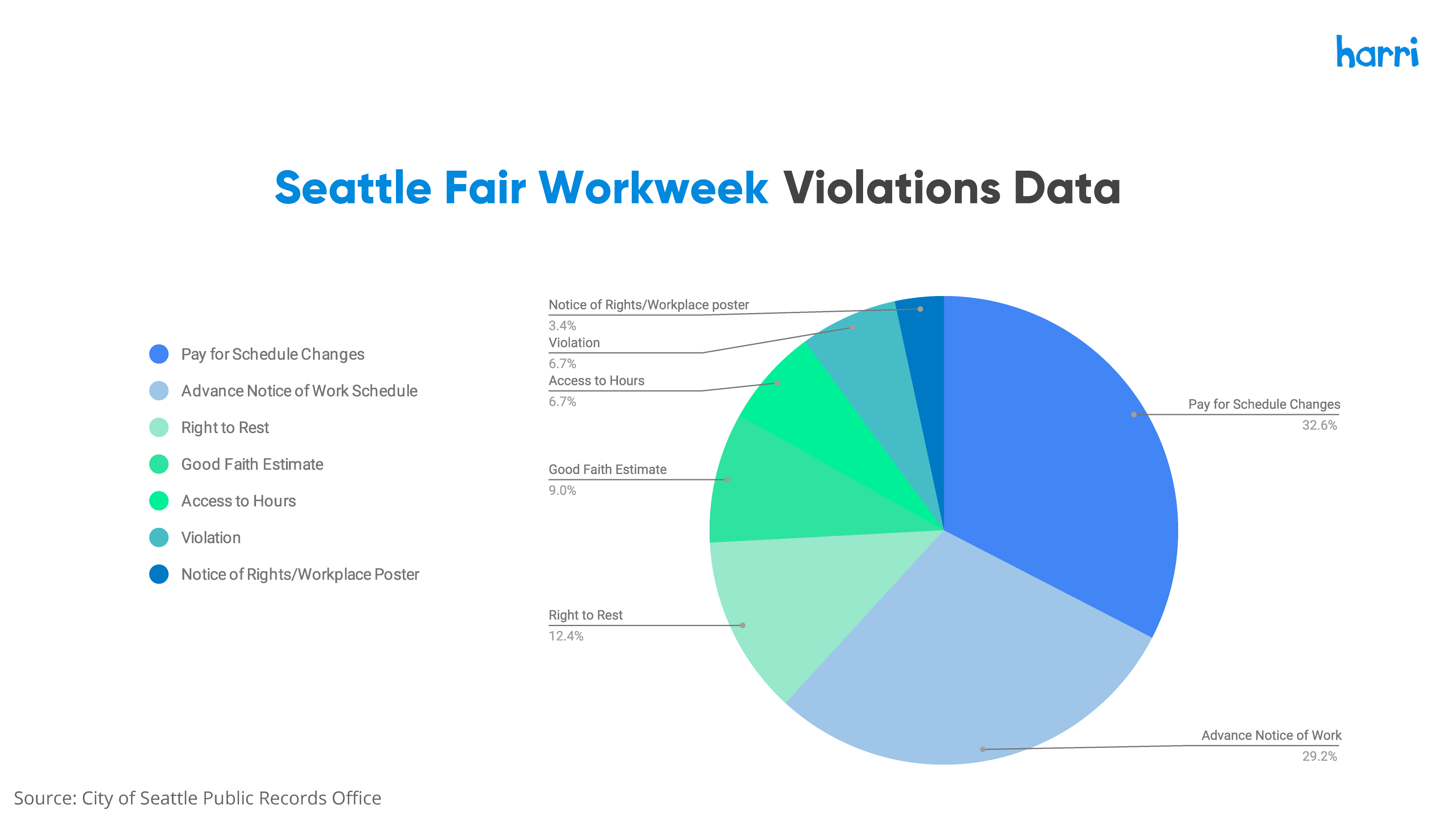 With each violation comes an investigation into the situation. This Fair Workweek data graphic takes a closer look at the data and types of closure: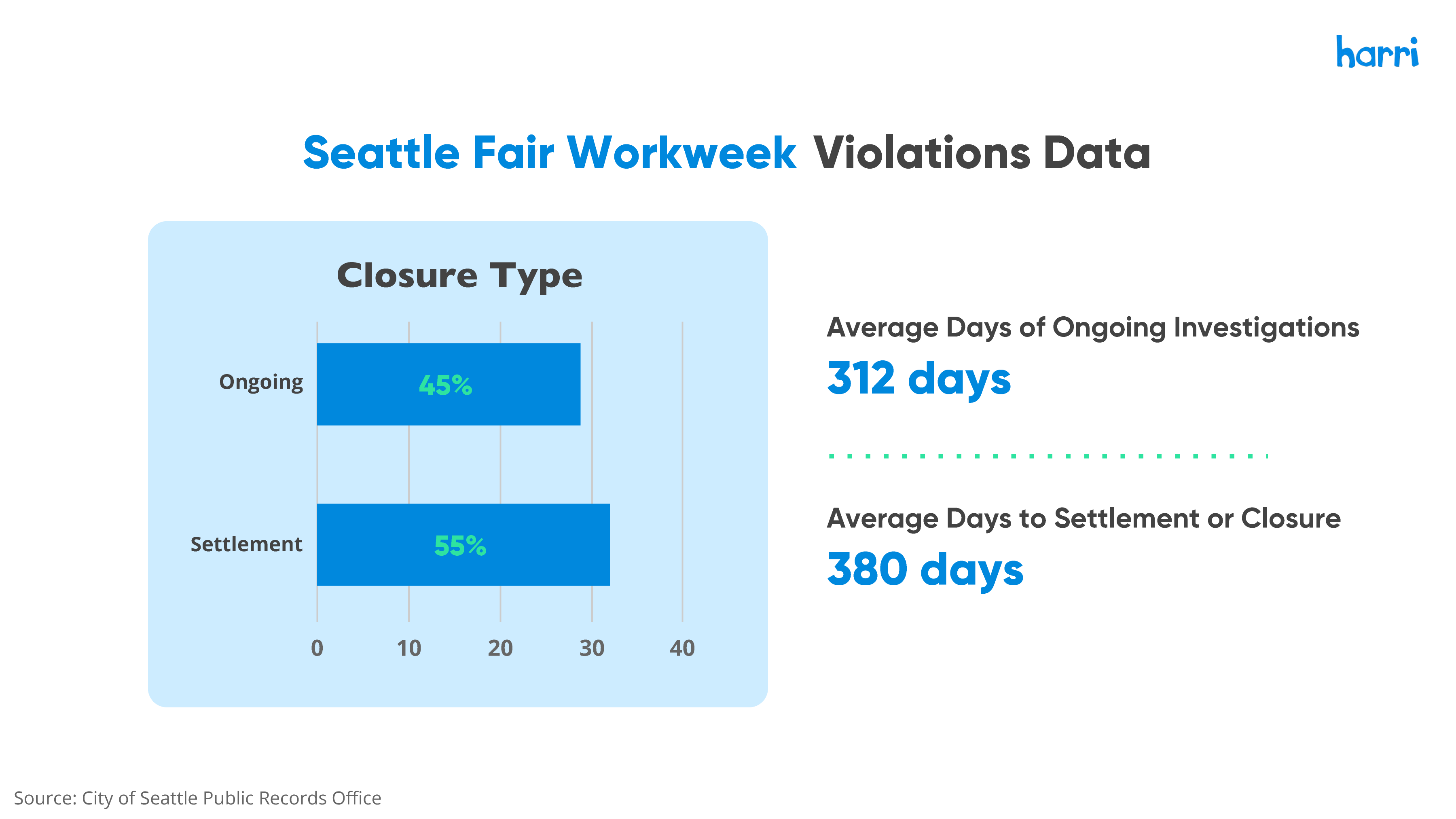 The below graphic shows the average businesses will pay in settlement, backpay, and penalty. The breakdown is startling. Thousands of dollars that could be going towards operations, people, and resources will be spent on fees and penalties. To avoid this, you need a reliable service that can handle the logistics of Fair Workweek ordinances for you.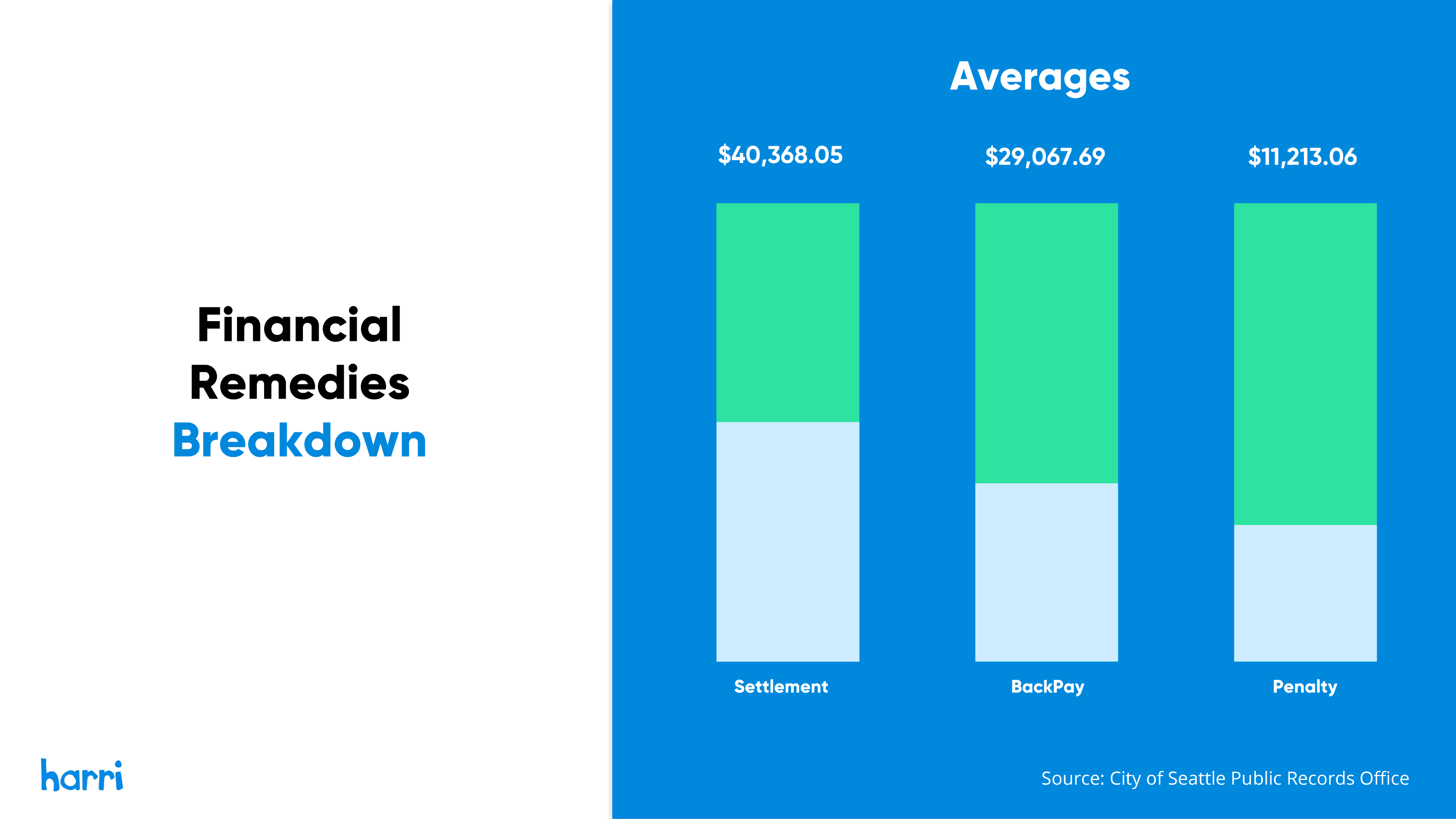 While working on initiatives to mitigate these inefficiencies, this is a compliance turning point that businesses cannot get around or be ill prepared for. The unfortunate reality is the Ordinance is complicated and there is room for mistakes. However, the positive impact Fair Workweek laws have on employees outweighs the difficulty. below
Turning the Negative into a Positive
We have been conducting thousands of exit interviews of hospitality workers since 2018. Our research has found that 65% of employees leave just 90 days after starting employment due to scheduling difficulties. Fair Workweek laws were created to empower employees in order to achieve the best retainment. When an employee's experience is more predictable, accessible, and flexible it leads to them doing better and more reliable work. At Harri, we are focusing on bridging the gap between helping our clients improve their employee experience and addressing compliance issues, labor costs, and employee engagement challenges.
As part of our scheduling solution, we have created a Fair Workweek component for the areas that require this. This is one of the only solutions on the market to keep up with the requirements and do it automatically. Our service specializes in managing:
Our software allows you to distribute, manage, and complete good faith estimate documentation with employees throughout the pre and post hire process.
Our platform builds schedules that utilize data, demand forecasting, and activity-based intelligence to assess the precise amount of labor needed weeks in advance.
It is imperative that you are alerted in real-time about schedule changes and time-off requests so you can deal with them as quickly as possible.
You will be notified when publishing changes to a schedule that will result in premium pay entitlements.
The ability to view and audit detailed reports on all the premium payments that resulted from scheduling changes is crucial.
Complying with Fair Workweek regulations is easily managed with the proper resources. Our software helps eliminate risk, empower employees, and make this transition easier. The numbers can be intimidating, so let Harri create accountability for you and avoid unnecessary penalties and fees.