From the Frontlines: A Hospitality Pandemic Roundtable with Mikki Taylor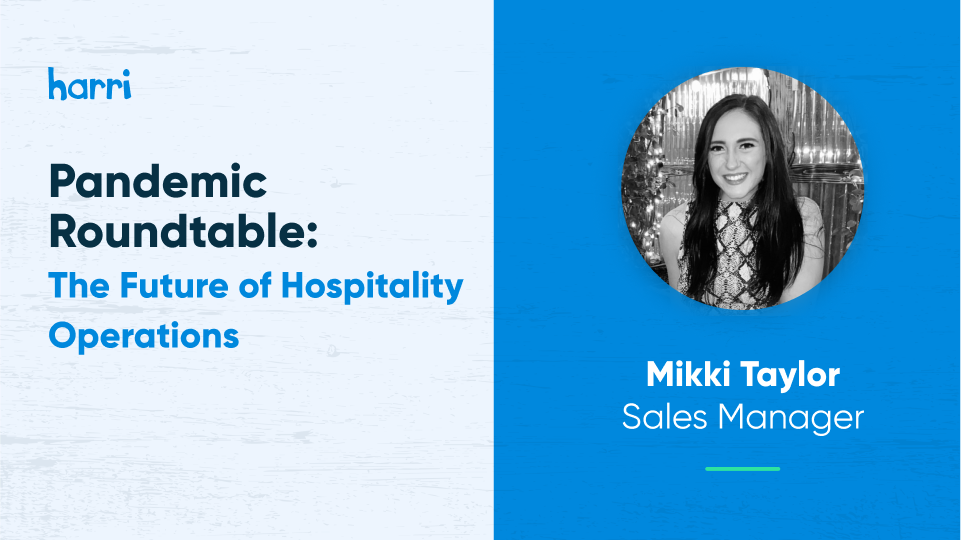 Welcome back to another episode of From the Frontlines! In this series, we highlight members of Team Harri who have inside insights into the latest hospitality trends. This week our Sales Manager Mikki Taylor led a roundtable with Team Harri to discuss the Delta variant of COVID-19 and how it may impact hospitality operations.
The Delta variant has thrown a wrench in hospitality operations with safety mandates and closures on the horizon. After a roundtable discussion on the current state of the industry, Mikki and our team walked away with three key takeaways regarding hospitality operations during the pandemic. 
There's no right or wrong
Hospitality operators know better than anyone else that, no matter how they handle pandemic safety, they'll be under fire for one reason or another. While some customers will only dine at masked restaurants, others will get into altercations with staff trying to enforce masking rules — despite those employees having no say in the rules themselves.
Maintaining a safe environment for staff and guests is top of mind. But for wary employees, a mask mandate may push them away from hospitality amidst a massive labor shortage. Vaccine mandates, although justifiable, are even more controversial and further threaten to push staff away. That means managers need to communicate with team members to gain a clear understanding of sentiments regarding regulations and move forward with a safety strategy.
Finding a middle ground is key to improving employee and customer experiences
Even if mask and vaccine mandates are a source of friction, their safety benefits are hard to ignore, especially during such uncertain times. Operators that find a way to encourage safety without overstepping boundaries will win the retention game.
Instead of vaccine mandates, some brands are requiring unvaccinated employees to receive a negative COVID test result before every shift. Others are using health check software to ensure staff that come into work are symptom-free. PPE detection can be used as a tool to help brands enforce mask mandates if they choose. 
These solutions aren't perfect but can be used to check off boxes, where possible, to increase pandemic safety.
Currently, we're lacking clarity
Even though sentiments surrounding masking and vaccination mandates are mixed, consistency is key. Take states like California, where masking mandates can change based on county. That's a lot for customers to keep track of, and unless restaurants create a clear policy on what is or isn't allowed, we'll continue to see friction between guests and employees.
But each state has its own laws regarding localized mandates, different location-based risk levels, and varying consumer willingness to comply or not. brand-wide consistency may be impossible especially for franchisees that can operate separately from the parent company.
That brings us back to the technology piece. With transparent internal policies and clear customer-facing rules, brands can minimize the operational stress that will surely occur as we respond and adapt to the Delta variant.