Harri Relaunches Hospitality Unite To Support Ukrainian refugees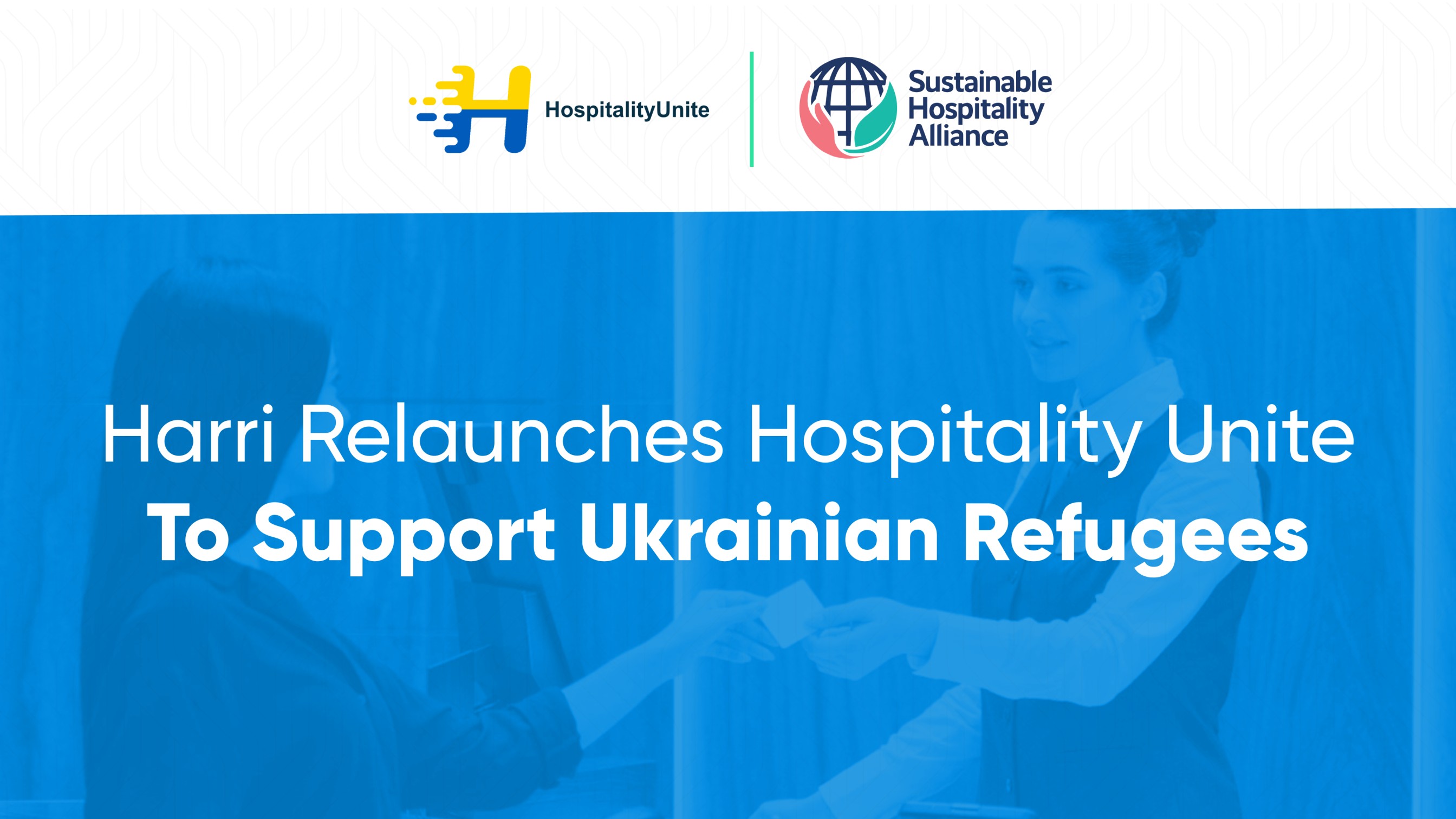 The ongoing conflict in Ukraine has forced millions of refugees to flee, and those displaced by the war are now seeking work – but they need ongoing guidance and support. 
In response to the crisis, we've relaunched Hospitality Unite, in collaboration with the Sustainable Hospitality Alliance and their hotel members. The free-to-use platform is designed to provide Ukrainian refugees and their families with job opportunities throughout Europe, allowing them to resettle and remain legally. 
Let's take a closer look at how the platform works, and how it's evolved over the years. 
Hospitality Unite is a not-for-profit job portal that will allow Ukrainian refugees seeking work in the hotel sector to search for jobs by location, position, venue type, cuisine, and skills required.
When it's launched, the platform – available in Ukrainian and English – will be marketed through Ukrainian media and all hotel partner social channels. A number of disaster relief agencies in neighbouring countries will also promote Hospitality Unite via QR codes to help spread the word.
The initiative will provide specialist tools to any European Hotel Group that would like to engage with those whohave fled the situation in Ukraine and are seeking work. This includes real-time video screening and right-to-work compliance – which will be provided as standard to speed up the recruitment process for everyone involved.
"Hospitality Unite already has a commitment from the likes of Radisson Hotel Group, Accor Hotels and IHG who formed part of the steering group to help with the Ukrainian disaster and make this incredible initiative a reality.  Their hotels are actively seeking additional staff and see skilled Ukrainian nationals as ideal recruits," said Pete Willis, Commerical Director at Harri. 
We'll officially go live with Hospitality Unite on Monday 17th October 2022, and we can't wait to share what we've been working on! Until then, here's the backstory…
Hospitality Unite: the early days
Hospitality Unite was launched back in 2020 to place displaced and laid-off workers into adjacent sectors. Over 30 UK businesses got involved – including Amazon, Just Eat, Compassionate Care, Care UK, Morrisons, Bestway Retail, and Waitrose – and more than 4,000 vacancies were posted. 
Harri's CEO, Luke Fryer, said, "It's been spectacular, because the businesses that are recruiting see the value of a candidate having been tagged as an existing hospitality employee with all those transferable skills."
Then, this transitioned into the Kickstart campaign.
During the pandemic, Hospitality Unite switched its focus to support the now-closed government-funded Kickstart Scheme. The platform connected hospitality, leisure and tourism businesses with 16 to 24-year-olds on Universal Credit and at risk of long-term unemployment. This initiative wouldn't have been possible without the backing of Springboard, The Scottish Tourism Alliance, and UKHospitality – and we couldn't be more grateful for their support!
"This is a really positive way of promoting the government's Kickstart programme, set up to assist sectors like ours," said Kate Nicholls, CEO of UK Hospitality. 
As you can see, we're always looking for new and innovative ways to help hospitality businesses adapt to the ever-changing landscape and support those in need. We hope that our latest initiative will prove beneficial to all those involved, and we look forward to launching the platform on 11th October.
If you'd like to get involved, please contact Pete Willis (pete@harri.com) or Luke Shermer (luke.shermer@harri.com).