The Hospitality EVP Trends We Can Expect Post-Covid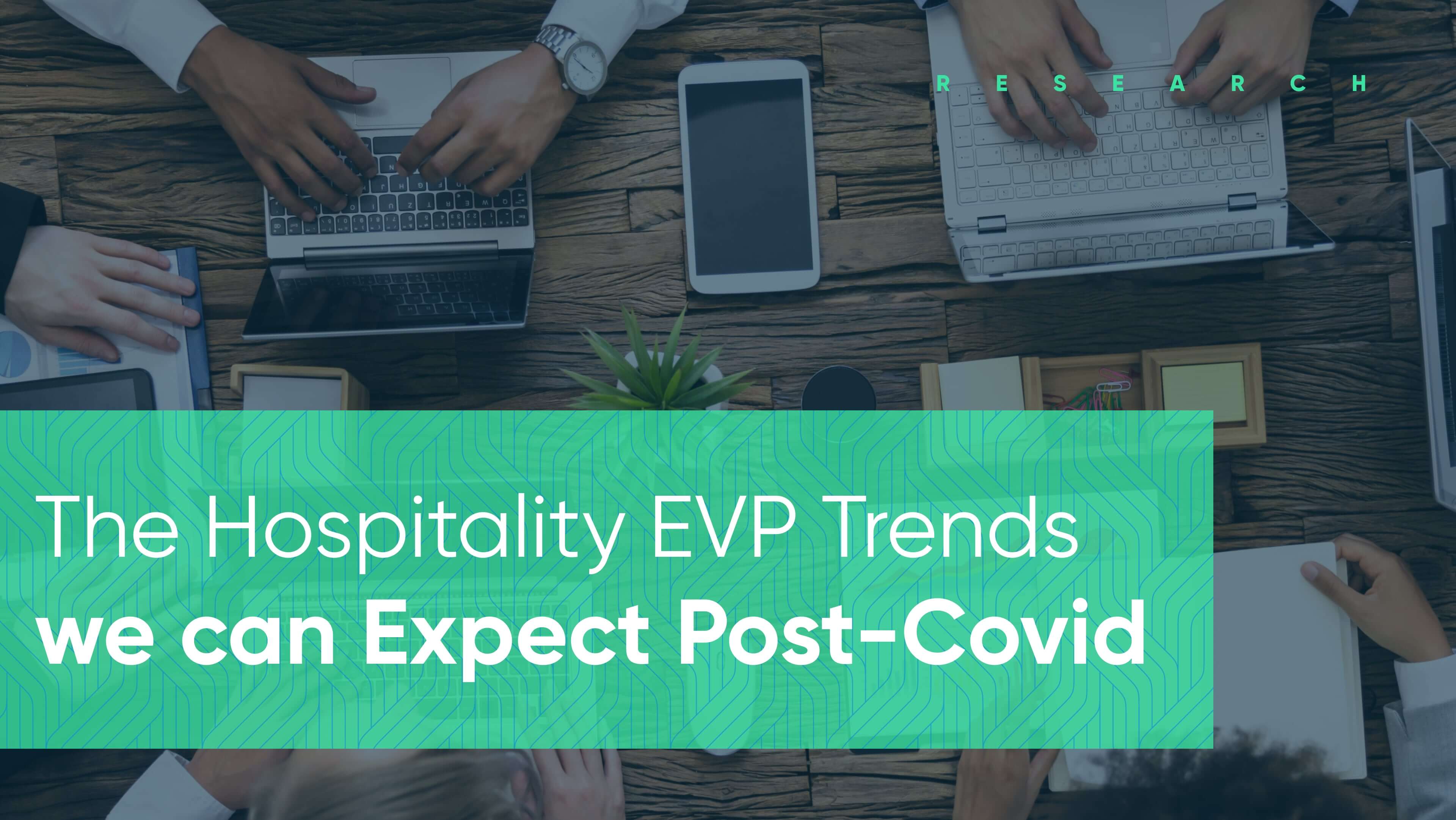 If you currently work in Talent Acquisition, how many of you have recently heard your organisation whisper the words "there is talent out there, let's lean towards the lower end of the salary to save cost ?" And, we get it. It's tough out there for business' right now, and, as they say – every little helps. But, now is not the time to undo all of the work you'd previously done to attract the best talent to your business.
Many companies believe that their power in the employment market correlates with the unemployment rate. And historically, that may have been true. However, we promise this time, it's different. It's still time to concentrate on building an authentic and attractive Employer Value Proposition that resonates with candidates today if you want to have a competitive edge coming out of the pandemic.
Here are our top predictions for EVP trends for 2021 that will help you on your way to achieving this.
Focusing on The Needs and Wants of Your Talent is Still Key
The rise in unemployment within our industry has not led us to an employer's market as we would usually witness. Meaning, it's not time to slash benefits and pay; nor kickstart the strong-arm tactics with candidates. Far from it. While we ARE in a recession, this one is unique. In a typical recession, every industry experiences a downturn in business. However, in today's recessionary period, industries have been disproportionately affected – and unlike us in hospitality, many have thrived over the past year.
If you'd like some data to support this, the unemployment rate went from 3.5 to 14.9% in April, rising more within the first two months than during the "Great Recession." Once hitting the 9% mark in 2009, it took 2.5 years to bring it back below that level. Today? Unemployment in 2020 came back below 9% within four months. Not. The. Same.
This should highlight that failing to continually invest in your EVP will 100% ensure you miss out on the talent you desperately need to boost your revenue when you need it most. Continue to involve your employees in crafting and promoting your EVP, learning from what is important to them, today.
And personalising the offer, which brings us on to our next point, perfectly…
Greater Emphasis on Personalised EVP's
A one-size-fits-all approach to your EVP will diminish over the coming year, with more companies beginning to focus on appealing to the the unique subcultures and nuances that exist within particular teams and areas of the business; whilst seeking to create an offer that includes the wants and needs of a broad range of personalities and people. It's about time too!
Want to know how to approach this? You need to interview your teams and find out what's important to them today, analyse the data and update the offer.
Try asking these questions:
What motivates you to come into work every day?
What would you tell your friend about us before they came to work here?
What is the one thing you would change about working here?
What is the most important benefit we offer and why?
What would make you want to leave us to go to another company?
What is the best thing about working here?
Who do you look up to in the company?
What do our company values mean to you?
How do you contribute towards the purpose of the organisation?
What makes you feel like you belong here?
Employer Brand and Consumer Brand Will Become One
Some people love brands and products and yet have zero desire to work for those companies. And vice versa. However, 2020 saw a true shift in our perception; with kindness becoming the new currency when it came to consumer AND employer brands. Companies that didn't take care of their teams or their safety received some serious backlash. 
Over the next few years, we're going to see more of the connection between employer brand and consumer, with "greater purpose" marrying the two. Candidates will expect organisations to care more about making a profit and instead, they will be attracted to companies who invest  their profits in their employees and the greater good. If you follow Brewdog, you'll see an exemplary example of how this is achieved!