Hospitality's Labor Shortage: What are Employees Thinking?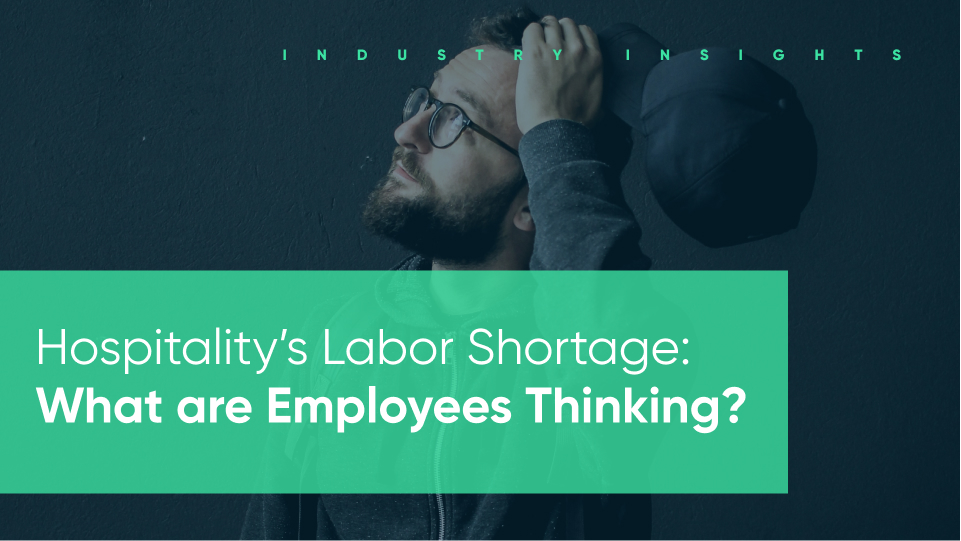 The COVID-19 pandemic brought sweeping changes to many industries, but most notably, to hospitality. Mass layoffs have given the workforce time to step back to re-evaluate their financial needs and career goals. As such, the service-driven workforce has undergone a massive shift in sentiment, attitude, and behaviors.
Our Founder and CEO, Luke Fryer, recently spoke about this in a Hospitality State of Labor webinar, analyzing the full spectrum of today's hospitality laborscape. We dive deeper into this subject to discuss employee sentiment in the wake of COIVD-19 and how operators can optimize internal processes to bolster talent acquisition and achieve labor efficiency.
Where is employee sentiment?
The onset of the COVID-19 pandemic marked a time where nothing was certain anymore. Individuals and companies alike were given time to reflect and make changes. In the hospitality industry, this time of reflection has been twofold. 
Employees started to wonder whether or not the hospitality industry is right for them. Many left thanks to health and safety concerns, but others sought workplaces that could offer stronger career paths or workplace flexibility. This sentiment shift particularly affected those caring for children or the elderly as pandemic safety took priority — something that hospitality, an interaction-based industry, simply could not provide by design.
On the other side, employers were given a chance to assess and reimagine their overall employee experience as it pertained to attracting and retaining talent. As talent moved away from the industry, forcibly displaced or otherwise, operators were forced to evaluate if they were equipped to not only meet their team's basic needs, but provide additional support where needed.
The COVID-19 pandemic also showed us that hospitality brands that didn't enhance their employee experience initiatives lost a competitive edge. Larger brands that could offer higher compensation and better benefits won talent; but those that provided clear, achievable career paths alongside a family-style working environment also prevailed.
In order to be current with the changing times, operators must take a critical look at their workforce management processes and determine if they are meeting employee needs in every aspect of the employee experience, starting with the hiring processes, throughout onboarding, and well past their 90th day with an organization.
Diving deep into the data
We developed our 2021 Employee Experience Report to understand the full picture of what matters most to hospitality workers coming out of the worst of the pandemic, as well as their intern to return to the industry. By surveying almost 7,000 frontline employees, we painted a clear picture of what employees expect from brands moving forward.
Having a reliable, predictable schedule was the most important aspect of the employee experience according to frontline workers, and with good reason. 
The schedule dictates how an employee can plan their life outside of work, how much money they earn per week, who they work with, and the quality of shifts they receive. If your workers plan childcare and transportation in anticipation of a work shift only to have it canceled and/or moved to a new day, that causes a ripple effect. 
For this reason, predictability is key. But operators navigating the labor crisis and serious compliance requirements will rely heavily on predictive scheduling technology to build schedules that work for both their employees and their business.
Feeling part of the team was next on the list. Employees want to feel welcomed, both by peers within their same role and by upper management alike. A poor employee-to-manager relationship is a leading cause of turnover, so facilitating a friendly, productive work environment creates long-term benefits.
Most people that join and stay in hospitality are drawn to its family-style approach to work. Having that teammate that grabs an extra breadbasket for you or goes out of their way to assist the bartending queue creates an amazing sense of team morale. We'll continue to see brands build upon positive team dynamics for career branding purposes.
Having direct access to tools and training resources was the third-most important aspect of the employee experience. Team members want to be set up for success. They should have the tools they need to take on every-day tasks within reason, as well as bear additional responsibilities should they wish to rise through the ranks of your business.
Failing to cover both career advancement opportunities and the basics will affect job sentiment and willingness to stay with the brand — because if an employee feels like their value is diminished, they'll move on to greener pastures. For many operators, these tools and resources are digital ones that can be accessed anywhere from any device without adding friction to the day-to-day.
Where is employee sentiment?
The pandemic shone a light on people-driven hospitality operations, signaling that there was much to be desired. Poor working environments for employees were the norm for our industry, with high-pressure work, low wages, hectic scheduling, limited career paths, and stressful guest interactions pushed hospitality staff away. COVID-19 increased that displacement tenfold as safety concerns were thrown into the mix.
All of this forced operators to shift towards an employee-focused workplace, but the confusion surrounding COVID-19 health concerns and state regulations have created inconsistencies that further contribute to hospitality's negative image.
As the Delta variant ramps up, operators would be wise to set clear policies, especially for employees interfacing with guests. 
Tense customer confrontations saw a significant uptick during the pandemic in the form of aggression, harassment, and even violence. How is your team trained to react if a customer refuses to wear a mask?
Although operators are the ones who set the policies, frontline employees are often the ones policing customers and mediating conflict.
Brands need to develop clear escalation policies in these scenarios and delegate which members of upper management will deal with confrontations if and when they occur. Leaving employees to fend for themselves is a quick way to lose their trust and willingness to remain with your business. This is especially true for employees that don't see themselves having a future with your brand.
Everyone knows that working in hospitality means dealing with unpleasant customers. But knowing you're only 6 months away from a managerial promotion can be all the difference between team members sticking it out or leaving when the going gets rough.
Employees need to know what they are working towards, and they need to know that their individual contributions to the team and workplace are seen and valued. 
Long-term and short-term employee experience improvements can hugely change your brand's workplace perception to a highly positive oneever-changing. Hospitality may be in a rough spot right now, but that doesn't mean individual brands can't stand out as amazing, people-centric workplaces.
Wage inflation pressure has reached a tipping point in the US. Regulation and competitive dynamics are driving unique behaviors and tactics to attract talent. But competitive wages are far from cheap, and oftentimes paying workers a living wage results in unprofitability thanks to hospitality's historically thin margins. 
Notably, incentives and programs have headlined the US new cycles. Short-term incentives like signing bonuses have gained popularity, but employees tend to flock to businesses offering the best compensation and benefits. We are not only trying to outbid one another, but the broader job market is responding in a similar fashion, "why should I work here when I can make that much there?"
And that's not all. Rising wages across the country have indirect impacts on hospitality operations, driving up transportation and supply costs that ultimately lead to more expensive end-products. Combine this with compliance-related labor costs, which tend to scale with wages, and it's clear that the cyclical nature of wage inflation will have lasting effects on the industry's ability to source and retain labor.
There's also the price inflation factor that can be attributed to COVID-19. One of the effects of COVID-19 is that there was an increase in employee wages. Because there was a labor shortage during the height of the pandemic, hospitality operators had to offer increased wages in order to incentivize
Unfortunately, increased wages are not going anywhere anytime soon. In addition, there has been a domino effect with the increased wages. When front-of-house and back-of-house staff have increased wages, the wages will need to be raised even higher for managers and/or senior members of the hospitality team.
While rising wages can't be prevented, there is one tool that hospitality operators should have in their arsenal to combat them: labor efficiency.
One of the first key aspects of labor efficiency is smarter scheduling. Operators should not rely on staff to handle scheduling; rather, they should utilize smart scheduling through the use of an all-in-one HCM platform that can connect the dots between customer demands, compliance requirements, operational limitations, and employee preferences. This will free up both time and labor costs for upper management, which will help keep the restaurant's overall cost down.
Compliance is the next key to labor efficiency, and it's a massively complex burden to take on. There are many rules that hospitality operators need to follow when scheduling; rule breaks can result in hefty fines that will add to the restaurant's bottom line. But when your brand spans multiple states and local jurisdictions, keeping a finger on the pulse of everchanging labor laws is incredibly difficult. Here's where operators will find compliance technology as a financial and operational lifesaver, removing the manual work from compliant labor optimization.
One of the final aspects of labor efficiency is upskilling team members to work multiple jobs per shift. Employees can and should be trained to multitask or to learn how to help out other team members if they can spare the time to do so. This will let hospitality operators cut down on the amount of staff they need to hire for a given shift, which will certainly combat the rising wages issue.
With the hyperinflation of wages, price increases within the hospitality industry as a whole are inevitable as companies try to offset labor costs. However, operators need to find a way to do this without disrupting the customer experience…otherwise, they also risk losing customers.