Keeping Staff Safe And Engaged: Ten Takeaways From Harri's Webinar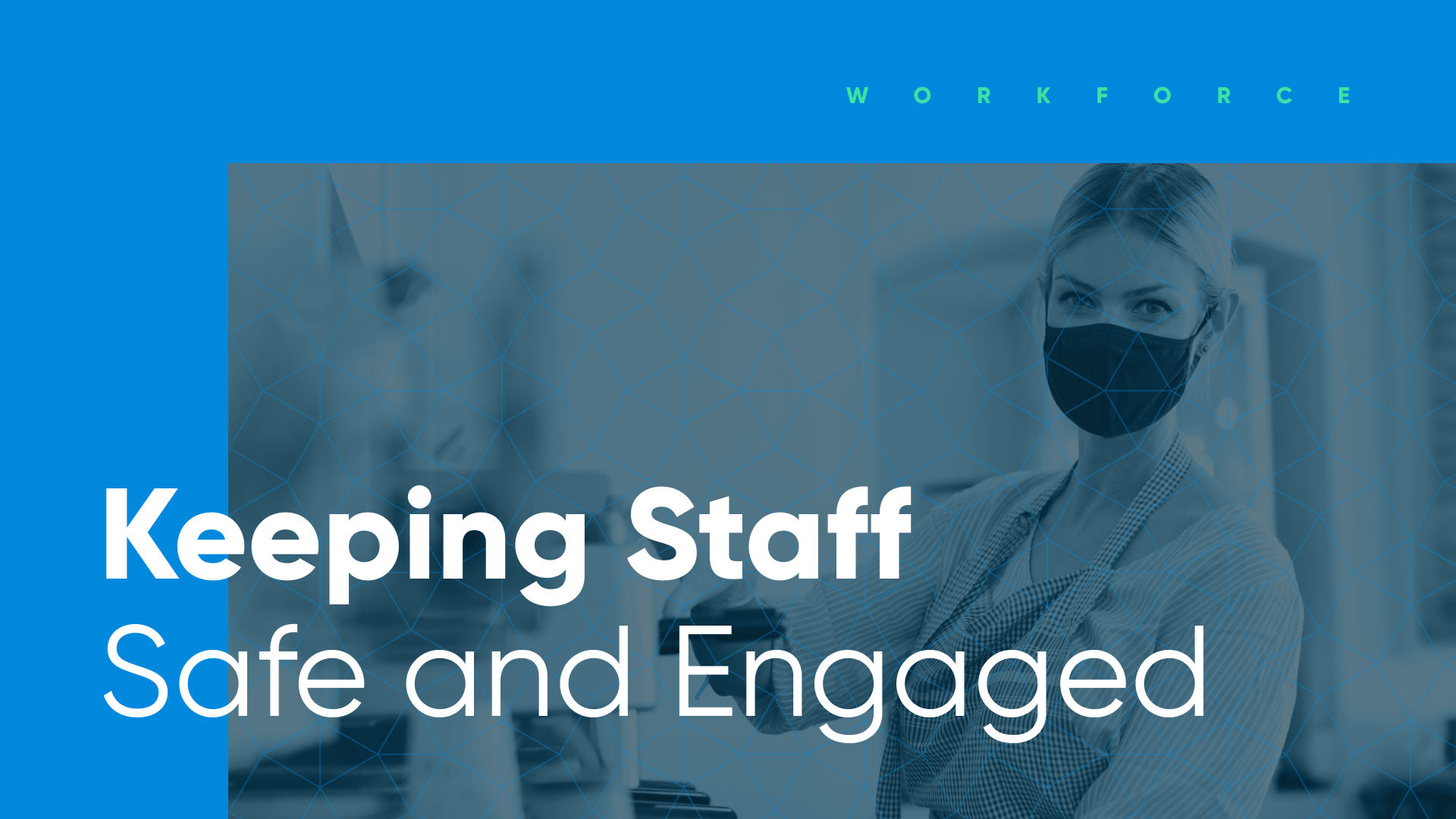 In this webinar, we met with top hospitality operators and safety experts to discuss employee health and safety and managing staff returning to work. Here are ten tips for keeping staff and consumers safe and positive as hospitality begins the road to recovery. 
After so long away, many staff have been very keen to get back to work—especially those whose mental health had suffered after months in isolation. "People are itching to speak to a human being again… it's why people do what they do in our business," said Phil Eeles, founder of Honest Burgers. 
Their eagerness also reflects the support they have had from employers over the last few months. A recent survey of hospitality professionals from CGA  found that more than two thirds (69%) were satisfied with the level of support they had received in lockdown—though of course there are still widespread concerns about safety and job security. 
As hospitality businesses reopen, it is crucial to engage with staff about the new environments they are working in. That process needs to start well before they set foot in a restaurant, pub or bar again, said Frances Tucker, managing director at safety consultancy Surefoot Solutions. "The key part is the pre-engagement before people come back—that's where you set the tone. It's the same job, but there will be big differences, and that can be unnerving if you're not made aware of it before." 
The best businesses are taking time to thoroughly prep staff, addressing concerns regarding employee health and safety, and training them in new skills if needed. "The bigger insights you can give staff members and the earlier you can do it, the more people can envisage it in their heads and the better they'll be at work," said James Brown, retail director at BrewDog. Confidence can quickly return, he added. "It's a bit like riding a bike—once you get back on it you're fine."
When working out ways to protect staff and customers, businesses have to cut through a lot of fake news and conflicting opinions about Covid-19. As Frances Tucker said: "If people have been sat at home… reading things on social media that aren't true, it's building up their anxiety and they may well be nervous about coming back to work." All employers need to avoid a scattergun approach and take the precautions that are right for their own people and processes. "Take a step back… It's not about throwing things at the wall and hoping something will stick—it's understanding your risk and implementing things safely."
4. Help teams reassure consumers
As they reopen, the big challenge for all restaurants, pubs and bars is to prove to their customers that they are in safe hands. That will require operators to communicate precautions and protocols in a prominent and crystal-clear way. "A large proportion of the population is scared to go out, and we need to show them there are good controls in place and they don't need to be afraid," said Frances Tucker. For teams on the frontline, this means not simply doing the right things safety-wise, but to be seen to be doing them.
5. Use Technology to ensure Employee Health and Safety
Apps and other forms of tech can make safety and hygiene procedures much simpler and faster. Harri's Health Check Platform helps ensure employee health and safety by allowing managers to ensure staff are healthy and Covid-free before they start work, and provides display material to demonstrate ultra-high hygiene standards. "It instills confidence with employees, but also with passing trade—it shows a restaurant or bar is really concentrating on their people and hygiene," Harri's commercial director Pete Willis said at the webinar. 
Apps can also make the jobs of ordering, paying and collecting customers' contact details for tracing reasons easier. "We're seeing a real willingness to interact with it," said James Brown of BrewDog's solution to test-and-trace. "It's not as big a barrier [to guest enjoyment] as some might think." The Coronavirus Technology Toolkit from Harri can help employers with more HR-related issues.
At a time of great uncertainty, businesses need an open door policy that addresses people's anxieties and questions—and that can generate positive feelings of solidarity and collaboration. "Businesses are more connected to teams than ever before… there's a feeling that we're all in this together and we need to work through it," said Frances Tucker. Honest Burgers has kept staff close to the business through weekly updates and meetings, and Harri is adding to support on this front with a chat bot to help employers gather feedback from staff.
7. Use the government's support
Harri's webinar came hot on the heels of Chancellor Rishi Sunak's announcement of a package of support for the hospitality sector, including a VAT cut. There's also a new bonus for bringing staff back from furlough, aimed at encouraging businesses to hold on to their people. "Ultimately it should all be about saving jobs—it's not about making profit right now, it's about getting people back to work," said Phil Eeles. 
Meanwhile the Eat Out to Help Out scheme, which subsidises a 50% discount on food from Mondays to Wednesdays, should be a boost to trade. "It's going to help us massively," said James Brown—though more government support is going to be needed to sustain businesses through to the crucial Christmas trading period. 
8. Retain the joys of hospitality
As hygiene and employee health and safety measures are rolled out, it will be important not to compromise the atmosphere and experience that people enjoy when they go out to eat and drink. "We're conscious that we shouldn't lose the magic of hospitality… but try to do the things we did before, but in a safe way," said James Brown. 
"We're trying to retain that art of hospitality… as soon as you step over our threshold we want to keep as much of that [pre-lockdown experience] as we can," agreed Phil Eeles, whose team at Honest Burgers are trying to engage with customers in a cheerful as well as reassuring way. For example, "It's about [showing] how to tell someone to socially distance in a fun way, rather than create an army of clipboard warriors who are going to tell people off."
One bright side of the pandemic is that it has forced businesses to double down on staff engagement, innovate and pivot into services like delivery. Many of those changes will endure beyond Covid-19, and will make businesses more resilient in the long run. Honest Burgers is eager to maintain the momentum via an 'Honest 2.0' programme that imagines the future of the business, and a 'Back to Brixton' [the location of its first restaurant] initiative that reinforces its original values and practices. "The business has changed completely, and it's going to keep evolving," said Phil Eeles.
The coronavirus crisis has made many businesses think afresh about their responsibilities to employees and society at large, and companies like Honest Burgers and BrewDog have risen to the challenge brilliantly. As Phil Eeles put it: "We felt we had an obligation to do right by our people." 
There has been great cross-industry collaboration too, and Harri has made its own contribution via the not-for-profit HospitalityUnite platform that helps hospitality workers who have lost their jobs find new employment, as well as the Carri tool to keep in touch with displaced team members. Amid the many huge challenges, the pandemic has been a chance to give something back—and a reminder that hospitality is, at heart, a people business.
Harri's 'Safe and Engaged' webinar was held on Thursday 9 July and hosted by Peter Martin, Vice President of CGA and Founder of Atlantic Club.