Our Takeaways from HR in Hospitality 2022 in Miami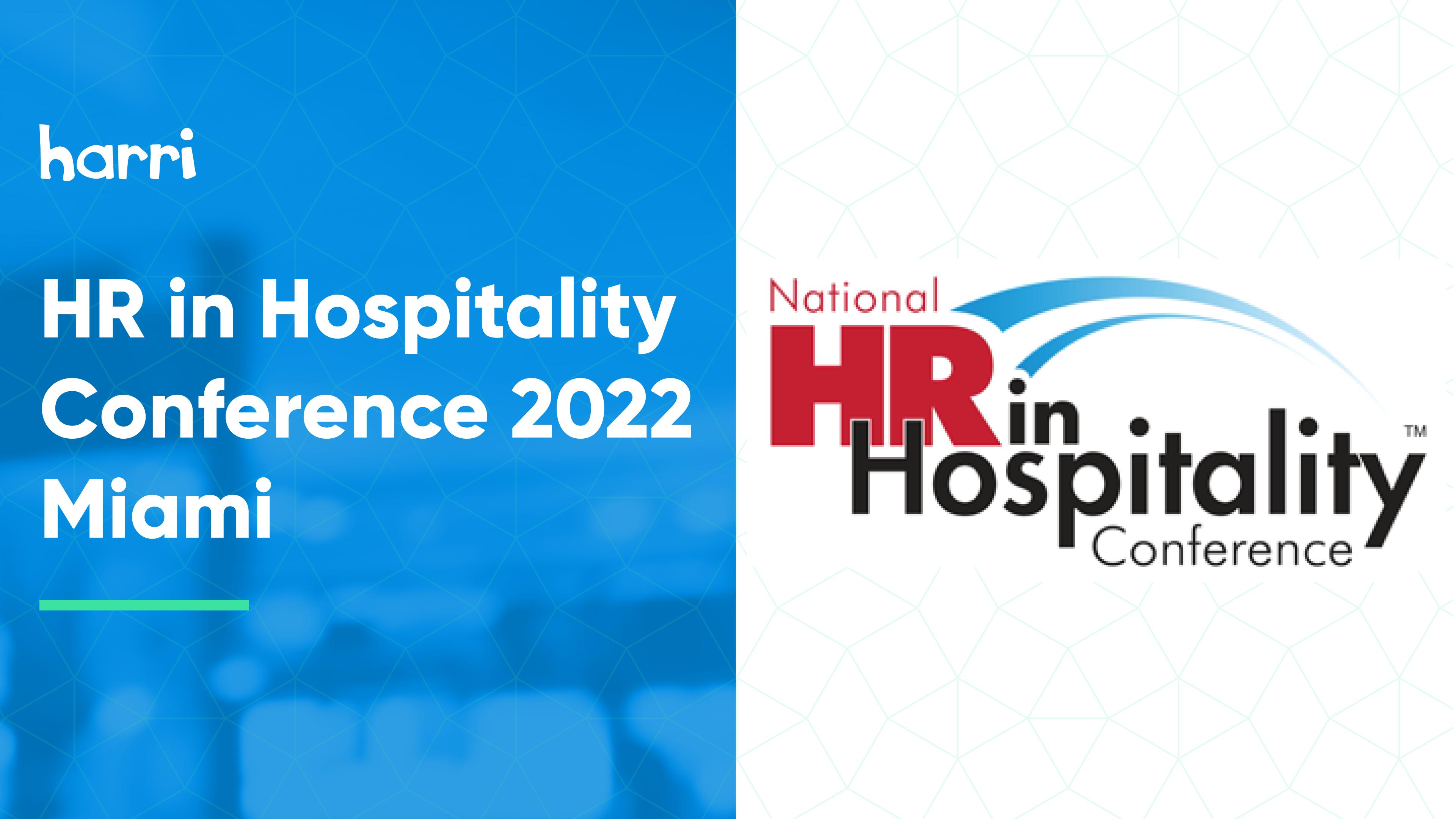 In June, Team Harri landed in Miami for the HR in Hospitality Conference 2022 where 300+ of the good and the great of US hotels gathered together to (re)connect, share ideas, stories and best practices from our industry at the excellent Loews Hotel Miami Beach.
Yes, we were at HRinH to showcase Harri to the HR community, but also to learn from those who are living and breathing the candidate and employee experience right now. For us, it's not just how candidates, employees and employers use workplace technology, but the key is why. Why people start jobs, leave jobs and stay with jobs, and who and what talent pools we can attract from, to recruit and retain.
Diversity, equity and inclusion was a key theme throughout. DEI is moving from a nice-to-have to a must-have, particularly around compliance with the EEOC and OFCCP which are looking at making examples of employers who unfairly discriminate against certain groups. As a result, they are putting together guidelines on the way employment decisions are made. Barry Hartstein and Celeste Yeager from Littler discussed HIRE (Hiring Initiative to Reimagine Equality) which will look at:
Organizational policies and practices to reimagine equality and expand opportunity in hiring
Identify strategies to remove unnecessary barriers to hiring and cultivate a diverse pool of qualified workers
Promote equality in tech-based hiring systems
Develop resources for innovative and evidence-based hiring practices that advance equality
It wasn't just legal advice Barry and Celeste gave but practical solutions too, power it through employee referrals (because employees from diverse backgrounds will have networks that reflect their diversity) accessing different talent pools, debiasing the selection process, make pay transparent.
It was a shame the EEOC update was going on at the same time as the DEI 2.0 seminar as there was a real crossover in content to what Heather Jacobs from Delaware North, Kathryn Barajas from Hyatt and Sue Crystal-Mansour from National Restaurant Association were discussing. Key themes are how empathy is a core competency of managing your teams – understand your team, what drives them, and what motivates them. Don't just look at what actions to implement – focus on results, target and reward the success of DEI with your managers – DEI KPIs. Laisha Dismuke from AHLA was making some great points too – Survey your own employees to find out what they want! Drive genuine DEI initiatives, not empty promises. Authenticity is key to success and buy-in from candidates and employees when it comes to DEI. 
Maximizing Talent Development Strategies
In this people short market hoteliers are talking about Maximizing Talent Development Strategies. Thomas Charbonnier from Omni Hotels spoke about the benefits of Internships and Chris Rutt from Crestline Hotels talked about Apprenticeships for culinary in hotels – explain the why and provide greater value to apprentices and interns, not just completing tasks, it gets engagement and therefore retention. Employee values and culture are not in a handbook given on onboarding, they are what you live and breathe as an employer. Your consumer brand is driven by your front-line employees, deliver engaging and fun training to your teams and invest in it. We talk about recruitment but it's important to have a retention strategy. People are looking for jobs with meaningful experiences. Candidates and employees may have English as 2nd language. The panel spoke about actions they had implemented like providing translators in hiring, then offer English language lessons to employees!
Leveraging consumer brand is a big thing in restaurants but for luxury hotels where your employees just simply are not going to be your customers, this is not possible, so its about creating a separate employee brand and experience – often not to intimidate potential employees. This is particularly true in culinary recruitment where Holly Lawson from Noble Hotels spoke about diversifying from traditional culinary programmes to dip into new talent pools. Hospitality offers the ultimate careers progression and we can tell great stories on how people have grown from 1st job to GM so there is an opportunity to tap into different local communities. How do we win people back to hospitality but also attract new talent to our industry… tapping into high schools a great place, homeless charities, and disabilities. All these experiences bring amazing talents. Veterans too.
The theme around different talent pools was highlighted in the most awe-inspiring and often emotional session of the week – Enhancing your Workforce through Fair Chance Employment. US prisons and jails release 700,000 people into society each year. Expanding the talent pool to include these individuals can be successful, but some hiring practices can be barriers to employment. Patty Cousins from Marriott spoke about dispelling the myths and understanding the benefits of hiring people with criminal records. Darryl Epps from The Fortune Society spoke movingly about his experience and battle to gain and remain in employment with Paul Ortega from MotivationCheck saying conviction doesn't define character. Help meet the demands of current job market and give people a chance.
Balancing Consumer Need with Employee Retention
With a fuzzy head from sampling the delights of Miami hospitality the night before, the one session that was a must-attend was Industry of Choice (9am!) – Consumer demand is increasing, yet employee retention challenges plague many employers with many leaving the industry altogether – this is true coast to coast and in markets globally… but Jake Basham from Tao Group wasn't pulling any punches when it came to dooing something about it. The fact is other sectors are going to win on flexibility and working hours often so why try and compete with them? Identify people whom DON'T want to WFH and who seek human interaction. Sell experiences to employees not just guests. Hospitality is a calling. Don't try and match other sectors, beat them on experience. Let's find the fun again. Echoing what Holly Lawson was  saying, Jake told  his own story from carrying bags to HR Director in a few years, hospitality gives unique opportunities for growth, we need to tell that story. 50% of employees are thinking about moving jobs, 30% leaving industry. Recruit better & be more inclusive in hiring decisions. Broaden searches, tell the story, the calling, the joy, the experience and articulate it. Fun is infectious. Build a sense of community.
A great line from Jake to leave HR in Hospitality Miami 2022 with… 
HR has never been as influential as right now. We always wanted a seat at the table, don't let it go to waste.
To find out more on how Harri can help with attraction, recruitment and retention strategies with great tech to deliver unrivalled candidate and employee experiences in hospitality via our modular platform offering ATS, onboarding, HR, employee comms, scheduling (Fair Workweek compliant) and Time + Attendance please get in touch here.