Restaurant & Bar Tech Live: Words From Roy Walker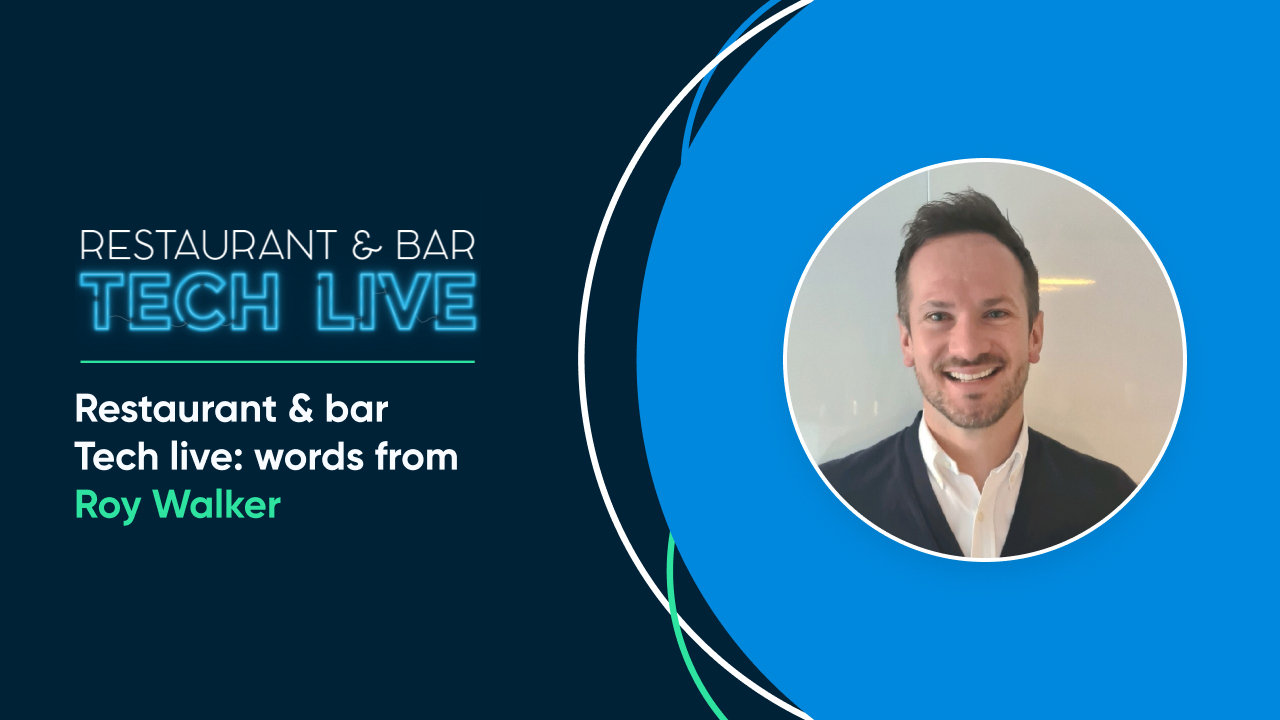 Rethinking Recruitment and Retention Through Technology in Unprecedented Market Conditions
This month, we attended (and presented at) Restaurant & Bar Tech Live – Europe's leading exhibition showcasing the emerging technologies driving the profits of restaurants and bars. During the event, Harri Sales Director Roy Walker spoke about something that's at the forefront of everyone's minds right now: the ongoing labour crisis.
Here, we outline some key points from Roy's speech, and introduce a solution that could help you solve your recruitment and retention problems.
The Current Hospitality Market
In 2020, hospitality businesses across the country were forced to close and thousands were left without work after COVID-19 struck the UK. When lockdown restrictions finally ended in the summer of 2021, customers came flooding back to restaurants and bars at an unpredictable speed. The problem is, employees didn't return at the same rate.
"I was speaking with one of my clients the other week – a pub operator in the South West – and he said to me: 'Roy, everyone's in Devon. It's like all my Christmases have come at once, but there's no one to open the presents'."
While 46% of those with recruitment issues blame the shortage of EU workers, it's clear that the pandemic has caused a shift in priorities and expectations. Many have left the sector for good in what's being dubbed the 'Great Resignation', and others have switched careers in search of financial stability now that the furlough scheme has ended.
Employee Compensation Expectations
We recently surveyed 3,000 workers about their employee compensation expectations and found that 61% haven't received a pay rise this year. To secure an increase, 44% of respondents plan to change jobs in the next year, while 35% have already moved occupations. Up to 26% are even prepared to switch industries.
It's no secret that salary expectations are an issue in this industry, but we're currently in a more competitive landscape – not just among other operators, but other sectors too. So you need to ask yourself: What's the cost of hiring? And what's the cost of leaving your existing employees behind to onboard and train up new people? You might find that it's cheaper (and wiser) to retain than retrain.
In a separate survey, we asked 100 employers about employee wages. While 27% didn't raise their salaries this year, 70% expect to in 2022. Of these employers, 31% are planning a 3–4% increase, while 37% are planning a 5–6% increase. These figures show that the market is responding – even if the results aren't significant.
Ultimately, the way we treat our employees is going to be the key to winning in the sector. This means that the operators who raise their salaries will be the best at recruitment and retention, and the others will inevitably fall behind.
The Data Doesn't End There…
Wage increases aren't the only thing encouraging people to stay in hospitality. Employee rewards and support programmes are just as valuable. And with retail businesses already offering such incentives, it makes sense to introduce them in our industry.
Wellbeing is also a clear priority for employers. Up to 30% of those surveyed plan to implement wellbeing programmes, while 48% plan to start reward schemes. What's more, 27% aim to bring in new healthcare strategies, and 20% will introduce transportation assistance.
This highlights what today's (and tomorrow's) employees are looking for, and emphasises the need to adapt to the current market conditions. That's where Harri comes in.
Although it sounds obvious, when you're looking to launch or buy a tech platform, it has to solve a problem. We found that even though operators were implementing applicant tracking systems, they weren't helping them to convert candidates. Those searching for a job would have to manually apply to each one – a slow and off-putting experience. 
Fortunately, we were able to help. By plugging into Indeed and Caterer, we simplified the application process and reduced friction. How? By looking at frontline employees first.
When to Implement Technology
If you're a tech buyer searching for a solution to drive your business forward, it's important not to be selfish. As Roy rightly pointed out, you need to put yourself in your frontline team's shoes. Would they want to use the tech every day? Would they engage with it at all? That's what we did when developing our technology.
"Our goal is to be a bit of a workday for the deskless employee. If you're not behind a desk, source, hire, manage, engage, pay and communicate with your teams through our technology."
Adoption and engagement is the biggest challenge when selecting and implementing any sort of technology. That's why we built a range of applications that frontline teams can use and benefit from. We've also recently launched four new tools including an application chatbot.
Carri is our smart conversational ambassador that simplifies the application process. It utilises platforms that many already use in their everyday lives, including iMessage, Android Messages, WhatsApp and Facebook Messenger. This eliminates the learning curve and streamlines the process for everyone. Here's how it works…  
We've set up an automated application flow where candidates can scan a QR code that can be pinned up on your business premises. When they do this, it automatically opens their preferred messaging application, changing your traditional application forms into engaging conversations.
This means you can gather information from candidates without friction, and save time for your frontline teams to focus on more important aspects of your business. Want to learn more about our tech? Request a free demo today!