Rooms101: The Event, Part One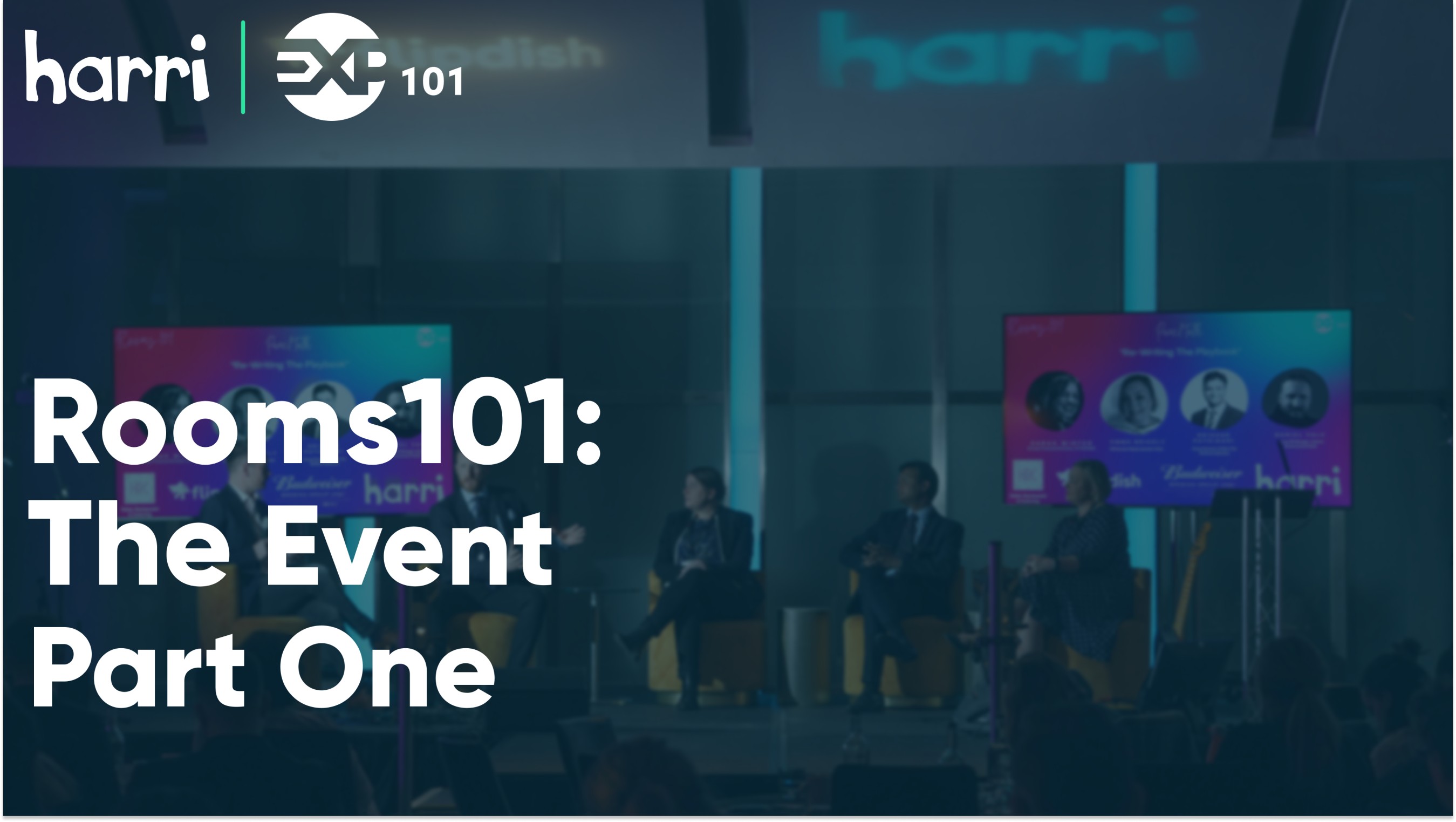 Hotel professionals from a broad spectrum of job roles gathered at the Hard Rock Hotel in London last week for the much-anticipated Rooms101 conference. Organised by EXP101 and proudly sponsored by Harri, the event brought together a host of industry leaders who took to the stage to discuss the hottest topics facing the hotel sector in 2022.
In the first of two articles, we share some of the main points explored during the day…
With Harri sponsoring Rooms101, it was only right that our very own sales director Roy Walker took the stage to host a panel debate on "rewriting the playbook" of the employee experience.
The panel was made up of Dan Vale, group HR manager for Andrew Brownsword Hotels; Sarah Winter, group financial director for 67 Pall Mall; Sridhar Pathigari, human resources director at the Stafford Collection; and Emma Brierley, human resources director at the Royal Lancaster London.
Setting the scene, Roy said the employee experience has never been so important given the double impact of Brexit and Covid which has left so many hotels struggling to fill vacancies.
"The pool of talent has reduced due to the impact of Brexit as many Europeans left and did not come back. Also, we sent our employees off on furlough and expected them to come back to the industry, but they did not come back."
He revealed that jobs website Indeed is advertising "35% more jobs but getting 50% less clicks on those jobs".
"Clearly, we can't be doing the same thing [to recruit talent] that we did two years ago and expect the same results," he added.
Competition for candidates is fiercer than ever
Sarah Winter said 67 Pall Mall had lost many EU workers who weren't able to return to the UK after Brexit, and that filling roles is harder than ever with other sectors competing for the same candidates.
"We are now in competition with retail and delivery driver jobs more than ever. When you can get £12 an hour working on the till at Sainsbury's, people would rather work in retail than be polishing glasses, or making rooms, or whatever it might be at midnight," she said.
Like many hospitality businesses, 67 Pall Mall tries to make its roles more appealing than jobs in retail, offering such things as retention bonuses, medicare and staff dining, but Winter said "we need to think more outside of that box". She added: "When I started in hospitality it was fun and exciting, but I haven't seen as much injection of fun into some of the things we've done recently and I think more of that would help us."
Harri is a hotel's best friend
The panellists all agreed that Harri's technology has become ever more invaluable in the race to find and recruit candidates. Dan Vale said Brownsword was using Harri for applicant tracking before the pandemic, but now the group has adopted more of Harri's tech, including our AI hiring assistant Carri and screening questions through our Talent Acquisition Suite. 
"When people are talking to their bank or the gas company about their bills it's almost become the normal way of communication to use a chatbot, so we wanted to do that too. We wanted to find candidates and communicate with them where they find most comfortable, so [using Carri] through WhatsApp and Facebook Messenger," explained Dan.
"It enables us to screen the candidates quicker, and it takes some of the legwork away from our heads of departments who are struggling for time. Also, our department heads might not know about all of the benefits we offer as a business, but a chatbot can deliver that information very quickly and take that weight of responsibility away."
He added: "The tech is not there to take away from the human element, it's so that when we do meet people face-to-face, those conversations are more meaningful." 
Sridhar Pathigari from the Stafford Collection also said that implementing Harri's tech has dramatically cut the time to recruit, which is proving essential in a candidates' market. Now, posting a job ad takes five minutes as opposed to the previous two hours, and in-person interviews can be swiftly carried out and job offers made all on the same day.
"There have been cases in the past where we were sending the offer letter out two days later and the person had already taken a job – the market is tough." 
Emma Brierley of the Royal Lancaster said Harri's tech had enabled every manager within the business to recruit for their department wherever they may be and at any time. "Now candidates are applying 24 hours a day and we need to be there to recruit 24/7," she said. "It's absolutely changed now out there and we can't keep going the way we were before."
Sarah Winter spoke of the cost of getting it wrong when it comes to recruiting and retaining candidates, revealing that when she previously worked for Gaucho restaurant group, it was calculated that every lost employee cost the business £8,000.
"That's the cost of recruitment, training, lost sales when that person was not as effective as someone who had been there for longer," she said.
"It just goes to show that these employees need to be looked after, paid fairly and get a good work/life balance so they want to work for us in a fun and enthusiastic manner. It does take work and it's not as easy as it was."
That sentiment was echoed in a second panel debate, featuring Tom Ross, group operations director for The Pig hotels, Anne Golden, general manager of Pan Pacific London, and Jon Dawson, people and development director at The Lore Group. Tom said the days are gone now when the hospitality industry can get away with working their staff extra hours without extra pay.
"Previously people would have a 40-hour contract and yet work 48 hours and it was just accepted. It was all so wishy-washy and that can't happen in our industry anymore. We need to make sure when we say it's a 45-hour contract, it is a 45-hour contract, which is why we pay every hour of overtime." 
"By paying that overtime you are paying people the true value of their input. It's a big commitment but you need to do it," said Ross.
Taking hospitality seriously
Anne Golden argued that the hotel industry has always tended to take advantage of its staff, and that such practices need to end in order for people to see hospitality as a viable career.
"Hospitality is not taken seriously in this country in the same way it is in Europe, where it's seen as a really serious profession to get into. We have long taken advantage of people and we do need to get better if people are going to stay in the industry," she said.
She gave an example of someone who completes a mental health first aid course, or learns to speak another language, getting rewarded for the added value they bring. "You should be recognised in some way if you are moving through the hotel operation helping people, but are we paying those people any more, recognising them more, giving them more perks? I don't think we're very good at that," said Anne.
Make staff your best ambassadors
There was much discussion amongst the panellists about treating staff well so they become ambassadors for your workplace. Anne spoke about Christmas 2021 when only eight chefs out of a brigade of 40 were not off with Covid and were "working ridiculous hours".
Pan Pacific invited those working over Christmas to come and stay in the hotel, with their families, so they didn't have to travel back and forth from home. Those with children were given suites, and one staff member was even allowed to bring her cat. "We got some little gifts for the children and we had such a great time. People said it was the best Christmas they'd had. Just treat your staff like family – it hardly costs anything," she said. 
"There's just a mindset paradigm shift you need to go through to take it back to basics – we are hospitality people after all."
Golden also argued that the hotel industry is guilty of prejudice against women and people from BAME backgrounds when it comes to job roles and promotions, and that "we need to call it out".
"We've got people of colour and women who leave the hospitality sector at a very alarmingly early stage. We have to ask why this is happening – we can't just ignore it."
She also added: "we also have to have a really good debate in our individual businesses to say are we still promoting men based on potential, and women on track record? Are there some segments of society who are not getting to the top and why? I believe in blended teams – we have all got something to give and those teams where you have got a real great mix are the ones that are most successful. 
"When we are looking to recruit, let's just be incredibly sure we are being inclusive."
You can get part two of our Rooms101 round up here. 
Want to find out how Harri can support your hiring and retention strategy? Book a demo below.