The Meaning of 'Workforce Management' Has Changed Forever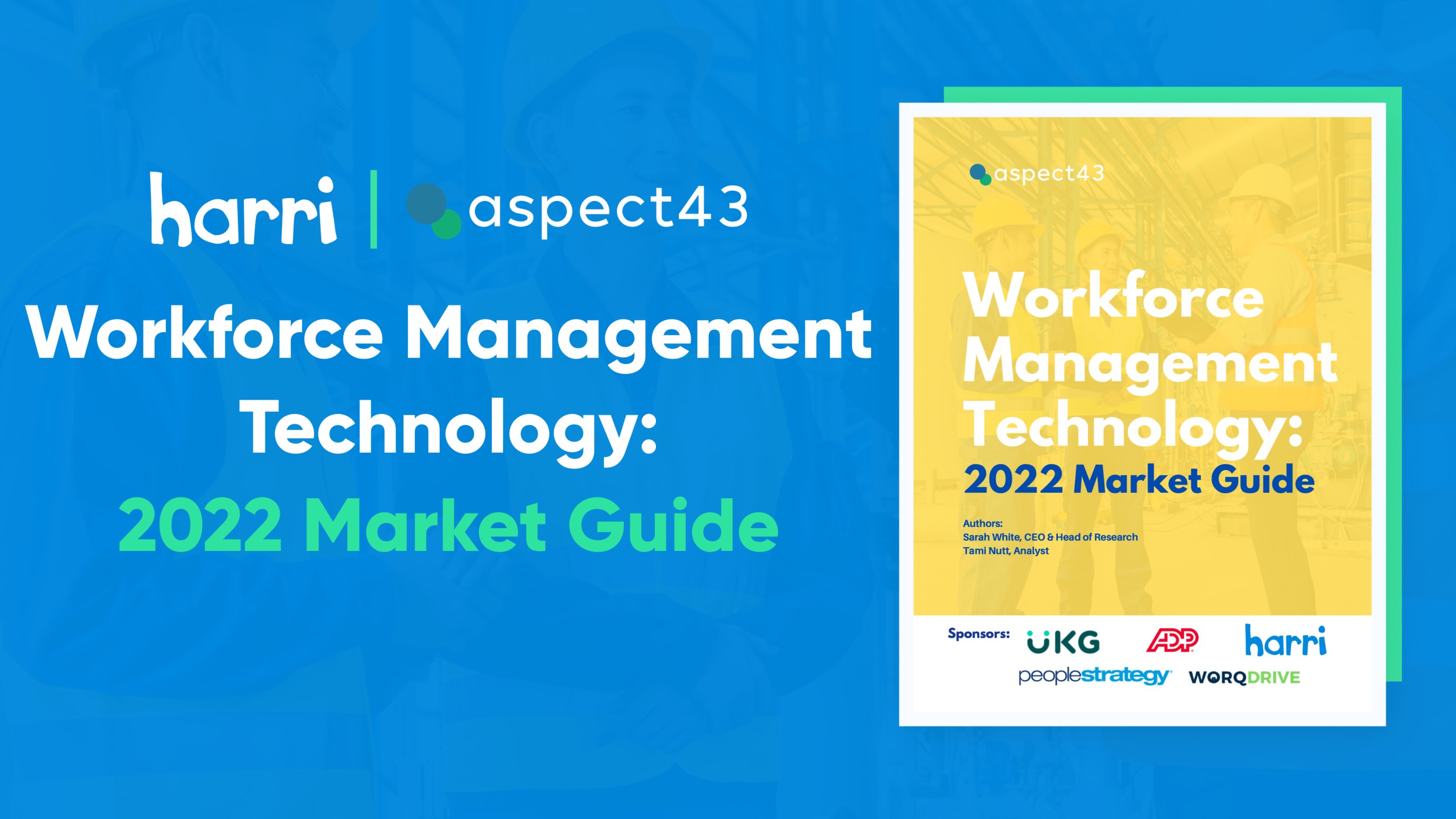 Over the last decade, workforce management (WFM) technology has evolved dramatically. Navigating the software solutions and tool categories can be difficult – but it doesn't have to be.
The Workforce Management Technology: 2022 Market Guide – co-sponsored by Harri and prepared by Aspect 43 CEO & Head of Research, Sarah White, and HR Tech Analyst, Tami Nutt – dives into what a modern workforce management strategy looks like. It outlines how the technology lines between traditional workforce management and talent management are blurred.
In the report, Aspect 43 introduced a new, modern workforce management tech stack that represents the current state of the market, and reflects the merging employee experience focus. Here are some key insights from their guide:
WFM goes beyond time keeping and scheduling
Organizations have an opportunity to move beyond logistical support of workers to a more people-first approach. To face a tight talent market and inflation, a bigger focus on retention, engagement, and inclusion will help increase productivity and ensure companies are better prepared for future challenges.
An equitable workplace takes into account scheduling and workforce management
In a study of the largest retail and food-service firms in the US, over 60% of workers receive less than two weeks' notice of their schedules. This unpredictability leads to inequality in the employee experience, and economic instability for many workers, especially parents.
To build a more equitable employee experience, fair scheduling isn't just essential – it's often the law.
Compliance isn't an afterthought
As national and local regulations change, businesses must stay up to date on compliance. Plus, the type of workers a company needs continues to rise, which adds to the growing number of regulations to abide by.
Organizations don't just face the risk of costly fines and fees – there's also massive consolidation in the workforce management tools market that's causing disruption in the tech stack. Compliance isn't an afterthought for leaders, and now, they're looking for solutions that put compliance at the forefront of what they do.
More investments being made in people intelligence
The most significant shift in the tech stack is the focus on people intelligence and garnering a better use of data for workforce planning. Up to 46% of companies reported to Aspect 43 that they're investing significantly into people intelligence product solutions.
This, in turn, will help reduce headcount shifts and allow leaders to easily identify how to redeploy talent.
Are you looking for help navigating the workforce management tech?
Download your free copy to dive into the tools and solutions that make up today's workforce management tech stack.