Hospitality Employers Aren't Discussing COVID Vaccinations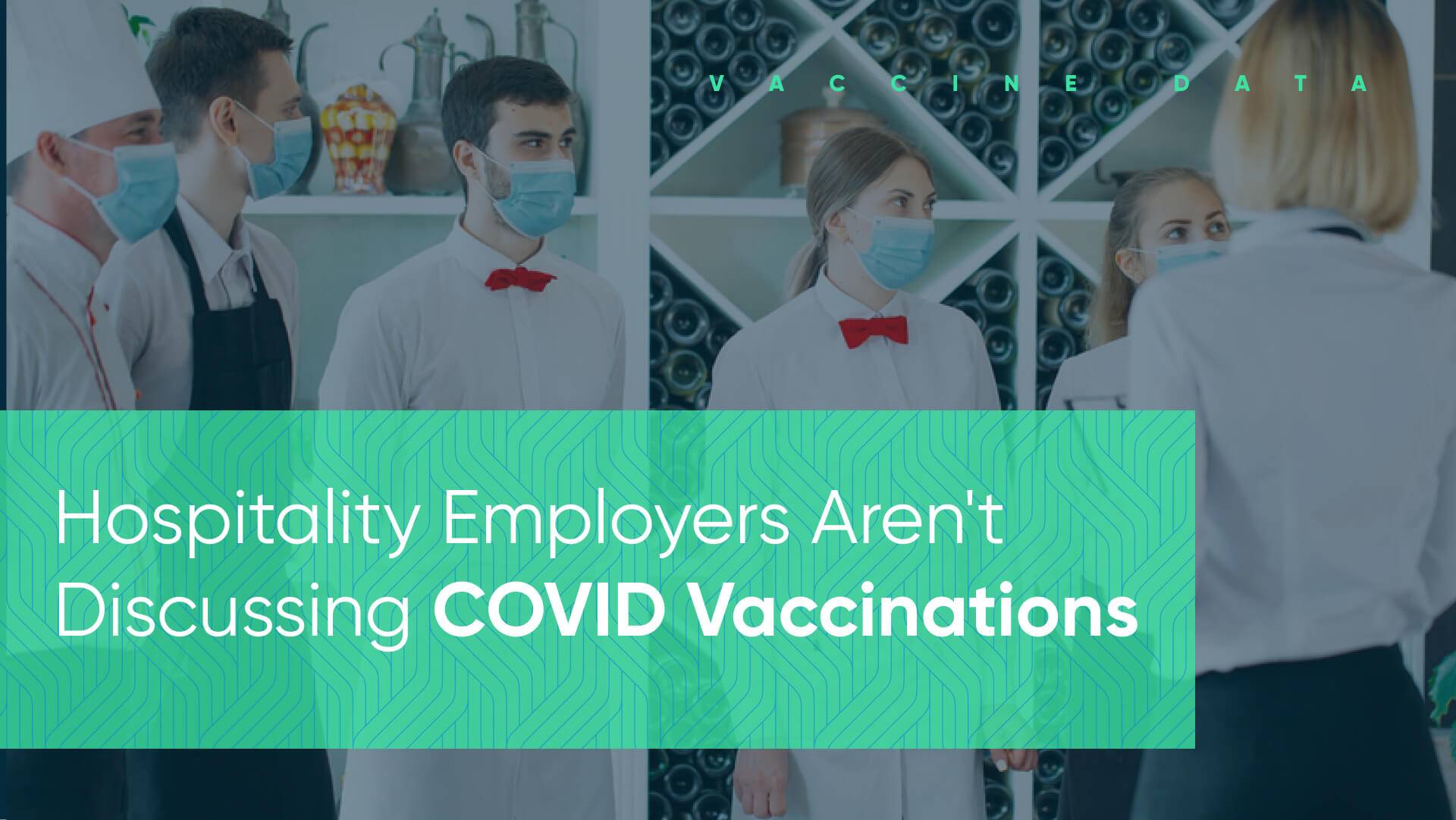 Our 2021 Hospitality Vaccination and Employment Status Report dove into vaccine mandates, the impact of COVID-19 on the workplace, and more. One datapoint, in particular, stuck out to us.
90% of respondents stated that their employer has not proactively discussed a COVID-19 vaccination process.
Not only is hospitality a highly interactive industry, but it also was one of the first industries to receive the green light for vaccine mandates. Combine these with the controversy surrounding the COVID-19 vaccine, and the 90% came as a huge shock to us. If managers aren't proactively discussing vaccine strategies, surely their employees are asking?
A formal discussion on workplace safety and an employer's vaccine strategy is imperative. While the Equal Employment Opportunity Commission (EEOC) released guidelines on vaccine mandates and incentives (more on those below), hospitality leaders are responsible for laying out clear guidelines on how they will keep employees and guests safe.
Why a discussion is necessary
The COVID-19 vaccine is a highly pressing and controversial topic. That means hospitality vaccine mandates, which are allowed under most circumstances, can create a stressful work environment for employees no matter what end of the vaccination spectrum they fall on
That's because a significant portion of hospitality's workforce still is not fully comfortable with receiving a COVID-19 vaccine. Our 2021 Hospitality Vaccination and Employment Status Report found that 29% of surveyed hospitality employees would not receive the COVID-19 vaccine.
It might be easier to fly under the radar, but vaccine-related communications are vital to reassure and retain employees — more on the latter below.
Should hospitality leaders mandate vaccinations?
Vaccination mandates are far from a black-and-white decision. While we don't have a concrete answer to this question, we do have some interesting data points that can help inform your decision.
Our survey found that 26% of its respondents would change industries if their employer required them to get the COVID vaccine — which is only 3% lower than those employees who outright refuse a vaccine under any circumstance.
26% might sound like a small number, but if the hospitality industry was to lose a quarter of its workforce, existing challenges related to talent acquisition and employee retention will be amplified.
This tells us that employees will favor flexible employers. But flexibility doesn't have to mean a clear-cut process of mandating the vaccine or not. Industry leaders are finding ways to encourage employees to take the COVID-19 vaccine in a way without crossing the line and pressuring their team.
The EEOC defined what employers are and aren't allowed to offer employees. Trader Joe's, Mcdonald's, and other brands are providing financial incentives for employees to get vaccinated. However, under the new guidelines, this strategy may be too pushy. Hospitality businesses must be prepared to tread lightly and find the balance between incentivizing employees and maintaining EEOC compliance.
Similarly, brands like Noodles & Company are providing employees with free PTO after both vaccination doses to allow for recovery time should that person experience side effects. In some states, like New Jersey, this is mandatory. For others, it can be a helpful perk for employee retention.
Chipotle, on the other hand, publicly encourages employees to receive the vaccine, but vaccination will not be mandatory. It can be expected that they'll send B2E marketing materials to their employees informing them of vaccine safety and other factors of concern. This might sound like a non-action, but for those on-the-fence employees, Chipotle's open flexibility means that it will rank higher as a desirable workplace compared to quiet competitors.
At the end of the day, employees appreciate having options and the power to make their own choices, especially when it comes to their health. Hospitality brands that find a middle ground on vaccine mandates will see more success in hiring and retention strategies.
And remember, employees may be legally exempt from vaccinations. 10% of survey respondents cited that they were exempt for religious or medical reasons. Employers should factor this into consideration, keeping in mind their obligation to uphold a confidential and supportive work environment.
Discussing your COVID-19 vaccination strategy with employees
Hospitality leaders must make it clear that steps are being taken to ensure a safe workplace, whether those plans involve the vaccine or not.
No matter your organization's approach, managers should be open to employee concerns, clearly communicate all decision-making reasoning, and listen to and incorporate feedback when possible.
Some vaccination plan communication ideas might be:
How you plan to move forward to ensure team safety

Vaccination incentives, if you choose to create any

Reassure employees that their actions will not cause retaliation

Safe communication outlets for employees to address concerns
An HCM platform that contains mobile employee communications tools is a great way for hospitality businesses to create private, two-way communication channels between managers and employees. 
Communication tools provide a confidential space for employees to voice concerns with managers. It also can be a means for your team to communicate vaccination status or symptom recovery in the event they are willing and able to receive the COVID-19 vaccine.
How can hospitality businesses maintain a safe workplace without vaccine mandates?
For workplaces not mandating the COVID-19 vaccine, there are other methods you can use to ensure workplace safety. Following CDC-recommended safety precautions for indoor and outdoor dining, and complying with tracing policies following an outbreak are two measures that any hospitality business can follow.
We also recommend utilizing a health screening tool to ensure only healthy employees enter the workplace, preventing the spread of COVID-19 across your business locations. There's a variety of benefits that come with a health screening tool that doesn't infringe on an employee's vaccine preferences while still maintaining a healthy work environment.
Harri's Employee Health Check Platform enables workplace safety with:
The ability to log employee temperatures symptoms from a mobile device

Instant alerts if an employee fails a health check

Printable, customer-facing health check certifications and stickers

Health check reporting to prove COVID-19 safety compliance
Vaccines aside, integrating a health check platform into your everyday workflow sets the tone to both your team and your guests that your business cares about COVID-19 safety. For workplaces that won't mandate a COVID-19 vaccine, such a tool can build confidence for existing employees by ensuring a safety-first workplace.
It's time to start talking about the vaccine
Safety in the workplace should be the number one priority, especially for service-based industries. With the extreme turbulence of COVID-19 mandates, 90% is too high of a number to not be discussing vaccine strategies.
The best strategy is to communicate with your front-line employees, gather their feedback, and adapt plans if and when possible. It's never an easy discussion, but there are tools that can help hospitality operators strike a balance between workplace safety and employee preferences.