Harri Appoints Wendy Harkness as Chief Compliance Officer Following Major Growth Announcement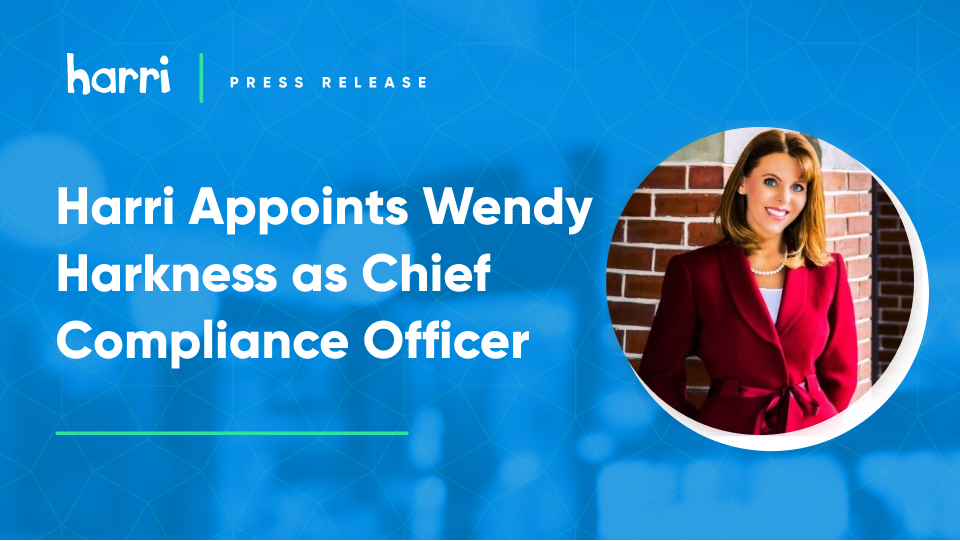 Harri, a leading HCM platform for service industries, expands its leadership team to drive growth and performance across all facets of wage and labor compliance.
NEW YORK, NY (January 10, 2022) – Harri, the revolutionary Human Capital Management platform serving over 20,000 restaurant and hotel locations and 4 million hospitality employees globally, today announced the appointment of Wendy Harkness as Chief Compliance Officer.
Wendy brings broad and deep experience across the compliance, legal, and HR landscape, most recently serving as the Chief Administrative Officer & General Counsel for Restaurant Growth Services, where she led the national legal, risk, and HR teams. 
As Harri's Chief Compliance Officer, Wendy will lead the advancement of Harri's industry-leading Workforce Compliance Platform supporting a rapidly expanding community of global enterprise clients, across multiple compliance functions including wage & hour, payroll, and training.
Rapid growth in the Harri Compliance Platform over the course of 2021 and early '22 has significantly expanded functionality, including configurable rules engines for all labor markets at a federal, state, and local level across the US and UK. Additional markets across Europe will follow. 
Additionally, as part of a multi-million dollar investment in AI-powered analytics, Wendy will be leading the development of Harri's Predictive Compliance products. This first-in-market suite of solutions allows HR, legal, finance, and operations executives to better monitor, mitigate, and plan for employee risk across their organization. 
Harri recently announced a $30M growth funding round led by Golub Capital. During this pivotal period, Wendy's leadership will greatly contribute to Harri's goal of providing the best-in-class labor solutions to service-driven businesses.
For more information, please visit www.harri.com. 
About Harri
Harri is a verticalized HCM platform that helps service-driven businesses build, manage, and engage their teams. Interconnecting the entire employee journey, the Workforce Operating System provides integrated solutions for talent acquisition, onboarding, hiring, employment branding, applicant tracking, scheduling, time & attendance, communications, compliance, analytics, and much more. With 300+ enterprise customers, Harri is a best-in-class verticalized platform helping organizations to solve labor-related challenges and drive optimal business performance across the globe.
###
Press Contact:
Kate Price, Editorial & Enablement Manager at Harri UK
marketing@harri.com