How High Will Hospitality Wages Climb in 2022?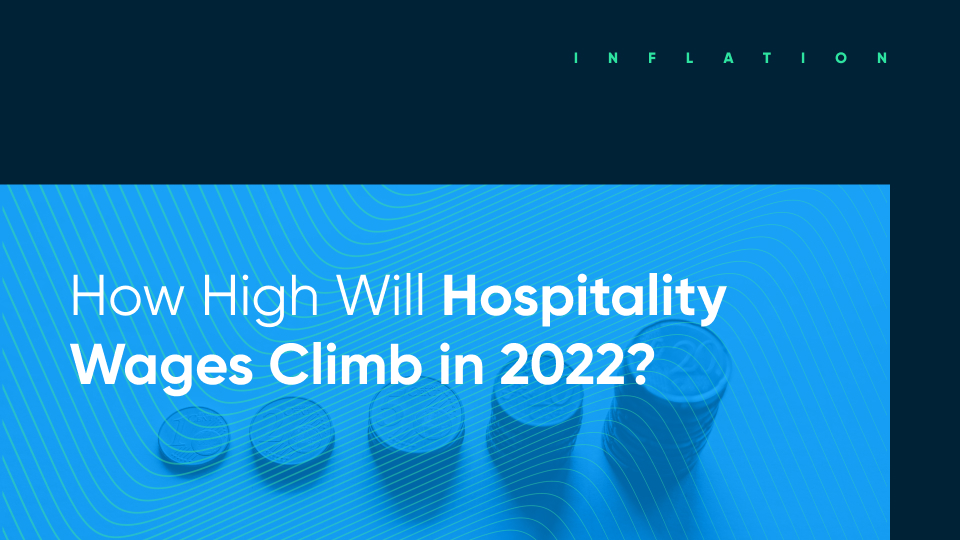 We've all felt the pressures of inflation over the last several months, which can be seen anywhere from rising gasoline costs to rising food prices. With the cost-of-living and supply chain cost both increasing, inflationary wage pressure has been significantly more prominent.  
How does this impact hospitality? To start, supply chain cost increases are causing restaurants to increase menu prices, especially those related to beef and corn price increases. We're also seeing a spike in wages in the wake of the COVID-19 pandemic related to higher turnover rates and pressure by the $15/hr minimum wage movement.
Labor costs have skyrocketed, to say the least.
Inflationary wage pressure is a cyclical process. As cost-of-living and supply chain costs continue to rise, employees will need a higher wage to support themselves. Hospitality operators will need to charge higher menu prices to remain profitable.
The potential of stagflation
We're facing a situation where, if we are not careful, our economy will mirror the stagflation crisis that happened in the 1970s. Stagflation is a situation in which the inflation rate is high, the economic growth rate is slowing, and unemployment is remaining steadily high.
To put it extremely briefly, stagflation in the 1970s is associated with the rise of spending and consumer demand collided drastically with the 1973 oil embargo. This caused oil prices to rise, which spilled over into other sectors that led to an even bigger supply crisis. As a result, growth productivity slowed while both the Vietnam War and the Cold War had drastically decreased the available labor supply. 
While today's external factors differ from those in the past, it's clear that we're in a similar situation right now. Hospitality operators should be made aware of the potential consequences and how to protect their margins.
How high will hospitality wages rise in 2022?
According to our Hospitality Compensation Expectations Report, which surveyed 100+ enterprise operators and 7,000+ employees, hospitality wages will likely rise at least five to seven percent in 2022. Much of this will be fueled by proactive wage raises in an attempt to attract and retain talent, with a majority of frontline workers being paid $15/hr or more.
52%

of operators expect to raise employee wages 5-7% in 2022

52%

of employers raised employee pay between 2-3 times in 2021 NOT including federal/state raises to minimum wage

The number of hourly hospitality employees paid $15/hr or more, increased

20%

from the beginning of 2021 to the end of 2021

The number of salaried hospitality employees paid $51,000 and $61,000+ annually rose

5.1%

from the beginning of 2021 to the end of 2021 
So, what happens if hospitality operators can't keep up with these changing wage expectations? Our report also found that 52% of hospitality employees plan to change jobs to achieve a pay raise.
How rising hospitality wages will affect operators
Rising hospitality wages could affect hospitality operators in a multitude of ways, all of which promise operational disruption and further compounded costs for brands that fail to proactively find a solution.
Unaffordable labor
The highest wages will win 2022's race for talent. Operators that don't adapt to the higher wages will inevitably lose their workforce to more generous competitors who prioritize higher wages for their employees. 
With unaffordable labor, hospitality owners will need to assess every single employee's need in the day-to-day operations and figure out if they are a necessity or not. We also must consider that, as wages increase, so will the cost of turnover.
Reduced workforce
Unaffordable labor might result in layoffs, which means hospitality operators may need to figure out how to operate with a smaller team. This will undoubtedly create a strain on day-to-day operations as well as overall business performance.
Here's where we'll see a rise in cross-training as well as tech adoption, more on those later.
Increased labor violation fees
With hospitality wages rising, some hospitality operators may need to schedule their employees to perform more than one task. We might also see increased instances of overtime and last-minute scheduling to accommodate sudden labor needs. 
As predictive scheduling laws like Fair Workweek gain popularity, operators may find themselves facing scheduling-related compliance issues. That means prioritizing when last-minute labor is truly necessary, and budgeting for compliance-related premium payments accordingly.
How can operators cut costs in the course of rising hospitality wages?
While we might not be able to stop inflation, we can take critical steps to cut costs and cushion margins in the wake of cost inflation. Optimizing your hiring pipeline and scheduling processes are two great places to start.
It's no secret that tech-based strategies are on the rise, which means that many labor efficiency tools will require the use of a fully integrated HCM software. 
AI-powered hiring tools to reduce hiring and turnover costs
For sectors like hospitality with naturally high turnover rates, the entire hiring process can be costly and time-consuming. The labor shortage has only exacerbated this. 
A highly effective way to combat hiring challenges is through the use of AI-powered hiring tools. 
By streamlining processes related to screening, interview scheduling, candidate engagement, hiring reminders, and other tedious parts of the hiring journey, conversational AI can create a much more user-friendly application experience while also giving time back to busy hiring managers.
We built Carri, an AI-powered hiring assistant, to automate hiring tasks while still offering highly interactive, fully-branded application experiences to each and every candidate.
The result? Decreased time to hire for quality candidates, saving on recruiting costs while also decreasing the odds of turnover. And because Carri handles everything from application processing to answering tricky candidate questions, she gives time back to busy managers who might be spread thin.
Data-driven scheduling to ensure labor efficiency
Scheduling is, without a doubt, the ultimate solution to solving labor efficiency challenges heading into 2022.
Operators need to know the best ways to allocate labor and determine which shifts (as well as resulting overtime and compliance payments) are absolutely necessary. But, taking the time to figure out labor-optimized schedules can be confusing and time-consuming, especially when taking different employee schedule requests into account. 
An intelligent scheduling platform is a must-have to automate tedious scheduling processes while also improving the efficiency of your labor allocation. We factor in accurate sales forecasting at the shift level, employee skills, shift preferences, compliance requirements, labor spend restrictions, and more, to ensure highly effective, data-driven schedules.
And to ensure labor spend doesn't skyrocket out of control, our shielding tool generates labor costs in real-time during the scheduling process, so managers gain full visibility into the cost implications of each shift. That includes overtime, compliance fees, paid and unpaid breaks, and more. 
Compliance tools to minimize labor law costs and violation fines
Hospitality operators know all too well that labor law violation fees can be hefty. Not to mention that they can happen very quickly if you are not fully aware of state and federal labor laws. 
In order to avoid this, hospitality operators should invest in hospitality compliance tools that will help them remain in compliance while building regular employee schedules. We build compliance requirements into our workforce management platform to ensure complete compliance with Fair Workweek, child labor laws, overtime rules, break requirements, and more — all at the state level.
Non-compliant notifications, proactive non-compliance scheduling restrictions, compliance, audits, and more. We give managers the tools they need to prevent unnecessary compliance costs while understanding the "why" of necessary compliance spend. 
Not only does this save premium costs by ensuring compliance, it also prevents managers from needing to become compliance experts, allowing them to dedicate more time and energy on the guest experience.
Smarter timeclock software to prevent buddy-punching
One of the oldest "tricks in the book" that hospitality operators often have to deal with is buddy-punching, also known as clocking a team member into work when they're not there. Buddy punches often occur when an employee is running late but doesn't want to lose minutes off their shift.
But in the wake of rapidly rising labor costs, every minute counts. Especially when 15 minutes can make the difference between a regular shift, an overtime shift, or a shift that requires unpaid breaks. These charges might seem small, but they quickly nickel-and-dime labor spend into inefficient, unscalable numbers.
A smarter employee-facing timeclock is an excellent way to prevent buddy punching while ensuring all employees adhere to their pre-defined shifts.
Our biometric timeclock software uses facial recognition tools to verify the right employee is clocking into and out of each shift every time. Managers can pre-set shift rules to prevent employees from clocking in early or clocking out late…and interfering with labor budget as a result. But flexibility is key, so those shift rules can be overridden when needed in the event of last-minute schedule changes.
Labor efficiency is the theme of 2022
The data shows hospitality wages are climbing and will continue to do so well into 2022. While these rising wages and the inflation crisis as a whole can't be helped, there are steps that hospitality operators can take to mitigate these costs to ensure overall restaurant success and profitability in 2022 and beyond.
Learn how our workforce management tools can optimize operational processes to achieve labor efficiency.