Wage Inflation 2021: When and Where Minimum Wage Changes are Happening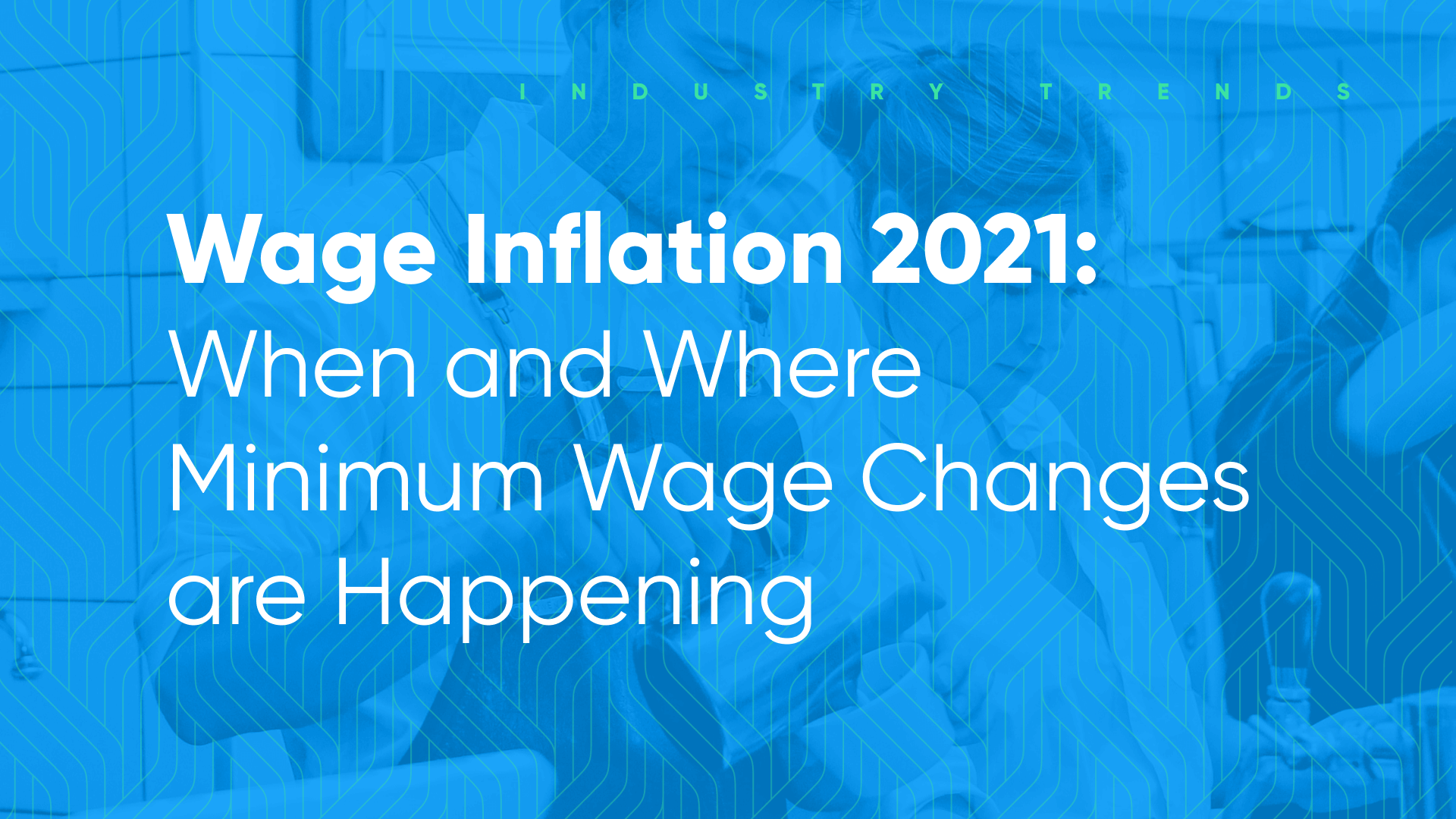 Lawmakers, activists, and consumers have been calling for an increase in the minimum wage for years. With Joe Biden moving into office, the hospitality industry can expect a shift towards pro-worker legislation supporting those demands, amongst many others.
Currently, the federal national minimum wage requirement sits at $7.25/hour, with each state having the ability to raise that minimum as they see fit.
When in office, Biden plans to enact the following pro-worker xx:
Increased minimum wage to $15/hr

Protecting the Right to Organize Act (PRO): Stronger bargaining and unionizing powers for public service workers

Ending tipped minimum wage and sub-minimum wage for disabled workers

Mandatory paid sick days and 12 weeks of paid family and medical leave
This ruling received mixed reviews. While hospitality businesses generally agree with the benefits of an increased minimum wage, it also raises a slew of financial challenges in an industry that always struggled with profitability even before COVID-19.
The increasing minimum wage presents itself as more than just a labor compensation issue, it also manifests itself into operational obstacles that will have repercussions across all business aspects. Because service-driven businesses are unforgivably people-centric, employers need to be highly strategic when working towards a solution that satisfies their employees, their guests, and their business needs.
States that will increase minimum wage in 2021
Not all states will see an immediate increase in minimum wage in 2021. The ones that do are following the incremental, year-over-year raise pattern to limit financial burdens on businesses. 
Here's a list of US states that will mandate a minimum wage increase in 2021:
Alaska: $10.34/hr
Arizona: $12.15/hr
Arkansas: $11/hr
California:
$13/hr(25 employees or fewer)

$14/hr (26 or more employees)
Colorado: $12.32/hr
Connecticut: $13.00/hr starting August 1st
Delaware: $10.25/hr
Florida: $10.00/hr starting September 30th 
Georgia:
$5.15/hr

$7.25/hr for employees covered under FLSA (Fair Labor Standards Act) 
Illinois: $11.00/hr
Maine: $12.15/hr
Maryland:
$11.75/hr with 15 or more employees

$11.60/hr with 14 or less employees
Massachusetts: $13.50/hr
Minnesota:
$10.08/hr if business' annual gross revenue is $500,000/yr or more

$8.21/hr if business' annual gross revenue is less than $500,000/yr
Missouri: $10.30/hr
Montana: $8.75/hr
Nevada:
$8.75 if employee is offered health insurance

$9.75/hr if employee isn't offered health insurance
New Jersey:
$11/hr if the employee is seasonal and the business has 5 or less employees

$12/hr if the employee is non-seasonal and the business has 6 or more employees
New Mexico: $10.50/hr
New York: $12.50/hr 
Ohio: $8.80/hr
Oregon: $12.75/hr
Rhode Island: $11.50/hr
South Dakota: $9.45/hr
Vermont: $11.75/hr
Virginia: $9.50/hr starting May 1st 
Washington: $13.69/hr
Wyoming:
$5.15/hr

$7.25/hr for employees covered under FLSA (Fair Labor Standards Act)
For many hospitality businesses, the minimum wage increase couldn't have come at a worse time. Restaurants were among the hardest businesses hit by COVID-19, where ever-changing health and safety standards demand them to do more with less. Newly introduced labor regulations, like Fair Workweek, present yet another operational and financial challenge amidst the chaos.
One reason why juggling COVID-19 safety, labor compliance, and day-to-day operations is extremely difficult is because the restaurant industry is highly unpredictable. A great example is outdoor dining, which many restaurants rely on to stay afloat during the pandemic.
If unexpectedly bad weather conditions strike, outdoor dining takes a hit. The same holds true when we consider the winter weather inching closer and closer — will enough customers show up for service to make ends meet? Restaurants very well may end up paying extra in labor costs without the sales to support those operations. Throw Fair Workweek premium pays into the mix, such as if employees need to be sent home due to a lack of service demand, and it creates a massively complex financial situation.
Indoor dining may seem like the solution here, but an increasing number of states are rolling back indoor dining to keep COVID-19 numbers low, making this yet another unpredictable revenue stream.
Enter the rising minimum wage. Businesses that are already struggling to pay rent, employee wages, supply costs, COVID-19 security measures, and more not be able to keep up while maintaining the same level of operations. Rising labor costs almost guarantees that other areas of business, both on the front and back end, will be affected.
What does this mean for the hospitality industry?
Increased labor costs
The first and most obvious consequence of a minimum wage increase is that hospitality businesses will see a huge spike in labor costs. This is especially true for franchises or enterprise-level restaurants that employ tens, hundreds, or even thousands of workers. 
The incremental minimum wage increases definitely soften the blow, but revenue-boosting strategies like increasing menu prices might not cut it, and hospitality businesses will have to look elsewhere to make up for increased costs.
An emphasized talent crisis
The increased cost-per-employee service yield means that employers need to spend more time finding the right hire. High costs associated with onboarding and training are only magnified by the rise in minimum wage. In an industry dependent on its people to provide excellent service, talent selection and retention can make or break a business.
The Center for Hospitality Research at Cornell reports that turnover for the average front-line worker costs about $5,864. Combine that with increased minimum wage payments and it spells bad news for a restaurant's bottom line.
Reduced hours, eliminated jobs
While the initiative to raise the minimum wage carries the intention of awarding more money to employees, restaurants may need to scale back their workforce in order to bridge the new labor cost gap.
The 2019 Hospitality and Food Service Wage Inflation Survey showed that, in response to a rising minimum wage, 64% of employers reduced employees' hours, while 43% eliminated jobs entirely.
This trend will likely continue, forcing hospitality businesses to restructure or reduce their labor force. Employee schedules will need to be strategically crafted and must carefully consider who will be working what role, where and when.
To further complicate this issue, many restaurants report that they require more labor to upkeep a safe and sanitary work environment during COVID-19. Health and safety roles, such as the rising cleaning captain, may need to take a backseat while employers work to offset the increase in labor costs.
Increased reliance on third-party services
COVID-19 has drastically affected consumer dining behavior, with delivery, online ordering, and curbside pickup at the forefront of service demands. For restaurants running on leaner teams, such as a smaller fleet of delivery drivers, third-party service providers are a natural next step in bridging the labor gap. Doordash, UberEats, and other companies might just keep the massive momentum they picked up during COVID-19. The same holds true for digital ordering or reservation platforms, which can help reduce the number of customer call-ins without hurting service levels.
A shift towards all-in-one tech solutions
HCM tech that integrates all aspects of critical employee and business data will become crucial for employers looking to battle wage creep and optimize labor costs. When payroll data meets labor forecasting and smart scheduling all in one tool, employers are empowered to identify operational inefficiencies and nuances in their business to make data-driven financial decisions. 
These all-in-one tech platforms are more than just a means to take on the challenge of a rising minimum wage, they're also vital for futureproofing strategies. When restaurants work with defragmented data, or even worse, a pen-and-paper solution, keeping up and staying ahead becomes impossible. Solutions like Harri will become a significant piece of a business' ability to successfully navigate financial challenges both now and down the road. 
Recognizing the challenges that come with the rising minimum wage enables businesses to find a path towards profitability and success. In fact, Nation's Restaurant News reported that some businesses are embracing the benefits that come with a rising minimum wage.
Pay increases result in reduced turnover, and we all know that high turnover goes hand-in-hand with plenty of hard and soft costs. What's more, wage increases create happier employees which translates into a better guest experience. Everything boils down to people performance driving business performance, and fulfilling employee compensation fuels that success.
Holly Sklar, CEO of Business for a Fair Minimum Wage, ties the knot between satisfied employees and profitability, "our message has long been that workers are also customers. So raising the minimum wage puts money in the pockets of the people who are the most needing to go out and spend it, not save it, but go out and spend it, which makes raising the minimum wage a really efficient way to boost the economy."
Technology to predict and mitigate labor costs
The most effective tool in battling financial pressures stemming from wage hikes is the adoption of an all-in-one HCM platform. A major problem that hospitality businesses face is working with data that's either fragmented or highly disorganized — neither of which are sustainable or conducive to a productive business environment. Instead, hospitality businesses need a unified solution built for the front-lines and the unique challenges that the industry faces. 
The right tech stack identifies labor inefficiencies and empowers businesses to reduce those costs by:
Connecting the dots across vital business functions to enable stronger people performance.

Forecasting labor demands and scheduling staff accordingly.

Streamlining internal operational processes related to labor distribution and allocation.

Proactively preventing labor compliance violations and tracking them when they

are

required.
It's important to note that these are much more than short-term benefits! HCM tech enables long-term data-driven decision-making and futureproofing strategies even when additional financial and labor regulations come into play.
Finding the right tech stack is key here. If you go through the motions of selecting and implementing an HCM solution that doesn't check all of your boxes and enable long-term success, the initial efforts were effectively wasted.
Connecting the dots between the data
Labor forecasting is a serious challenge; every penny counts when optimizing labor costs and driving business performance. When executed correctly, forecasting is an excellent way to battle financial uncertainty and create a predictable workforce, even with yearly minimum wage increases. 
However, businesses cannot forecast effectively without the correct data.
When weighing the impact of a minimum wage increase, what datasets would be most valuable for your managers or financial team? 
You may want to track sales against labor costs and average guest spend. Employee sales patterns are also key data points to understand, especially when considering how those numbers vary throughout the day or by business location. Compliance fee tracking related to Fair Workweekand other regulations can be monitored to paint a more detailed picture of your labor spend.
HCM tools like Harri allow you to view endless data combinations, but it's up to you to identify where and how a minimum wage increase fits into the puzzle. This is only possible with a tech stack built to unify those data points.
Tie forecasting in with smart scheduling tools, and employers are able to assign not only the right talent, but the right amount of talent to handle unique operational demands on a shift-by-shift basis. And, if their HCM tech stack takes labor laws into consideration, compliance concerns are resolved from the get-go. 
Wrapping up the impacts of the minimum wage increase
Although the 2025 deadline for a $15/hour minimum wage increase was designed to help service-based industries adapt, compliance is not an easy feat for most businesses. As the hospitality grapples with COVID-19, looming labor and scheduling regulations, and whatever else the future holds, smarter solutions are needed to tackle these deeply complex problems.
Those that take advantage of an all-in-one HCM solution will come out on top, benefitting from a stronger understanding of their labor spend and better tools to optimize effectively. As the minimum wage continues to increase, these businesses will already have a plan in place and will be in a better position to strategically innovate.