Adapting to the Labor Shortage: Breaking the Engagement Code with Communication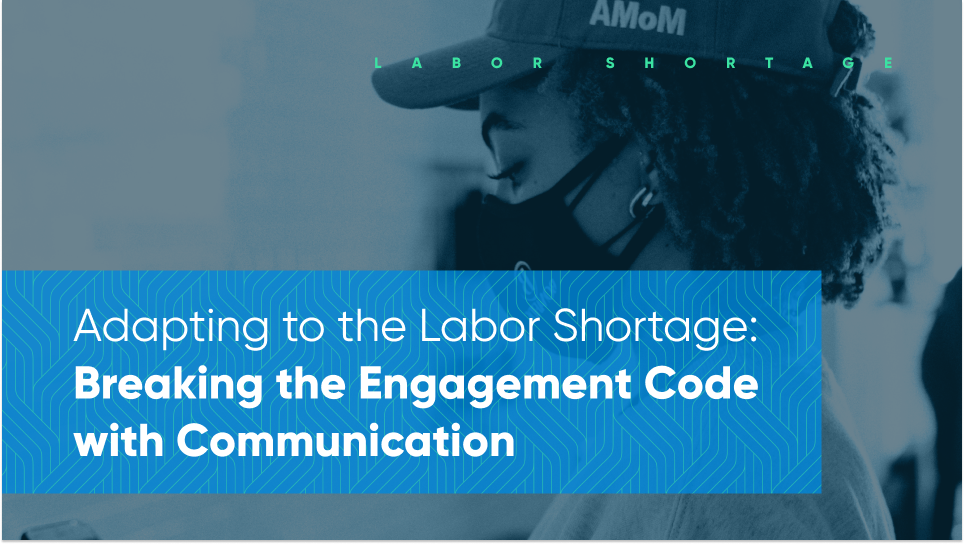 The single most important lesson that we learned from the pandemic is how crucial it is to communicate with our employees in a clear and effective manner — especially those workers on the frontlines.
But successful engagement requires wholistic communication flows, and not all brands were prepared to deliver that amidst the COVID-19 chaos. No two days looked the same during the height of the pandemic. Brands that failed to nail basic team communications found themselves with distraught employees on furlough and inconsistent in-store processes as our industry adapted to regulations on-the-fly.
COVID-19 brought many unknowns and frontline hospitality employees had questions.
Furloughed employees needed to know the terms for coming back. When is the restaurant opening? Are all employees coming back? How do unemployment and benefits work during the furlough period?
Then for still-working employees, there were questions regarding COVID-19 safety that still persist to this day. How is the company handling safety and sanitation? What are masking and vaccination policies? How should we handle customers that refuse to follow safety protocols?
Failure to answer these questions, amongst many, many others, drove a rift between employers and employees as brands navigated each day with uncertainty. Lack of transparency and consistency from government entities on how to manage the pandemic further added distrust.
But when operators did have answers, delivery mattered.
When we needed to talk to employees, there was no way to reach them
Hospitality as a whole suffers from slow tech adoption. Before the pandemic hit, communications typically occurred via word-of-mouth or pen-and-paper. Think back-office notices, paper schedules, or quick pre-shift team meetings.
When COVID-19 brought separation, all of those became obsolete. 
To compensate, some brands began to use group messaging apps to try and relay important information to teams. While this was great in theory, it flopped in practice.
Why? Because employees gravitate away from "unofficial" brand communications. They won't log into an outside app to view work messages unless it's truly vital. The more logins employees need to remember, the more friction you add to the communication process — and the less likely you are to yield results. So if a brand was pushing new product promotions or created sanitation guidelines, informing employees proved to be a massive challenge.
Text messages groups were another option that also was inefficient for large brands and busy store locations. Creating 50-person group chats isn't the most effective way to communicate, after all.
The solution? Brands that blended communications with the tools employees used in their day-to-day work found the most success.
There are two pieces of technology that are guaranteed to achieve high levels of employee interaction: the timeclock and the scheduling app.
Employees clock into and out of the timeclock not because it's your company policy, but because it's a requirement to get paid for the hours they worked. No login, no pay.
Likewise, team members need to access their schedule to know when they're working each week. As schedules continue to shift to digital formats in the wake of COVID-19, those digital scheduling apps receive high traffic as employees log in to view their schedule, request a shift swap with another worker, and more.
Taking those into consideration, integrating communications within the timeclock and employee schedule is the most effective way to push messages to your team.
We developed our integrated communications tool as well as employee-facing tech comms to ensure a transparent workforce and drive end-to-end communications that 
Messaging where your team is
As noted above, successful communications need to be located where your team is: in the technology they use every day.
Our TeamLive app encompasses everything including scheduling, pay-related documents, shift swaps, and more. In short: they're going to be logging into this app at least once per week. So when an employee logs in to access these, they'll also be exposed to messaging from managers or corporate. More on this below.
This functionality also extends into the timeclock, where operators can push messages the moment an employee clocks in for their shift. Did you implement a new masking policy or did new branded PPE come in? Branded timeclock communications guarantee that employees know as soon as their shift starts.
Efficient and official group messaging
While group messages are great, we covered a few reasons why unofficial team messaging fails to get the job done. We created our employee communications tools to ensure efficient communications either one-on-one or at scale.
When employees first start with your business, they'll be automatically dropped into position-based group chats specific to each store location. That means all cashiers or all line cooks might be in the same chat for easier communications regarding policies or shift swaps.
This can be replicated for entire front-of-house teams, location-wide communications, or any other sort of group that best fits your team's communications needs. And because communications and notifications are integrated into the TeamLive app (remember, this is where employees access their schedules), you significantly increase the odds of message receipt and response — even if you don't have their phone numbers. 
Goodbye missed messages, disorganized chats, and disparate messages, and hello transparency.