Are You the One? Recruiting Customization Made Simple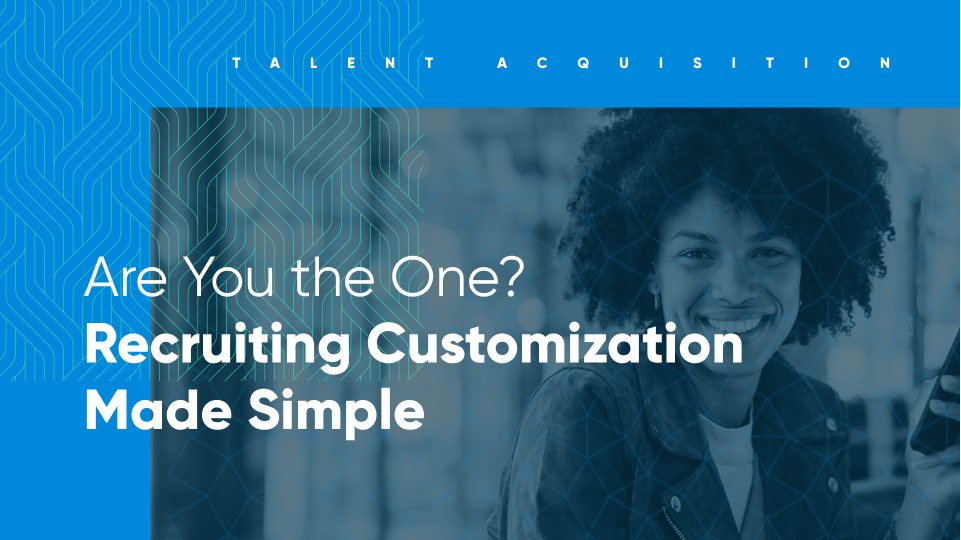 No two hospitality hiring strategies look the same. While some brands are speeding through applications, others are taking time to focus on the details in search of well-fit, long-term hires.
Both approaches are valid After all, there's no right or wrong way to hire when battling an industry-wide labor shortage.
But what if you could have the best of both worlds?
With limited manpower and busy restaurant managers, recruiting processes often suffer from necessary sacrifices. Sure we might want to hire only the best of the best, but in reality, most brands are scraping by to not only boost applications, but also to retain candidates throughout the hiring process.
That's where technology comes into play. Conversational AI, in particular, is an excellent way to enable quality hiring at scale without overworking store managers. 
We built Carri, an AI-powered conversational ambassador, to combat this exact issue.
From smart screening to engaging candidate messaging, Carri ensures the right people come through your doors without adding process friction on the front or back end of candidate applications. Whether you're looking for one quality restaurant manager or a team of 100 employees to run a fine dining establishment, Carri enables high-volume, high-touch recruiting.
Gone are the days of wondering if a candidate is "the one." Let's dive into the ways Carri improves talent acquisition processes for effective hiring.
Identify the right talent with candidate screening automation
While screening questions add a bit of friction to the application process, they're a necessity to ensure candidates meet minimum quality criteria to represent your brand.
Even amidst a labor shortage, just about every hospitality operator issues some sort of screening measures, especially for managerial and team lead positions. 
After all, you don't want to waste time and resources interviewing an applicant only for them to quit on their first week due to a culture mismatch.
But striking the right balance between quantity and depth of screening questions is absolutely critical, else you avoid scaring off candidates with an overly complex application process.
And when all is said and done, managers must have easy access to know which candidates passed with flying colors or which applications may need to be revisited in the future (talent is precious and hard rejections should be avoided whenever possible).
Carri creates a fully branded and automated screening process to enable quick and effective candidate screening.
Ask quick questions in a chat-based setting, like "Do you have 2 years of prepping experience?" or "What do you believe are three qualities of a successful manager?"
Not only does this eliminate the need for candidates to upload resumes, a fairly uncommon document in our industry to begin with, but it also allows candidates to respond back.
And because these questions can be customized by job position, store location, or even brand, candidates receive high-quality and relevant screening questions without burdening managers with additional recruitment organization tasks.
Provide a real-time, authentic look into your company culture
Finding candidates that are good cultural fits are just as, if not more important than, finding someone who is a good skills fit.
Operators need employees that will be brand advocates. Team members that will learn and grow within the company. Someone who lifts up their colleagues just as often as their customers.
But in order to gain star employees, you must provide an excellent candidate experience yourself — one that will captivate and motivate applicants.
Communication is the best way to achieve this, and operators who paint a vivid picture of company culture (as well as how the candidate will fit in) are more likely to scout top talent.
While a recruitment chatbot can answer questions in real-time, they rarely are intelligent enough to provide an authentic expression of company culture. 
Without human touch, they tend to provide lackluster application experiences and can only handle a limited scope of questions. Doesn't that defeat the purpose of HR automation?
We built Carri for this exact reason, because an amazing candidate experience is mission-critical to talent acquisition efforts.
Let's go back to the screening questions example mentioned earlier. 
The full screening-to-interview exchange might look something like this:
Carri: Hi John, We're excited to have you apply to the Pizza Palace team! 🍕 Do you have 2 years of prepping experience?

Candidate: Yes. What time does your kitchen open?

Carri: Great! Do you have any allergies?

Carri: The kitchen opens at 5 AM for prep work Monday-Friday and 4 AM Saturday-Sunday.

Candidate: Nope!

Carri: We're all set ⭐ We'd love to have you come in and interview with one of our Pizza Pros at our Main Street location. When are you available for an interview?

Candidate: How about tomorrow at noon.

Carri: Perfect, I've scheduled you for an interview with our Head Chef Jessica tomorrow at 12:00 pm.

Carri: Good luck with the interview! Feel free to let me know if you have any other questions or need to reschedule.
So, what do we see here? Not only did Carri successfully pre-screen a candidate in preparation for an interview, she also set up that interview and answered candidate questions the way a human would.
And she did so in a way that sounds like someone who is genuinely interested in seeing the candidate succeed. First impressions are everything, and that enthusiasm alone can be the factor that makes or breaks a candidate's decision to continue an interview process with your brand.
Lead the recruiting charge with conversational AI
Establishing an organized, efficient process at the beginning of the application life cycle is well worth it, and will pay off tremendously should the applicant join your organization. Carri does the heavy lifting for candidate communications to ensure that candidates coming in are the right ones…and that they're fully engaged with your brand to minimize risk of ghosting.
Automation that enables consistent two-way engagement. Now that's a win/win.