Post-Furlough Hiring, Being A Mindful Recruiter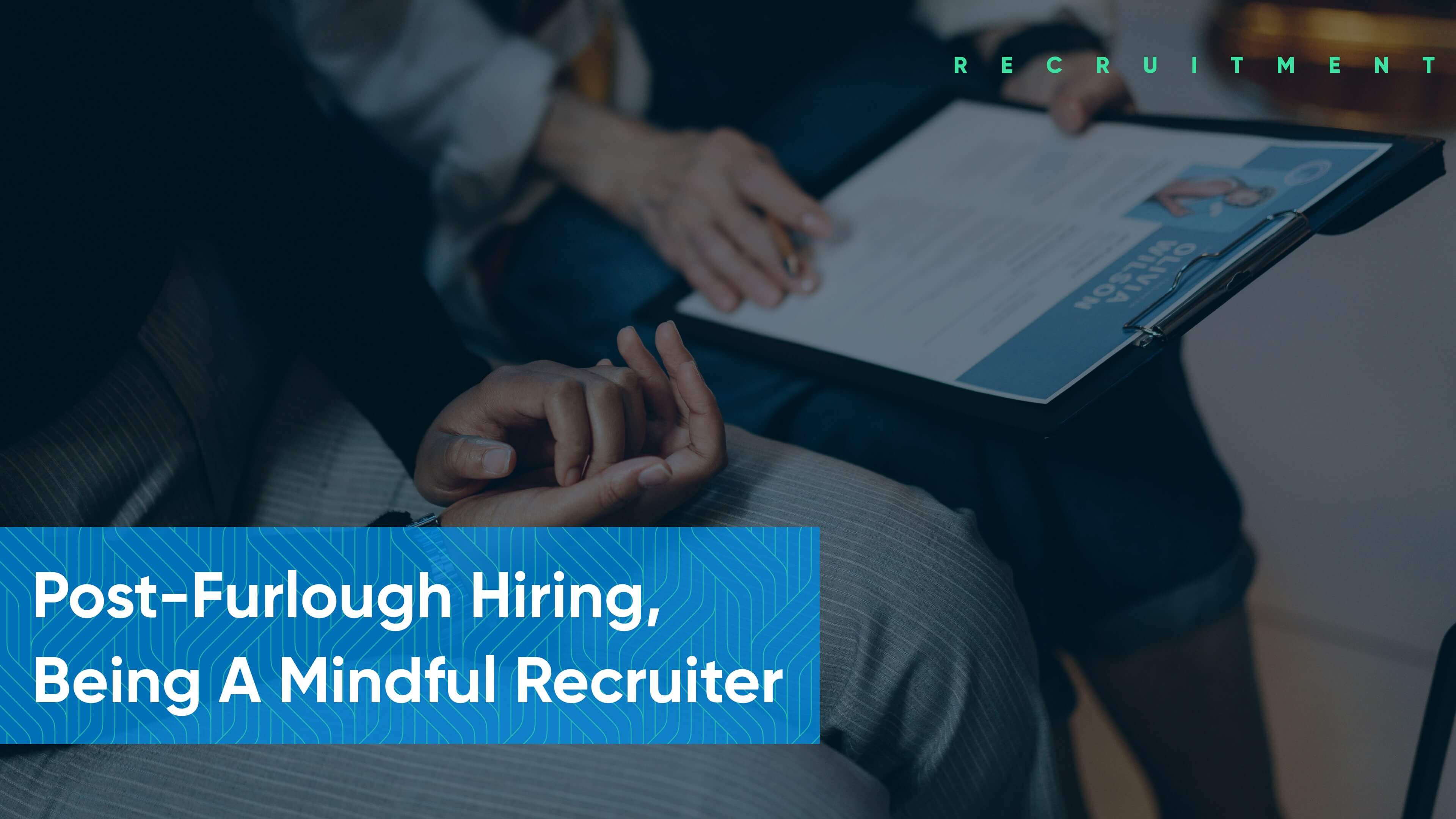 A year ago, most of us hadn't even heard of the term 'Furlough', and now it's something that has affected 1.12 million hospitality jobs in the UK alone. Without it, the same amount of people would have lost their jobs because we all found ourselves in the most impossible and unpredictable situation imaginable. But that doesn't mean it's not come at a cost of a different kind… 
Yes, the furlough scheme provided millions of people with a level of income, but what was not provided was:
Stability

Productivity

Purpose.
That's where you come in…
No one has known what's going on, if the world will return to 'normal', or what that new 'normal would even look like. The candidates you're hiring may well have been in a state of limbo, with no job or knowledge of whether they'll have work again, for over a year. And hey, they're applying for your job now so maybe their worst fears did come true and they lost their job completely. 
These candidates will be craving stability more than ever and it's likely that, even though businesses have done what they can, employees have been left feeling let down and abandoned. 
When our clients are advertising through the Harri platform, one bit of advice we're giving them is to be sure that they're proving how they provided stability for their employees through this hectic time, as well as what plans they now have in place to continue that support, especially if we're to find ourselves in a similar situation again (we don't want to worry you, we're just being cautious!). On top of this, have you considered how you'd support new candidates who haven't passed probation if everything were to close again in a couple of months?  If not, get on it!
Think about the last time you returned from a holiday, even if you were away for just a week, and how exhausting and draining it felt having to get used to being productive again. Now, it's time for some maths: minus the joy and rest that the holiday provided, add anxiety and a sense of helplessness, and multiply by 52 weeks. What did you get? Exactly. 
We're advising our clients to tailor their onboarding processes that currently exist in Harri to accommodate not only introducing candidates into this new working environment, but reintroducing them into the working environment full stop! Consider the couch to 5k – that gradual process is proven to be the most effective way of getting someone running. So why is this any different? Can you add more breaks; schedule more wellbeing check-ins; consider gradually introducing them into their total working hours? If so, you need to be shouting about this on your external platforms and during the recruitment process. This is the stuff that'll make you stand out!
This is a big one; it runs deeper than we might initially consider. Not having anything to do on a day off is one thing, but not having anything to do, anywhere to go, and everything being completely out of your control and unpredictable for an entire year is unfathomable. The toll this will take on an individual's confidence is no joke, and that's the reality that we, as recruiters, need to face, manage, and support. 
Confidence is the key focus here, so build in extra time with the candidate for interview prep and support: 
Go through practice questions

Encourage and empower them by pointing out why you think they're right for the job and how they might use those attributes in their interview

Check-in with them more frequently

Create additional resources to support the process

Explain the onboarding process so that they know what to expect

Have transparent, non-judgemental and empathetic conversations about their current mental health & wellbeing 

Don't assume they're happy using Zoom just because the rest of us have lived on it – be sure to go through how to use it and the right etiquette so they're not caught out through simply not knowing.
Don't forget, it's all well and good doing these things, but remember to shout about them externally so that potential candidates know that they're going to be supported by your company and are instilled with confidence enough to apply for your role.
Remember – you're human and you went through this ordeal too; you know the struggles that you personally faced and you're capable of putting yourself in their shoes so please, we beg you, do so. 
Be patient, be kind.
Interested in booking a demo to see the Harri  platform in action?