Recapping SHRM's Top HR Challenges for Hospitality Businesses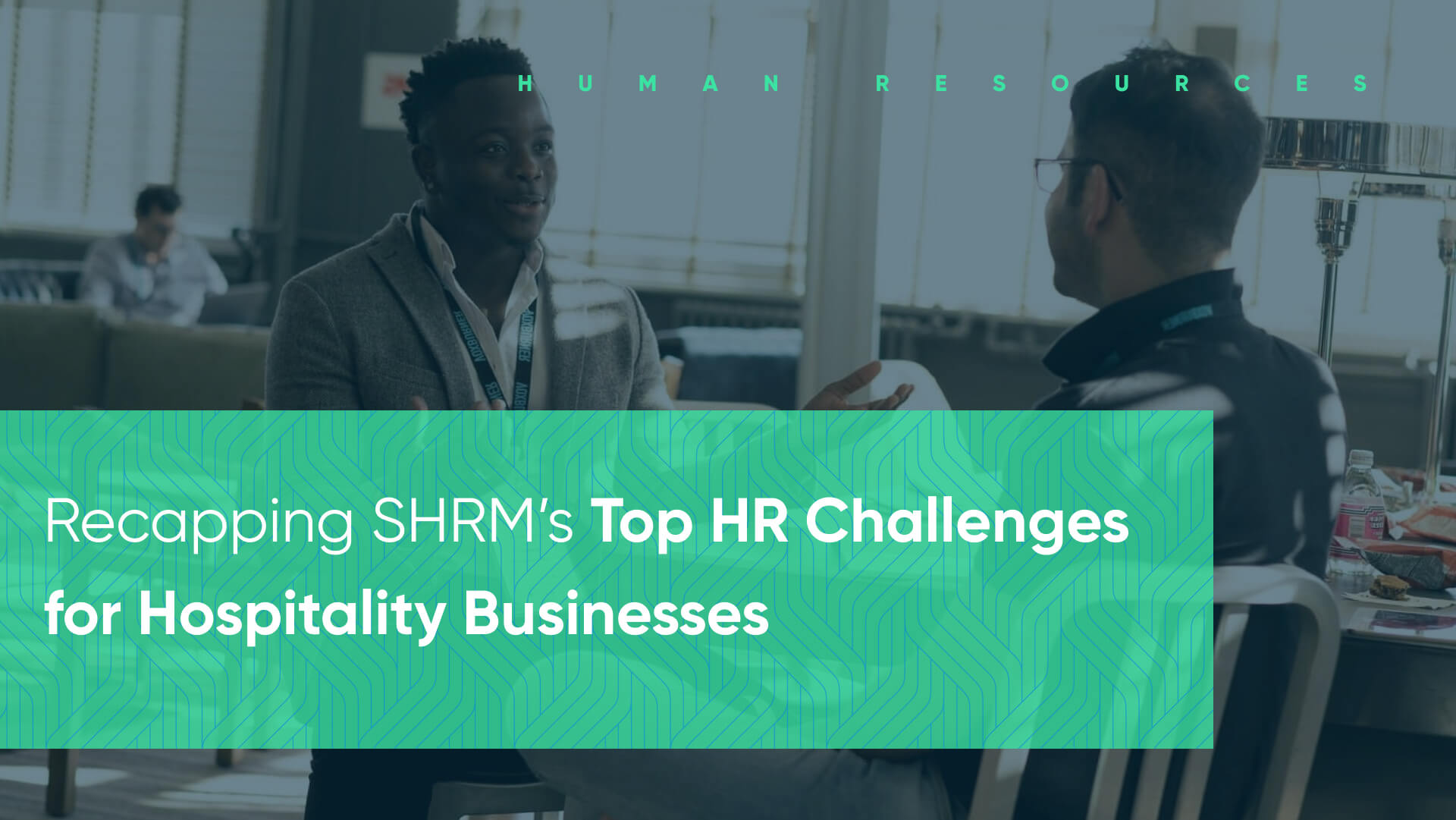 COVID-19 has taken more from the hospitality industry than we ever could have anticipated with an estimated revenue loss of $240B for restaurants in 2020. This kind of loss has incited rapid change in the industry as restaurant owners scramble to keep day-to-day operations running smoothly.
Luckily, hospitality businesses are resilient. They were quick to turn around and face the problem head-on, regularly relying on HCM tech to adapt day-to-day operations.
SHRM covered the top HR challenges facing the hospitality industry in 2020. Many of those issues hone in on core issues that have plagued restaurants for decades. Below, we'll review those challenges as well as how the right HCM or WFM tech stack can transform those challenges into opportunities.
Recruiting top talent in hospitality
With long hours and subminimum wages, Hospitality has always suffered from a talent crisis. Finding the right employee was a huge feat, and hiring managers often spend a lot of time in the weeds.
COVID-19 has only amplified this talent crisis with massive industry-wide furloughs and an elevated fear for personal safety that caused those top-performers to shy away from hospitality. One might think that the influx of new job seekers would ease the talent search, but it further complicated the process of finding qualified candidates.
While the situation may seem bleak, it also unlocked a new hiring potential for HR managers. Robert Mellwig, Chief Culture Officer at SBE Lifestyle Hospitality, notes that hospitality businesses need to cast a "broader net" when seeking talent, and potentially diversify talent by turning to candidates from other industries.
With so many businesses vying for top talent, how do you stand out to candidates? It all comes down to having the best HCM technology.
Your talent sourcing tools should be more than just another application platform. HR automation should be implemented, not to replace your hiring team, but to ensure that the only candidates making it to their desks fit your brand's unique hiring criteria. Pair that with an intuitive applicant tracking system, and your hiring managers benefit from a streamlined yet high-touch interview process that prevents valuable candidates from slipping through the cracks.
Improving employee retention
While hiring top talent is a leading industry problem, the retention of those employees is equally as challenging. Hospitality is no stranger to high turnover rates which has created a call to action to not only improve retention strategies, but to diversity management. Luckily, the two go hand-in-hand and yield positive outcomes when executed correctly.
In order to make this possible, Robert Mellwig, the Chief Culture Officer at SBE Lifestyle and Hospitality in New York City, suggests that HR teams "cast a broader net" and work on recruiting people from other industries. This is a great opportunity for companies to instill mentorship and sponsorship programs to better set team members up for success. 
Brands struggling to find the right talent should look internally and see which existing team members could fit these management roles well. Internal hiring promises two key benefits that drive successful business performance.
First and foremost, your team members are already familiar with the brand, products, and service expectations. That alone lends itself to faster, higher quality customer service. A second, sometimes overlooked benefit, is that you reduce employee turnover by rewarding those hard workers. When your employees are happier, they work harder. 
For example, at Cousins Subs, a Milwaukee-based sandwich restaurant, their HR team prides itself on having a "very clear ladder" to success — including a top HR manager who started as a sandwich maker at 16 years old! 
With a fully integrated HCM technology solution, HR managers are empowered to cross-train employees and set them up for success. Detailed reporting and analytics help you easily identify key performance metrics, such as an employee's average check value or attendance score.
And because all HCM data is unified, checking those metrics, awarding performance-based rewards or promotions, and communicating the good news can all be executed from the same system.
Facing uncertainty and addressing the elephant in the room
There's no doubting that of the most difficult decisions businesses have had to make is downsizing teams in the wake of COVID-19. A major problem facing the industry is consistently and effectively communicating downsizing information to team members.
Restaurants not only need to understand service demands but also adjust people operations as needed. Those adjustments might be larger-scale related to a location's performance during COVID-19, or on a granular level when predicting periods of high order volumes.
SHRM recommends furloughing staff based on policies they understand, such as seniority or position volume. Most importantly, managers need to be as transparent as possible about uncertainty. Right now, no one has all the answers, and that is okay.
Whether your downsizing efforts are temporary or permanent, be sure to relay that information to your employees as quickly as possible. Scott Samuels, CEO of Horizon Hospitality, reminds businesses that, "furloughs give individuals the impression they're coming back", but managers know that's not always the case.
Downsizing tips to build and maintain team trust:
Be transparent

Be empathetic

Listen to staff concerns

When making cuts, don't drag out the process

Assist your furloughed employees in any way possible
Just as you would have a written policy for safety protocols, employee dismissal and re-hiring strategies need to be documented and communicated.
With the right HCM tech stack, managers gain access to multi-channel communication tools that enable them to address concerns from both active and furloughed staff. As brands update COVID-19 policies, look towards rehiring laid off staff, or communicate store re-opening plans to their team, an accessible communications channel builds trust across all levels of employees.
Final thoughts on the future of hospitality HR
COVID-19 has been challenging for hospitality, but we're certain the industry will come out stronger than before. With so much uncertainty still lingering in the air regarding COVID safety regulations and vaccination, it's best to be as proactive about operational and HR initiatives as possible.
The implementation of technology will prove critical to business survival as a tool to enable a stronger employee experience, which in turn transforms into a great guest experience.