Hospitality's Labor Efficiency Pivot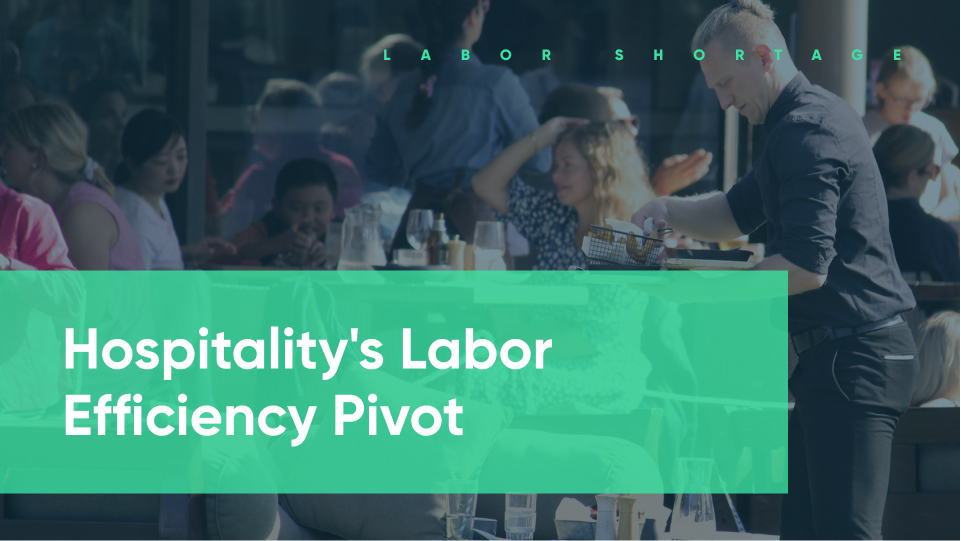 Data from the Bureau of Labor Statistics show over 1.5 million job vacancies in hotels and restaurants for the month of July, up 115,000 from the prior month. 
Restaurant owners and operators have been dreaming up creative and novel ways to drive efficiency in order to stay competitive, and the stakes are higher than ever before.
Market pressures such as increased competition and stressful working conditions, are driving companies to offer increased wages in order to win over quality candidates. $15/hr is the new normal for entry-level fast food workers, with more senior positions coining even higher wages.
But what happens when you combine a massive labor shortage with rising wage inflation, rock-bottom retention rates, and cost inflation? Costs get displaced to the customer experience. 
A delicate balancing act between the customer and the employee experience
Our 2021 Hospitality Wage Disruption Report reflects this trend, with 85% of restaurant operators planning to raise menu prices to offset increased wages.
Wage growth isn't slowing down anytime soon. In fact, year-over-year growth is hovering around ten percent in recent months according to the U.S. Bureau of Economic Analysis. 
What amounts to a small increase in discretionary spending for potential customers doesn't give operators much room to push prices higher to stay profitable. 
Additionally, low-income Americans who make up a significant segment of fast-casual diners, suffer greater pains from these types of inflationary pressures. 
Restaurants that recognize this are reluctant to raise prices out of a well-justified fear of alienating valuable customers. Maintaining high levels of intent to return are just as important as boosting team retention, and brands are trying to strike the balance between the customer and the employee experience. 
Take Darden, for example. The hospitality giant is taking a technology-based approach to operational overhaul to achieve labor efficiency across its many brands. Saving costs internally can offset the need to raise menu prices. Not to mention it improves the employee experience by streamlining otherwise tedious operations.
A true win/win.
How else are brands utilizing technology as a partner to minimize labor costs and overcome the labor shortage? Let's dive in.
The impact of AI on hiring
Every company should be exploring the value that automation can add to the employee experience.
Brett Schulman, CEO of Cava Group (and a Harri customer!), wrote recently that his company is "investing in AI driven personalization across the consumer journey." 
Brands that can leverage cutting-edge AI technologies in roles traditionally occupied by hourly workers will be some of the biggest winners in the future economy. 
But that's not to say technology would replace those workers.
Instead, it would handle tedious work, empowering those workers to focus on the most impactful tasks.
While we may be a few decades out from robot chefs, tasks that would traditionally take valuable time from managers, like hiring, are areas where automation shines. 
That was our drive when building Carri, an AI-driven chatbot.
Imagine your brand is on a push to hire 500 employees in the next month. Consider that someone needs to filter through those candidates, coordinate interviews, handle hiring compliance paperwork, and onboard those new team members.
Surely your managers can handle that, but when dealing with large-scale hiring efforts, candidates lose engagement. In a mass talent shortage, engagement is critical to reduce candidate ghosting and ensure long-term hires — saving your team time and money in the long run.
Carri automatically screens candidates in a chat-based setting throughout the hiring process, delivering custom branded messages along the way for consistent, humanistic candidate touchpoints.
Once an application is processed and pre-approved, those candidates can immediately schedule an interview with a hiring manager through Carri all the while being prompted to fill out any necessary paperwork, like tax forms.
That entire end-to-end process can happen in a matter of minutes. Managers are delivered quality candidates at a faster pace, empowering them to engage with applicants most likely to succeed within your brand.
And because hiring automation saved them that much time in administrative work, they're free to focus on what they do best: create an amazing customer experience.
It really all does start from the bottom up.
Efficient scheduling is a difficult task on its own in an industry as fast-paced as hospitality. It becomes an even tougher puzzle to solve when faced with a labor shortage. 
Data from the Bureau of Labor Statistics doesn't bode well for the future either, showing a net job loss of 41,500 employees in restaurants for the month of August. 
Doing more with less employees means knowing how to maximize your available labor hours and allocating them appropriately. 
But maintaining accurate sales and labor projections can be time-consuming and tedious with the many variables restaurants must consider every day. And if your teams use fragmented technology? 
Finding the patterns in your labor data is near impossible. That's where intelligent scheduling tools come in.
The right scheduling platform will compile the most relevant data points into a single interface to help managers predict business trends day by day, hour by hour. 
From historical sales data to employee check information, our intelligent scheduling platform helps you understand what employee skills are most in demand, when. We even factor in how things like day of the week, holidays, even weather might impact your sales forecast for truly data-driven scheduling.
And yes, we take highly localized compliance requirements into consideration, such as break rules and predictive scheduling requirements, to transform complex labor compliance challenges into easily manageable items.
Because all of this is generated during the scheduling process, managers don't need to think twice before creating the most labor-efficient schedule. 
Proper scheduling can make or break the employee experience. 
We firmly believe that the schedule is critical to the success of any hospitality brand. Not just because it has such an impact on driving sales, but because it directly impacts your employee experience.
Employees that are unhappy with their schedules are prone to turnover. Our 2021 Employee Experience Survey found that "having a reliable, predictable schedule" was most important to 7,000 hourly workers. And it makes perfect sense.
The schedule dictates how an employee can plan their life outside of work, the money they'll bring home each week, and who they work with. 
That impacts their financial wellness, how they arrange childcare, and their commuting plans. Employees with consistent schedules get better sleep and make it to regular checkups more often. It's simple. 
Aiming to preserve work-life balance is directly beneficial to your employees, improving retention and preventing burnout. The schedule is a great place to start.
Our intelligent scheduling platform factors in key employee metrics into the scheduling process on top of labor efficiency data so managers can build schedules that work for their teams just as much as they do for your customers. 
Does an employee have preferred shift times or times they simply cannot work? That will be taken into consideration.
If an employee's schedule fluctuates too much, managers can receive notifications letting them know which team members would benefit from considerate scheduling.
And because employees have the option to rate each shift when they clock out for the day, that satisfaction data can be used to help managers place workers in the best shifts and with their favorite team members.
Finding success in cross-training
When fewer employees are on the roster, team members often end up taking on multiple roles to keep the business running. 
Expanding your employee's job descriptions may seem like an unfortunate necessity, but proper cross-training during onboarding can keep roles well defined and still leave room for an "all hands on deck" approach when needed. 
This type of flexibility can prevent bottlenecks from forming in your operational chain and keep customers happy. 
Bussers who are able to seat guests waiting at the door while there are no plates to clear means reaching capacity quicker. A dishwasher who can swap off to prep helps you keep your line stocked during a dinner rush.
While it can be tempting to push new hires through training as fast as possible to cover holes on your schedule, taking the extra time to cross-train will benefit you in the long run. 
We recognize the importance of training. We partner with companies like Upskill and Arrow Up to seamlessly integrate training and onboarding right into our platform, saving you time and expanding your employees' skill sets.
Communicate to retain staff
None of this training matters, however, if your employees don't stick around. 
Retention is key everywhere, but it's a special area of opportunity in restaurants where, as an industry, 90-day turnover is often over 100%. 
Providing meaningful room for advancement, consistent scheduling, and competitive benefits all increase employee engagement. 
An open line of communication between hourly employees and management is a must and having technology that accommodates your workforce's preferred mode of communication will help your organization thrive. 
Our integrated mobile communication tools allow for two-way text communication between managers and team members in real-time.
 No more hunting down phone numbers in the middle of a dinner rush to see if your closing bartender can come on early to handle an unexpected crowd. 
Take yourself out of shift swap negotiations and let your employees request them with fellow colleagues on their own. Simply approve them once your team members decide who's covering for who. 
Operators can even connect across locations to make communication across a region seamless.
Shift meetings are one of the primary ways information is passed in restaurants from managers to team members, and back of house to front of house. Leaner scheduling that demands more staggering in times to match business trends might make this restaurant rite of passage less than ideal for communicating things like the day's specials and an 86 list. 
That's why we give you the ability to customize daily messaging as your employees clock in, ensuring that every team member is in the know, no matter when they start their day.
Technology is the future of labor-efficiency
At the onset of the pandemic, many restaurants found themselves turning into commissaries that offered fresh meals to cook at home and leaning into digitally-driven to-go business. Industry leaders are again being forced to pivot to adapt to the current labor shortage. In the past, labor efficiency and employee job satisfaction seemed like competing ideals, where one had to be sacrificed to gain the other. With the right tools, however, this is no longer the case. Harri gives organizations the ability to move forward, adapting to today's challenges and thriving in the future economy. 
Reach out to a member of our team today to learn how we can transform your business.