1 In 5 Restaurants Forced To Close Amid Supply Chain And Staffing Shortages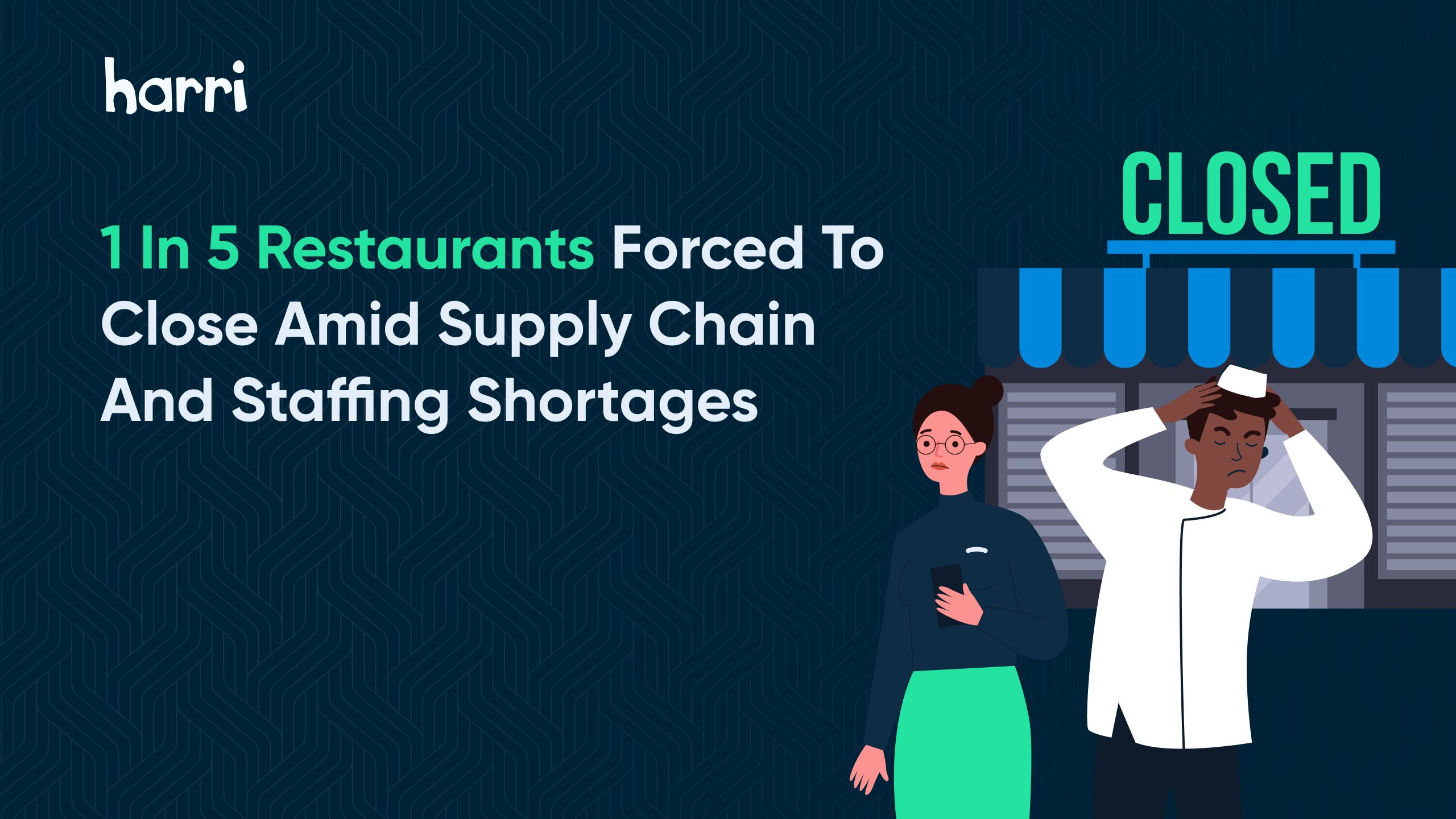 Online food delivery company, Deliveroo, recently conducted a survey of 350 small and independent restaurants that worked with the platform between October and November 2021. Unsurprisingly, it found that supply chain and staffing issues were having a significant impact on operations.
Here, we take a closer look at some of the key findings from that survey, and highlight ways to overcome these challenges…
What's happening in the industry?
Over the last few months, one in five restaurants has had to close its doors due to supply chain issues caused by the pandemic. Up to 89% of those surveyed by Deliveroo said they've seen wholesale costs rise, and 55% agreed that managing their supply chain has become increasingly difficult. As a result, 54% of restaurants have had no choice but to remove items from their menus, while almost half have increased their prices.
These figures demonstrate the need to manage your operational costs, especially before the new year – and this is something Harri can help with. Our all-in-one platform allows you to save time (and money) by offering everything you need to attract, onboard and retain top talent.
What else did the survey discover?
Findings revealed that two-thirds of restaurants are currently understaffed, and around 30% have fewer workers than they did six months ago. These staff shortages caused 18% of the surveyed restaurants to close, whilst others (two in five) had to reject bookings or limit opening hours. The majority (79%) of operators described recruiting over the past three months as challenging, while 90% raised chefs' wages to try and attract new talent.
If you find yourself in the same boat when it comes to hiring, consider taking advantage of technology. Our smart conversational ambassador, Carri, manages the entire application process and candidate communications lifecycle for you. That way, you can focus on other important aspects of your business.
Calculate your hiring costs with Harri
Did you know that the average cost of hiring and onboarding a new employee is around £1,000 over the first three months? If you're concerned about hiring costs during these still very turbulent times, we'd like to introduce you to our convenient hiring cost calculator.
Our tool enables businesses to determine the cost of short-cycle turnover and operational inefficiencies – both of which can be detrimental to profit margins. It's easy to use too. Just input your current number of employees, your total number of hires (and the cost per hire), your annual turnover, and your 90-day churn rate. You'll also be able to view the cost benefits of using our time-saving technology.
Want to learn more about our solutions? Request a free demo today. And if you'd like to receive the latest news straight to your inbox in future, simply subscribe to Harri Insider. Our free newsletter gives you unlimited access to labour-related research, panels, industry trends and so much more. Don't miss out!