5 Key Takeaways From The 2022 National Restaurant Association Show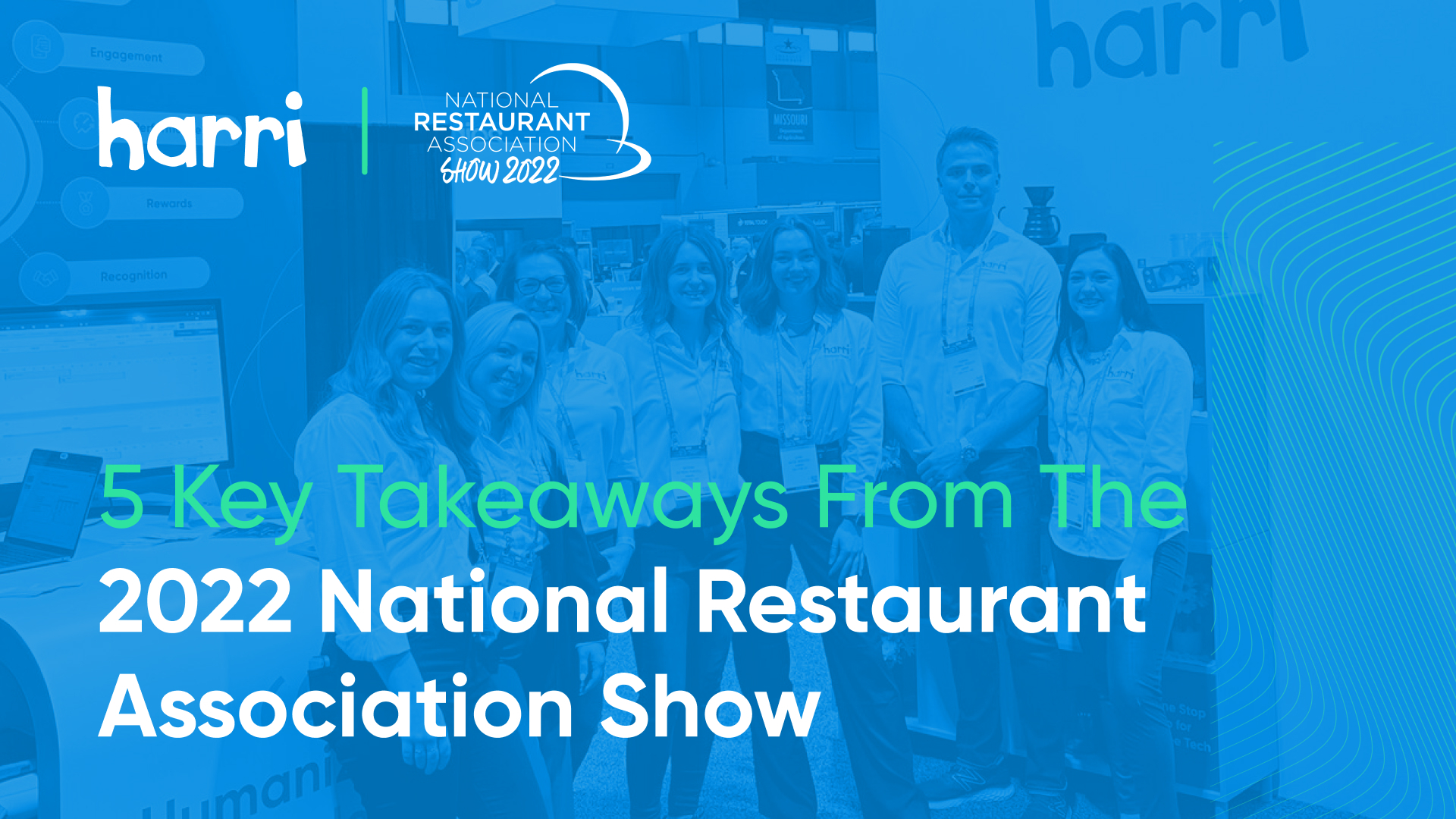 On 21–24 May 2022, Harri exhibited at the National Restaurant Association (NRA) Show: one of the largest restaurant trade shows in North America. During the event, our Chicago-based team launched our brand-new enterprise analytics platform (more on this later!) and spoke with some inspiring hospitality operators and staff.
Let's take a look at the top 5 things we took away from this year's show…
1. Costs are soaring (and you need to manage them!)
As the cost-of-living crisis continues to put a strain on budgets, there's increasing concerns over profit margins. Despite the financial challenges thrown at operators, the mood amongst attendees remained positive, and industry experts continue to be optimistic about the sector's recovery. This could be because food and drink sales are on the rise after two slow years.
2. Robots are serving food… no, really!
There were plenty of robots that stood out to us during the NRA Show, but food-serving robots certainly took the cake. As the name suggests, these AI delivery robots take food to a customer's table, and are designed to offset labour costs for full-service restaurants. It's like something out of Wall-E – only it's real! Would you like to see robots deliver your food in the future? We'd love to know your thoughts!
3. QR codes are here to stay
You simply couldn't avoid QR codes at the NRA Show. Given their convenience (especially during the pandemic), we weren't at all surprised. In fact, we use them ourselves! Harri has implemented QR codes to promote roles in restaurants such as Popeyes. Job seekers can scan them using their mobile phones, view open opportunities and details about the job (like salaries and schedules), then instantly apply. 
4. Operators have less money to invest
Whilst there was a lot of excitement around new technologies, many operators are hesitant to make digital investments due to concerns over costs. That's why Harri provides more affordable solutions specifically designed for the hospitality industry. Our dedicated team of specialists work closely with our clients to find the most cost-effective tools for them and their unique requirements.
In addition to technology, operators were curious about customer data, and how to collect and analyse information relating to their staff and customers. That's where our new enterprise analytics tool can help. Harri IQ is an analytics platform that allows operators to interact with their data in a consumer-minded way. It combines HR data with information from across your organisation, so you can predict the future needs of your business based on the performance and sentiment of your team. 
Does this sound like a solution that could help you overcome the challenges ahead? Request a free demo today to get started!