Attracting Young People to Hospitality Careers is the Key to Survival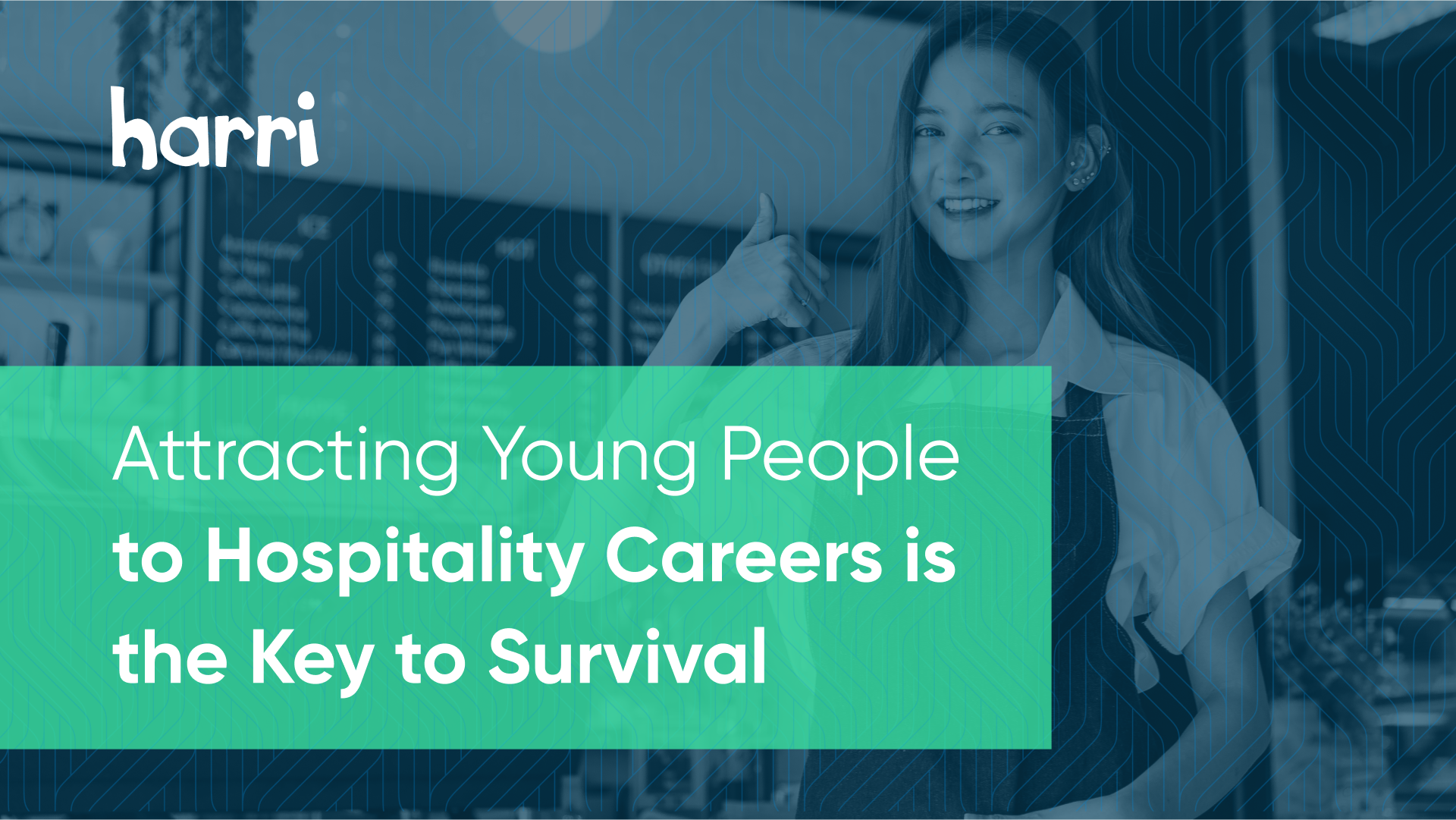 Jobs in hospitality have traditionally been seen by young people as temporary work, rather than a career option, but that must change if the industry is ever going to solve the recruitment crisis.
Here we examine the public perception of hospitality jobs, and consider what the industry can do to turn things around…
Survey findings should raise alarm
A recent survey that found that only 5% of college leavers are considering pursuing a career in hospitality should serve as a wake-up call to everyone in the industry. With a record 170,000 vacancies currently in the sector – and many thousands of European workers having left the UK after Brexit – young people leaving education are key to the future survival of hospitality in Britain.
Worryingly though, the survey – commissioned by jobs site Caterer.com – found that 95% of college leavers are not even considering a career in hospitality. Of the 1,000 18-24-year-olds questioned, over half (55%) saw working in hospitality as "just a temporary job" rather than a long-term career path.
Nearly half (44%) said they believed the sector "does not offer career progression".
Factors cited for shunning hospitality included seeking better pay (37%), good working hours (28%), better earning potential (26%), good career opportunities (23%), and wanting a less stressful career (20%).
Researchers also polled 1,000 parents of young adults, and found that only 23% would encourage their child to pursue a career in the hospitality sector. Reasons given included perceptions of low pay, anti-social working hours and poor earning potential. Most parents said they would prefer their child to explore a career in sectors such as engineering, law, management or finance.
Harri's survey backs up hospitality's image problem
Harri's own 'Working in Hospitality' survey – carried out in conjunction with CGA and forming the basis of our Transforming the Employee Experience in Hospitality report found a similar issue with the sector's reputation as a place to build a career. Fewer than a quarter (23%) of our survey respondents actually chose hospitality as their career path, with 36% saying they had fallen into it as a career, and 41% saying they were working while studying, saving or finding work in another sector.
Those who were not seeking a long-term career in hospitality cited a variety of reasons including pay levels, unsociable or limited hours, stress, and a lack of career progression. Harri's very own head of marketing Louise Gallant has experienced first-hand the misconceptions of hospitality held by students and teachers during visits to schools to promote careers in the sector.
She said teachers are often completely unaware of the many and varied paths into hospitality careers that students can take, and the industry really needs to address this. 
While our survey found that once people do enter the industry they are generally happy (61% of employees said they were very or somewhat satisfied with their current role), there is clearly lots of work to be done to persuade people to embark on a career in hospitality. Improving paths of progression is particularly important, given that only half (53%) of employees in our survey said they were currently satisfied with the career opportunities they see.
Many employers are taking steps to make their jobs more appealing to people who may not have considered working in the industry before. For instance, 79% of operators have increased pay rates for staff, with some that previously paid the Minimum Wage lifting their pay rates above the threshold for the first time.
Soho House is one operator that has boosted its employee benefits to attract staff, with improvements including extra pay for employees working late night shifts, guaranteed contracted hours and holiday entitlement, and weekly payment cycles.
Many are offering free or heavily discounted meals and overnight stays, birthday gifts, extra paid holidays, rewards for long-service and discounted gym memberships. Manchester-based pub company Green Salmon Co is even offering staff who reach their five-year anniversary a holiday for two up to the value of £2,000.
Some operators are also looking to address the problem of long and unpredictable hours by introducing four-day weeks and highly flexible working arrangements.
Tech is a Young Person's Best Friend
Optimising your use of technology will undoubtedly help in attracting college leavers to join your team and, crucially, to stay.  Young people use tech constantly in their everyday lives, so having tech at their fingertips in the workplace will be a big draw.
Indeed, our survey showed that the majority of existing hospitality staff want to see more use of tech: three in ten workers think the technology available to staff – like digital clocking-in and out – is not at all advanced, and 88% would like to see technology in the hospitality sector improve.
Harri has all the tech tools you need to attract young people and to keep them engaged while at work.
Our talent acquisition suite includes functions like career story pages so you can show off the best bits of your brand, and video interviewing so candidates can communicate, in their own time, why they're the right person for the job. 
Carri, our friendly, human-like AI hiring assistant, appeals to young candidates as she manages the entire application and candidate communications lifecycle in real-time via SMS, web-based chat on your careers page, Facebook Messenger, and more. 
What's more, our onboarding solution ensures new recruits get a good first experience of working for your company, while our communications tools, which are fully mobile, enable staff to keep constantly in touch wherever they may be.
Employees can easily clock in and out with Harri's time and attendance module too, and our smart scheduling platform enables staff to enjoy that all-important flexibility.
Want to find out more? Request a demo today!