August Hospitality Sales Rise To Pre-Pandemic Levels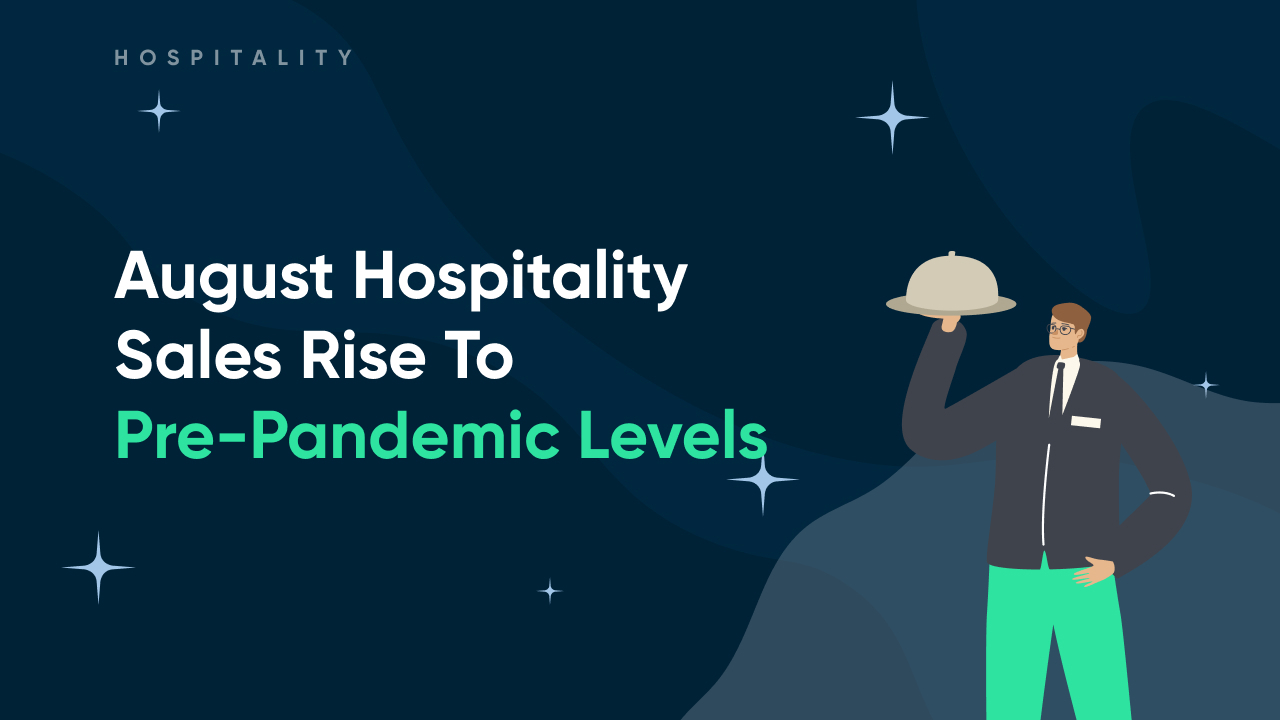 It's been an incredibly challenging time for the hospitality sector, but the second half of the year is beginning to look more encouraging. As the latest Coffer CGA Business Tracker reveals, increased customer confidence and a surge in staycations has led to a much-needed boost in sales for Britain's leading managed pub, bar and restaurant groups. 
Let's take a look at the findings and what it could mean for the industry moving forward…
Leading venues see 5% growth in August
As the COVID-19 vaccine continues to roll out and more people return to work, consumers are starting to feel confident about going out to eat and drink again. It's hardly surprising, then, that sales in August 2021 were 5% ahead of August 2019 – the first month of year-on-year growth since hospitality reopened back in April. Total sales were also 35% up on August 2020, a time when the 'Eat Out to Help Out' initiative was introduced and many venues were open after the first lockdown. 
"It is a particularly impressive performance given the severe operational pressures that many businesses are working under, including staff shortages, supply problems and rising costs," said Karl Chessell, Director of Hospitality Operators and Food in EMEA at CGA. 
We couldn't agree more with this statement. As the number of EU workers in the hospitality industry continues to fall, operators need to quickly change the way they approach their staff retention strategy. One way to ensure employees are engaged, happy and loyal during these uncertain times is to simply keep in touch with them. A team communication tool makes it easy to stay connected with your staff. 
More positive news for the hospitality sector! Recent data from Barclaycard shows that spending on pubs, bars and clubs across the country reached 43.4% in August 2021 as people continue to enjoy a restriction-free summer. This figure represents the highest growth recorded for over 17 months and a positive step in the right direction for the industry as a whole. 
"Socialising, shopping, and staycations were top of the agenda for Brits in August, as families and friends made the most of the school holidays, giving a welcome boost to hospitality and leisure businesses," said Raheel Ahmed, Chief Product & Analytics Officer at Barclays UK. 
In the coming months, we expect more people to arrange some long-overdue catch-ups over food and drinks. If our predictions are correct, you need to ensure you have the right number of people in place to deliver a successful service. That's where Harri can help. Our smart scheduling software automatically generates position-based, skill-based and performance-based schedules, allowing you to focus on the other important aspects of your business. 
Rethink the way you hire with Carri
Regardless of the fact that sales are gradually increasing, workers aren't returning to the industry fast enough to meet the growing demand. If, like many, you're struggling to source, hire and retain quality employees, allow us to introduce you to Carri. 
Our AI hiring assistant enables you to attract more candidates, reduce the time-to-hire and give your managers their time back. How? It's simple! Carri turns applications into conversations, allowing candidates to send messages via popular apps such as WhatsApp and Facebook Messenger. 
Want to learn more about our conversational ambassador? Request a FREE demo from one of our employee experience experts today.