Harri Office Hours: Your Fair Workweek Questions, Answered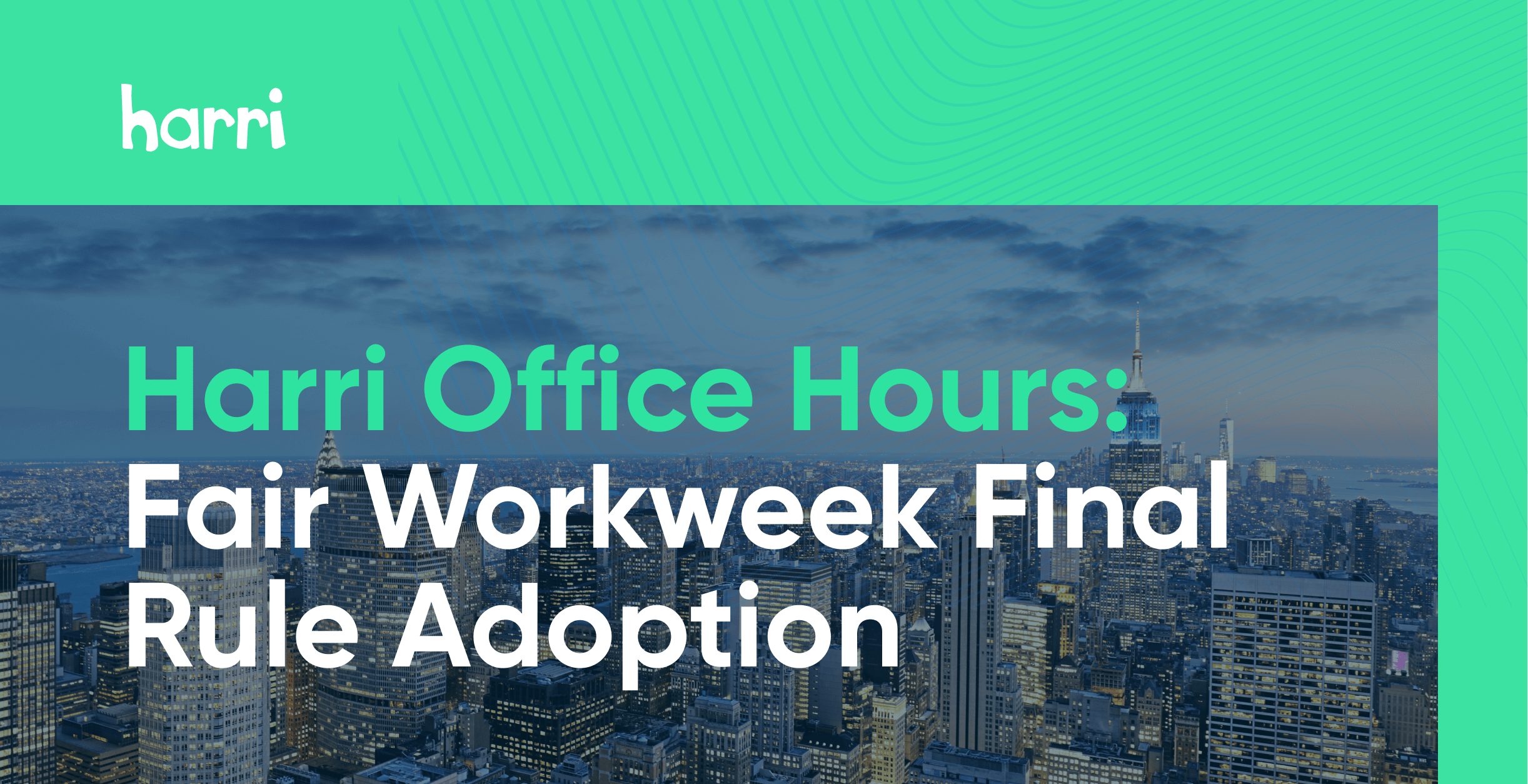 Thursday, June 23rd, marked the effective date of final adoption for New York City's Fair Workweek legislation. First enacted in 2017 (and later revised), the Fair Workweek law enacts a set of specific protections for employees and responsibilities for employers toward ensuring more stable work environments for service-industry workers. 
Following on from our first webinar (if you missed it, catch up here) we hosted another discussion which allowed us to dive deeper into the Harri solution and how we keep you compliant in the face of further changes. 
_____________________________________
If an employee picks up a permanent shift from an available shift pool, and it gets approved, does their regular work schedule automatically get updated?
Yes, the manager will be prompted to send the updated regular schedule, which will contain the new permanent shift.
Will the mobile version be available across all ios and Android phones? Currently, TeamLive is different depending on the user's phone.
Yes, it will be available for iOS and Android.
New York City has enforced sections of FWW that are currently being contested, causing some companies to have to litigate violation claims even though the regulations could change in the future. What compliance solutions is Harri putting in place to help companies comply with all aspects of the current FWW rules?
Complying with NYC's FWW regulations is difficult – even more so when certain sections of the most recent updates to the rules are actively being challenged. Since it is not possible to know with certainty whether further changes are imminent based on the current challenges to the regulations, our system development must and is proceeding based on the current requirements. Harri is continually improving its system functionality to address all areas of compliance as we closely monitor industry/legal challenges that could potentially change NYC's FWW regulations at some point in the future. We will keep our clients apprised of any system updates as we work through our development pipeline and of any progress made by the groups challenging the most recent changes to the regulations.  
Can regular schedule shifts be created in 5 or 10 min increments?
Regular schedules may be created in 5, 10, or 15 minute increments. 
Prior consent is not a new requirement. Why is it not already in the system?
There is technical complexity in developing the full and explicit consent flow. Harri is currently expanding its consent flow functionality. 
Will all of these features be available in the Philadelphia Area too? It seems like a lot of this is specific to NY.
Yes, the consent will be available for all FWW jurisdictions.
When will this new tech become available?
Harri has several high-priority software enhancements in various stages of development/testing, which will be shipped throughout the next quarter.
You can view the slides from the webinar here.