Be Inclusive Hospitality – Research & Insights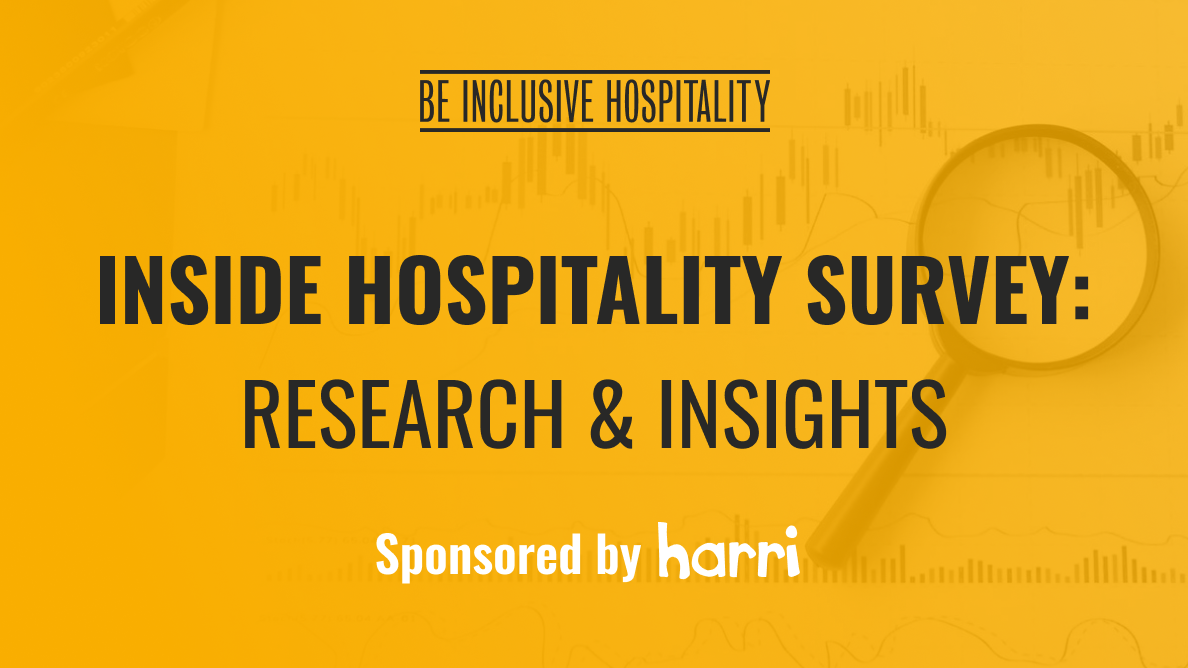 We're proud to announce that we're sponsoring Be Inclusive Hospitality's 2021 Inside Hospitality Survey and 2022 Report! The annual survey aims to understand the status quo within the hospitality industry by questioning employers and employees from various backgrounds and levels of seniority.
If you're unfamiliar with the organisation, we're here to fill you in on the incredible work they do. We'll also highlight some interesting statistics from their previous surveys.
Who is Be Inclusive Hospitality?
Be Inclusive Hospitality is a social enterprise that's on a mission to drive education, amplify voices, build a strong community and accelerate racial equality in the hospitality sector. It was founded in 2019 by Lorraine Copes, and is already making a huge impact.
November 2020 vs June 2021 Report
The first Inside Hospitality Report launched in November 2020, and found that 42% of mixed-race employees felt their race or ethnicity impeded their career progression. This figure rose to 41% for black employees and 56% for Asian workers. To put that into context, only 7% of white respondents believed their race or ethnicity hindered their professional development. Unfortunately, these figures are on the rise.
In June 2021, the Inside Hospitality Report found that over 50% of people of colour within the sector have either personally experienced or witnessed racism from their peers or seniors. A month later, it was reported that 3 in 4 (76%) job seekers and employees view a diverse workforce as an important factor when evaluating a business and job offer.
Let's take a look at some more figures highlighted by SISU, a diversity, inclusion and wellbeing consultancy based in London:
Ethnically diverse companies are more likely to perform 35% better. 
– McKinsey Global Institute (MGI), "Why diversity matters"
52% of HR professionals believe social class inequality occurs in the workplace, and 79% believe an unconscious bias exists in recruitment and promotion opportunities.
– Financial Times
These eye-opening statistics demonstrate how much work still needs to be done to create a more diverse and inclusive hospitality sector. We hope to see a significant improvement over the next year.
2022 Inside Hospitality Report
Due for release in March, the 2022 Inside Hospitality Report will be a free resource for all members of the industry. The findings will be presented at an in-person event that we can't wait to attend – and we hope you can join us!
"Coming out of a pandemic in 2021 has naturally meant that cash in some instances has acted as a barrier to purchase the report for some organisations. We wanted to remove this challenge and encourage all companies within the industry to share this survey amongst all employees at all levels," said Lorraine Copes, Founder of Be Inclusive Hospitality.
"I truly believe that in order to move the dial forward on Equity, Diversity and Inclusion, we must really understand the problems that we are all working towards addressing."
Take the 10-minute Inside Hospitality Survey to share your views and experiences. It's completely anonymous, and there's a chance to win a £150 voucher of your choice!