Complete Guide: COVID-19 Employee Health Check & Symptoms Screening for Restaurants, Retail & Hospitality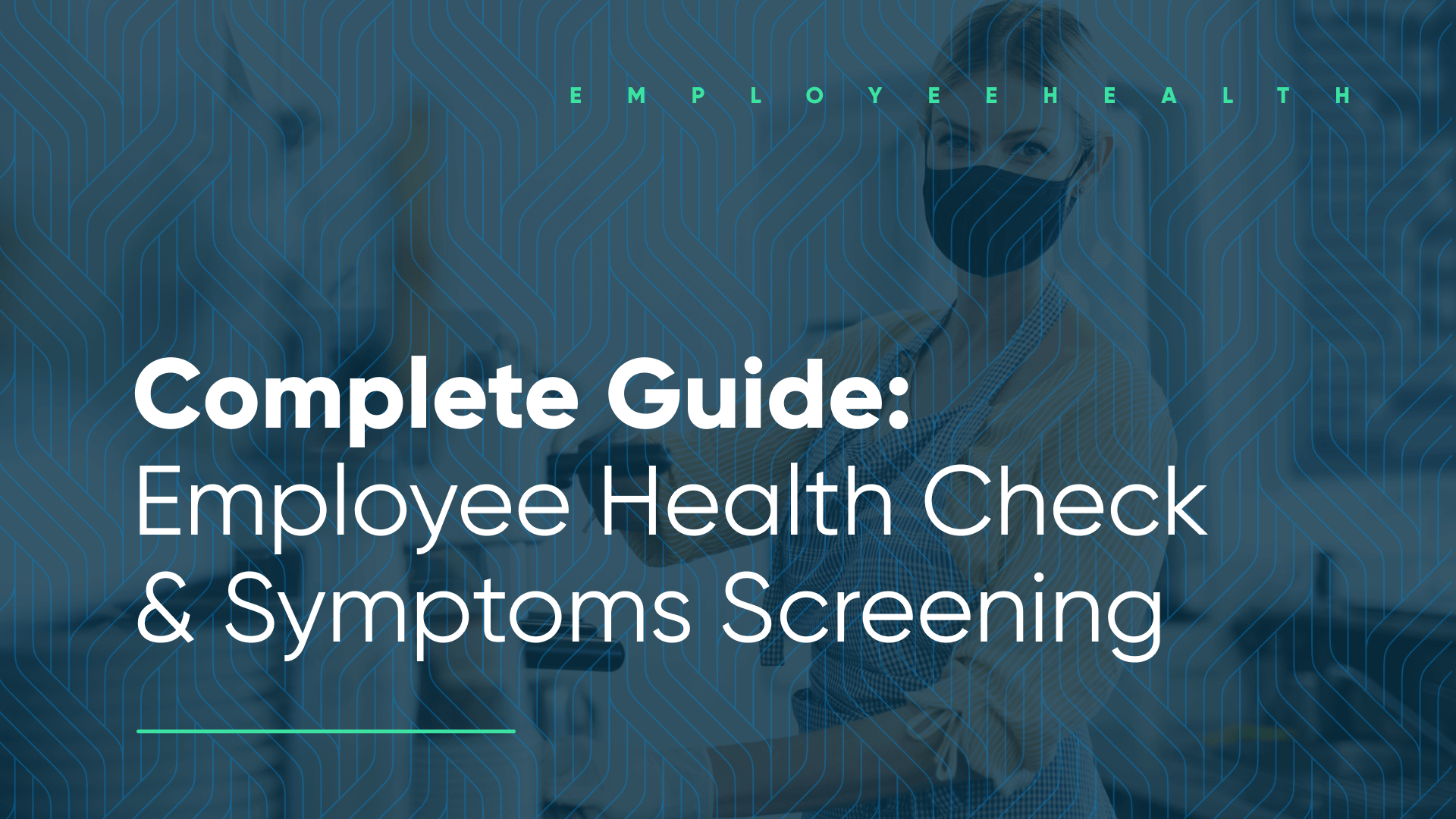 For the hospitality industry, a sense of safety and security for employees and guests was simply assumed. Now, employers are feeling an immense pressure to prove they are taking very specific health related precautions to provide that safety and security. The protocols and actions taken in these unprecedented times says more about integrity and trust than how quickly businesses reopen. Implementing employee health checks, as part of day-to-day operations, is the first necessary step  needed to establish that trust. Screenings take place daily to assess symptoms and capture temperatures of every employee entertaining a workplace. As companies assess reopening timelines, it is imperative to be aware of and follow the latest CDC guidelines to help you execute your plan successfully.
Not only are these screenings critical for guests to be comfortable returning to businesses, but it is also imperative for employee safety. Seeing preventative actions taking place firsthand and feeling more confident during their shifts is an important step to building a safe and secure opening environment. 
It is important to note that an employee health screening will vary across the hospitality industry and from jurisdiction to jurisdiction. For instance, a grocery store employee and hotel employee may have different PPE requirements or screening tools. Different businesses interact with guests in different ways, but it is essential to understand that the importance of performing health checks is ubiquitous. Personal health and safety are everyone's main concern and getting the Health Screening process correct is critical.
In this guide, businesses can find answers to questions such as:
What are the legal ramifications?

How do you perform an efficient COVID-19 Employee Health Screening?

What Should I Look for in a Virus Screening Tool?

How do the health checks vary by business?

How do health checks vary state-by-state?

How the Harri Health Check Platform be implemented at your company
What are the legal ramifications?
How can I prove that I'm being compliant?
Quite possibly the biggest concern for employers is navigating the legality of performing health checks. Are you able to store the information about employees' temperatures? How do you protect the sensitive nature of information being collected while also maintaining transparency to guests? The fear of mishandling the process is valid, but should not dissuade you from performing these crucial health checks.
We have had these areas of concern vetted and signed off by our legal council. Their team consists of retained subject matter experts who focus on employment related law practices in the Post COVID-19 environment.
Question:  Is capturing an employee's exact temperature 'personally identifiable health information'?
 Response:  It is only considered personally identifiable health information when combined with other individually identifiable information such as full legal name.
Question:  Can this information when used to determine if someone is "fit to work" be seen as basis of discrimination?
Response:  There is no risk of discrimination if there is a method to ensure the health check is performed for every employee in conjunction with COVID-19 guidelines issued by governmental entities.
Question:  What is legality surrounding managers having access to this information?
Response:  Only individuals, including managers, who "need to know" the information should be provided with this medical information.  For example, if one manager is conducting the health check for all employees, there is no need for other managers to know the specific results of the health check; the other managers only need to know that the employees on shift passed the health check.
Question:  What is legality surrounding managers using their own, personal devices to capture this information?
Response: It is strongly recommended that the information be captured on a device owned by the employer and not on a personal device owned by a manager or another employee.
Harri worked closely with our legal council to develop the language surrounding our Health Check Platform. However, as with all legal questions, we recommend you checking with your own legal council specific to the jurisdictions you operate in. Harri has validated that our solution (the Harri Health Check Platform) does not violate HIPPA, OSHA, Data Privacy & Storage laws, EOCC, and ADA guidelines.
To ensure compliance, it is recommended that an employer use a third party health check platform. Proving compliance and auditability is much easier when capturing data digitally through software rather than using a manual process. At Harri, our Health Check Platform not only tracks and records all captured data but it can also be printed and posted in a manner that protects employee privacy while providing guests the awareness that everyone has been screened. Our screening tool was built and is updated based on CDC regulations to ensure you and your business are as compliant as possible.
How do you perform an efficient COVID-19 employee health screening?
The balance between doing too much and too little
The most efficient way to perform a health screening is through an application that can easily be downloaded onto an employee or manager's mobile device. An application can eliminate most human errors, as well as make the process faster and more efficient. Mobile solutions also limit the amount of physical contact required to complete these checks. We recommend that managers conduct these checks when possible to ensure that the most accurate data possible is captured. If allowing employees to conduct the initial screening on their own, we recommend having the manager verify this information as well. When employees need and want to work, they are more likely to take advantage of a self check and the results become less accurate. 
Another important consideration for employers is to strike the right balance when deciding how much information to gather. A proper screening should only ask and capture the information recommended by the CDC and should do so as efficiently as possible to minimize business disruption. The CDC guidelines will lead employers to make the most educated decisions when implementing health screening tools. To gain buy in from your employees, it is important that you stress the benefit of these screenings, so ensure that you are following proper protocols and implementing routines that meet their needs as well. A health screening should not feel intimidating or like a chore, but rather as common as washing your hands before starting a job.
What should I look for in a virus screening tool?
Not all COVID-19 screening solutions are created equal.
A robust virus screening tool should:
Survey symptoms and temperature before entering the premises
In contrast to self reporting within the restaurant, an employee health check should be completed outside the establishment before their shift begins.
Provide managers with a pre-built CDC-approved symptom questionnaire
This allows managers to easily guide employees through a process based on the specific guidelines enforced by the CDC.
Deliver real-time alerts when employees that do not pass screenings
If an employee fails their screening, a responsive virus check solution should immediately signal the manager and the employee in order to be sent home.
Easily generate customer-facing reports
Not only should a tool provide summaries of all employee health screenings, but have the capacity to generate printable audits for easy transparency.
Provide visual record of PPE usage 
A powerful virus screening solution goes beyond asking questions and allows employees to visually attest that they have been provided with PPE.
How do the health checks vary by business?
A closer look at the differences
As the hospitality industry navigates a return to 'normal', the health checks and practices each employer is using may vary across businesses and locations. Health and safety for guests continues to be the priority, but now with a greater emphasis. Restaurants and hotels may operate differently than we are used to for now, but these health-conscious changes prove that the meaning of 'hospitality' goes beyond just being an industry.
What does a standard restaurant reopening look like for employees and customers?
The CDC and individual States have recently issued their guidelines on how to properly reopen restaurants. The use of PPE (Personal Protective Equipment) will be enforced "as feasible" in day-to-day operations. PPE is meant to protect oneself and others from the possible spread of germs. In some instances, this will mean hosts/chefs/waitstaff wearing gloves and masks while interacting with customers. Employee health checks will be in place and consist of daily symptoms and temperature screenings. The CDC also recommends having a contingency plan for if/when an employee becomes ill. As of now, very few restaurants have required customers to wear masks, but they have implemented social distancing and 50% seating capacities.
What does a standard hotel reopening look like for employees and customers?
The American Hospitality & Lodging Association (with other major chains) have set guidelines for how hotels can provide guests with boosted confidence during reopenings. The use of PPE will be in effect to ensure that when handling guest luggage, vehicles, and hotel reservations, it is as safe as possible. Hand sanitizer will be publicly displayed and encouraged for not just employees, but guests. There is a new, informed, standard for hotel cleaning practices that is being put into effect. Employee health screenings and temperature checks will be mandatory at certain hotels, but are not yet universal. With the new guidelines, there will be even less contact between employees and guests. 
What does a standard gym reopening look like for employees and customers?
In some states, gym employees will be required to participate in daily health check screenings to assess symptoms before entering the workplace. In Georgia, gym employees will be required to screen guests and can decide whether or not they may enter. In South Carolina, where "close contact" businesses have reopened, they require gyms to enforce social distancing, employee health checks, and meticulous cleaning practices. Sharing equipment will no longer be allowed, and even the use of water fountains will be limited to water bottles only. As gyms start to open, it is certain that these employees will be included in mandatory health screenings because of their proximity to guests. 
What does a standard grocery store reopening look like for employees and customers?
Grocery stores, which have been essential business since the beginning, are still undergoing changes to align with health regulations. Customers and employees at Aldi are required to wear masks while inside the store or warehouse. The floors have been labeled for social distancing strategies; limiting customers in checkout lanes and inside the store. Carts are cleaned after every use as part of the sanitary precautions. Health screenings for employees are mandatory. At Target, employee health screenings are required and they are providing thermometers to employees who do not have one. Since these employees have been essential for so long, they are the most at risk for exposure. These daily health checks are a huge step in the right direction, but requiring guests to wear masks and limiting the amount of people who can enter the store is crucial. Many stores have worked hard to develop regulations to protect their employees, and these will only continue as we move forward.
What does a standard retail reopening look like for employees and customers?
Retail stores have been one of the more recent businesses to begin the process of reopening. St. Louis, which has recently begun a full reopening, has developed business recovery guidelines. These guidelines include: the use of PPE, employees self monitoring, social distancing strategies, and cleaning/sanitizing techniques. There is a strong emphasis on maintaining distance between employees and customers. As Connecticut preps for their retail reopening, they have established similar protocol. Capacity in retail stores will be 50%, at least for the foreseeable future, and employees will be given daily health checks. Hand sanitizer will also be available throughout the stores. These changes will help protect employees and customers, while still allowing for shopping to take place.
How do health checks vary state-by-state?
Keeping up with the changes
With states in different stages of their reopenings, the rules look different across the board. It can be difficult to keep up with the constant changes and waves of information. How do you know what rules you should be following?
To combat misinformation and uncertainty, Harri has developed an interactive map providing you the most updated information on your business's jurisdiction. The map is part of our Health Check Platform, and is the quickest and easiest way to see what rules and regulations are in effect, and if they change. For instance, in Texas temperature and health screenings are mandatory for all retail employees, while in Wisconsin neither are required. With changes being made daily, it is imperative that we have access to the most accurate information. For access to our map, click here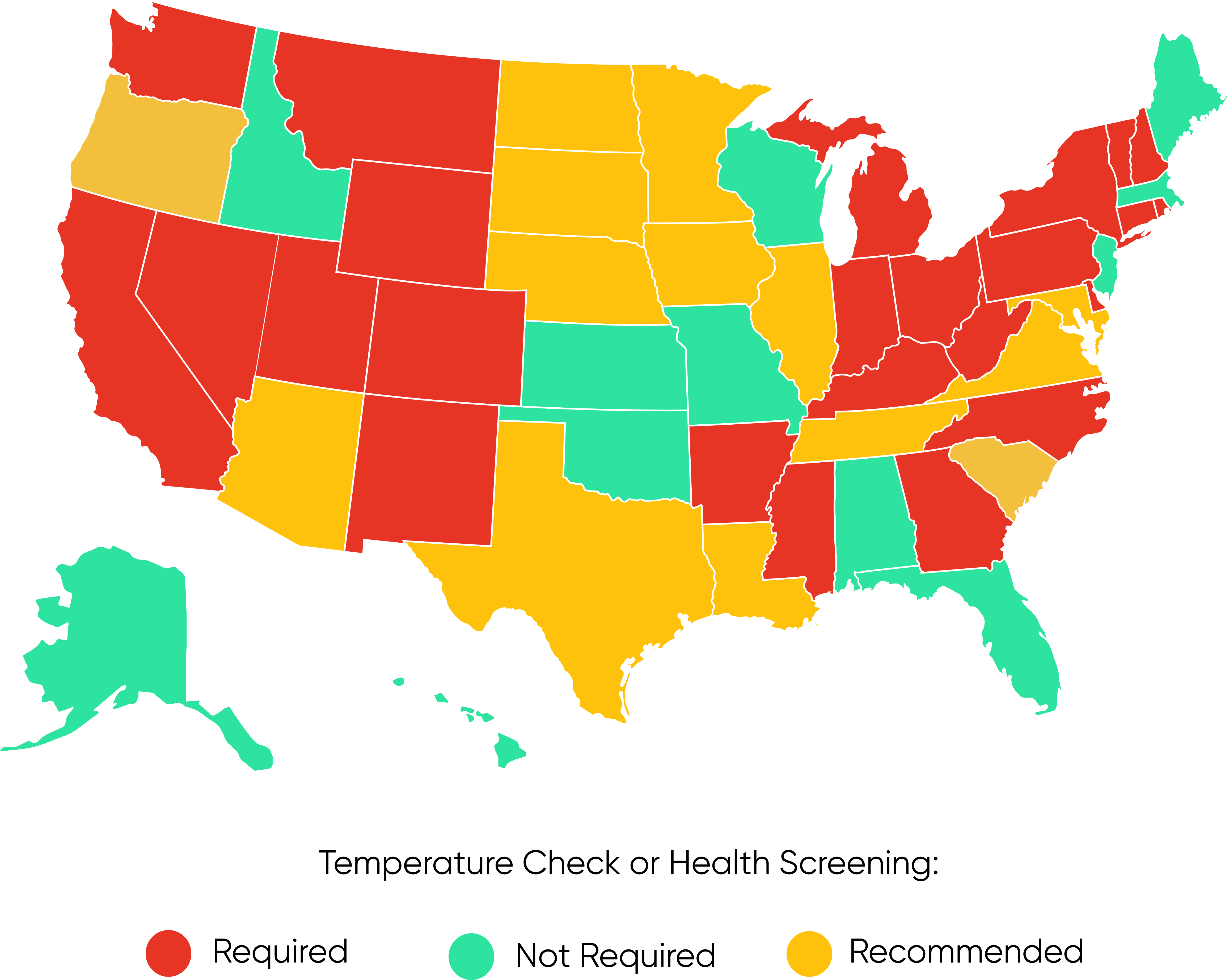 The Harri Health Check Platform
The latest innovation in health screening technology
The Harri Health Check Platform is the employee health check solution. Our platform is accessible through Harri Live, a mobile based app for IOS and Android devices. Our screening process is easy to use and time efficient; asking the CDC recommended screening questions and contactless fever-screening tools. Some of the exciting features include: health check verification stickers, printable audits for doors and take out orders, and implementing health check zones. The stickers are meant to be worn by employees to show their customers that they have been screened and passed. This act of transparency puts customers at ease. It is a simple, but effective reminder that safety is a priority. The printable audits are generated by the platform to compile all the data so you don't have to. Once the data is entered, Harri Health Check customizes your printable to display on a door or staple to a takeout bag. This is yet another clear indicator to your guests that health checks are being performed, and your business is as safe as possible. With all of these other subtle safety-conscious features, Harri also recommends creating a zone where employee health checks can take place. This zone should be outside of your business, but visible to customers. The more clues you can offer to customers about your focus on health and safety, the more empowered they feel entering your business. 
In times of concern, having a virus screening tool solution that is easy, quick, and accessible is imperative. There is less room for error, and more confidence that the establishment is safe. For employees, there is comfort in the accountability a manager-driven health check provides. Taking care of one another is more important now than ever, so employees feeling safe in their work environment is crucial. Implementing the Harri Health Check shows that your business cares about not only guests, but your employees. Together, we can create safer and healthier work environments for your employees and customers.