Grocery Industry: The Rise Of The Essential Worker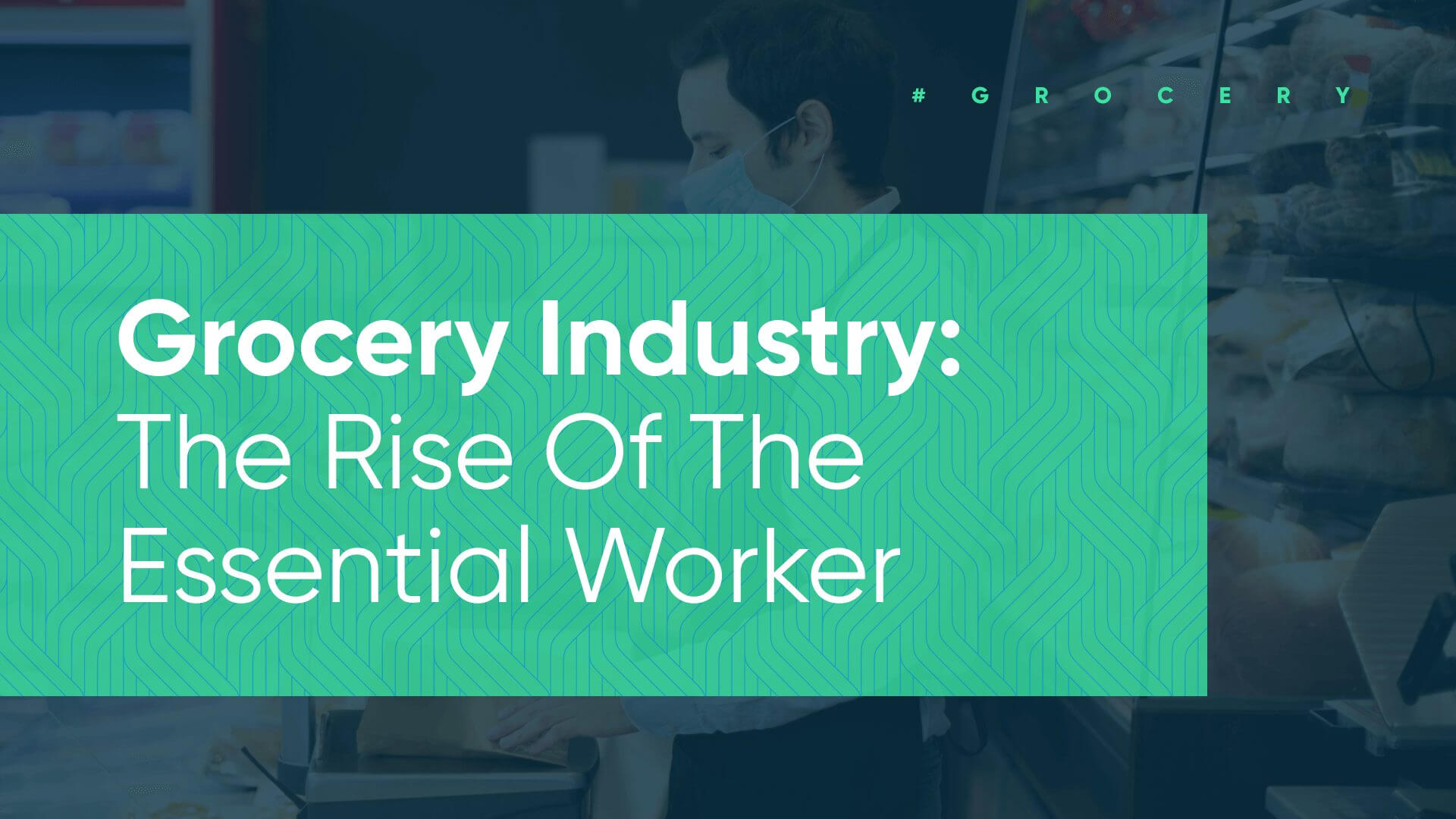 When COVID-19 first hit, the country was divided into work that was "essential" and work that was "non-essential". Very few businesses were given the coveted title of "essential" and experienced mass lay-offs and furloughs. Meanwhile, businesses that remained opened experienced a major increase in demand for labor. The grocery industry is continuing to see a need for more employees as lockdowns across the country are lifted. Although, as waves of hundreds of applicants flood General Managers, what happens after COVID-19? This increase in labor surely will not be around forever. As essential workers in the grocery industry continue to be the new frontlines, what changes are here to stay and which are circumstantial?
More customers, more employees
With restaurants closed for business and a fear to reenter establishments, people have resorted to cooking more frequently. Panic buying is another problem that plagues the country. As more customers enter grocery stores, more employees are needed to stock shelves, organize products, control demand, etc. Most grocery stores across the country are experiencing lines out the door and quick-to-empty shelves. In Washington, Safeway and Albertsons are attempting to fill 2,000 positions. As demand on one side increases, as will demand on the other.
As grocery stores continue to hire new employees, there is an increase in the need to prove the safety of the establishment. Health and safety audits will be crucial to proving compliance with CDC regulations and public health. People want to know that they will be taken care of, and that goes for employees and customers. Although, more employees means more people in a store at a given time. It can be difficult to meet hiring demands as well as maintain social distance guidelines. 
As COVID-19 continues to impact our routine and lifestyle, the "essential" will remain essential. Grocery stores will continue to supply the bulk of our food, and may remain the most popular spot for meals. It is hard to say the kind of impact COVID-19 will have on dining out. As more people become comfortable with the idea of leaving their homes and being in the same space as others, the increase in hiring demands at grocery stores may falter. The health audits, however, and standard of sanitation practices will most likely be around for the foreseeable future.
Many grocery stores are feeling the pressure to hire immediately. There is, however, danger in the temptation to fill positions quickly without properly screening candidates. For instance, Walmart was looking to fill 150,000 positions and to accommodate the global circumstances, streamlined their application process from two weeks to 24 hours. For one general manager, organizing and sorting through hundreds (thousands perhaps) of applicants can be overwhelming. Making a bad hire can be detrimental to your business right now. There is no accountability in "immediately". You need a platform that can help you manage applications easily and efficiently.
At Harri, our AI HR technology platform can help your business in the most important facets. We have designed Carri, a text-to-apply-technology, to improve your candidate screening process. Harri and Carri platforms work together to screen potential candidates and communicate with former ones to better assess gaps. Our virtual hire technology is also enhanced with video interviewing ability. Being able to hold a virtual interview allows you to get to know a candidate outside of email or phone calls to hopefully lead to a better hire.
Our pre-hire talent acquisition software is another way to attract viable candidates quickly. Through our platform, you can utilize smart filters and customized applications to find candidates that fit your hiring needs. Our tool enables you to reach, recruit, and engage with active and passive potential candidates. Our platform is also capable of applicant tracking through: screening and interview management, SMS candidate communications (Carri), video interviews, and assessment and background check integrations all on our Harri IOS mobile app. The employee onboarding process is also made easier by Harri. The job of a general manager suddenly becomes easier and more informed hires can be made. In a time of confusion, having a software that keeps track of sensitive information and organizes it efficiently is crucial.
The Harri and Carri tools are here to accommodate the new work reality. Our platforms help eliminate the hassle of sorting hundreds of applications and allow you to view the most qualified candidates. With the pressure to hire "immediately", introducing AI HR technology as part of your hiring practices makes the process simpler and more efficient.
How to retain the best talent and reestablish the norm
Now, with essential workers hired and ready to begin, Harri's Workforce Management Software comes in. Our software can help you manage scheduling, time and attendance, and communication with your team. With social distancing standards and a limit on the amount of people allowed inside stores, having a platform that can help secure schedules and communicate changes is crucial. Communication has always been incredibly important to operations, but now it holds greater weight. In the mass hiring process, you need a platform that can keep track of your team and help you manage.
Once the COVID-19 pandemic comes to an end and 'non-essential' businesses are able to continue, what happens to this new workforce? How do you make sure you are retaining the best talent? Now is a time to upgrade your talent. The employee you have been keeping because unemployment was so low and you could not find someone better can now be replaced by someone who is more qualified. Make it clear that you are investing in your team's future by providing them training and a career path as you start to grow again. The more you can prove that you are invested, the more they will want to stay. Communicating with your team and letting them know when you are opening up is crucial. Use this as an opportunity to upgrade your workforce by putting in methods to sort through applicants in an effective way– you are going to have a lot of applicants who have never worked for you. Operations will inevitably change when COVID-19 subsides, but until then, make a commitment to the future of your business by investing your team to improve retention.
How else can Harri help your essential workers?
Harri has recently debuted our Employee Health Check Platform. The goal of this platform is to perform daily health screenings and verify them to customers to encourage attendance. How it works:
Utilize our mobile app to access the employee health check

Quickly log employee symptoms at the touch of a button

Efficiently capture temperatures before employees enter the workplace

Audit your health checks across your enterprise

Receive proactive alerts when an employee fails a screening

Generate a Health Check summary to be displayed for customers or attached to your delivery orders for peace of mind

Verify Employers and Employees are wearing required PPE through image capturing technology
As rules and regulations change, Harri has developed an interactive map which provides the specific requirements you need to be aware of, state by state. This resource will provide you with a central place for gathering information specific to the jurisdictions you operate in. 
Navigating a new wave of hiring and changes in CDC guidelines can be difficult. At Harri, we continue to strive to be the best resource for hospitality employers and employees. The grocery industry is getting more attention now than ever before, let's work together to keep people healthy and employed.