From the Frontlines: A Conversation with Amanda Nichols on Incoming "Just Cause" Legislation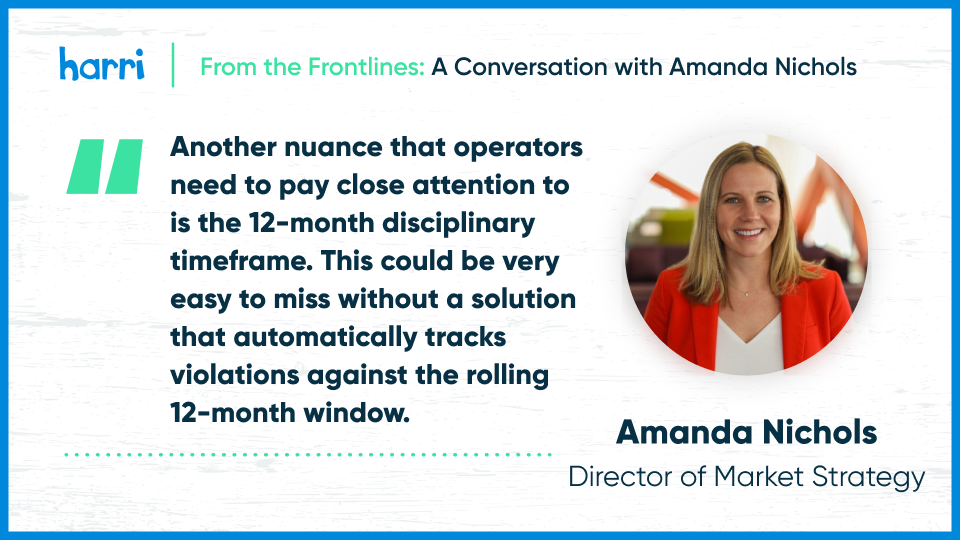 Welcome back to From the Frontlines! In this series, Harri highlights members of our team who are up to big things and have inside insights into the hospitality industry. This week we chatted with Amanda Nichols, Director of Market Strategy at Harri. In this episode, we discuss the upcoming NYC Just Cause legislation and what restaurant operators need to know to prepare for the July 4th rollout date.
Hi Amanda, welcome to your first From the Frontlines Feature! Let's discuss the new "Just Cause" addition to Fair Workweek. What do you think will be the biggest challenge for restaurant operators?
Thanks for having me, excited to be here! Honestly, I think the biggest challenge is in understanding the legislation itself. It's an extension of the Fair Workweek regulations in New York City, so at the moment, it's specific to fast food operators with 30+ locations. The regulation defines fast food as any restaurant where you pay before you get your food.
So what we typically call "fast casual," the Chipotles and Paneras of the world, are affected by this legislation as well. That also means casual, fine dining, and smaller operators are off the hook for now.
For those who are included in the legislation, understanding and interpreting the requirements of the law will definitely be the hard part. It has some pretty meaty requirements. For example, you have to prove consistent violation of stated policies before you can terminate someone. That means that you have to clearly document policies, train employees, document violations, and finally prove "just cause" in writing to the terminated employee.
This means there's a lot of really important information to keep track of. Without an automated, digital solution, it could put a pretty hefty burden on managers and operators. And this is just one aspect of this legislation.
Sounds like that can get complex. Are there any nuances to Just Cause that operators should be immediately aware of?
Absolutely. One of the nuances that jumped out to me was around the 'last in, first out' requirement. If you find yourself over-staffed and have a 'bonafide economic reason' to reduce headcount, the legislation states that you must lay off the last person you hired. This means that if you have too many line cooks and not enough drive-thru, but your last hire was a drive-thru associate, you must lay off that associate first. This means the restaurant will need to retrain and cross-train its staff to ensure that all positions are properly staffed while meeting this particular aspect of the legislation. 
Another nuance that operators will need to pay close attention to is the 12-month timeframe for each disciplinary action. Now, this is a rolling 12-months, meaning if an operator has a progressive disciplinary policy that states 3 violations and you're terminated, those 3 violations must happen in a 12-month period, not over the lifetime of employment. Once a violation reaches its 12-month anniversary, it falls off, kind of like points on a driver's license. This could be very easy to miss without a solution that automatically tracks disciplinary violations against the rolling 12-month timeframe. 
The most challenging nuance will be around the "reduction in hours" clause. The wording officially says "The term "reduction in hours" means a reduction in a fast food employee's hours of work totaling at least 15 percent of the employee's weekly work schedule" and this is where things get really fuzzy. How is that 15 percent calculated? Is it based on the good faith estimate? Is it a rolling average over the last 12 months? Is it based on the employee's busiest weeks? And what about restaurants that have a busy season and a slower season? At this point, we simply don't know. And this is where restaurants should consider turning to legal counsel to help advise them on the best way to mitigate risk. 
That could be a huge disruption for unprepared businesses. Given all of the unknowns, what can restaurants do today? 
At this point, there are more unknowns than knowns when you dive into the weeds, but at a high level, we do know a few things. 
First, all terminations must be for "just cause," so to get there, restaurant operators must clearly document disciplinary policies, train staff on them, and develop a tracking mechanism that will take into account the 12-month rolling window. We also know that policies must be consistently applied across the organization, so ensure the policies are the same for every restaurant in your organization, and they are applied in the exact same way for everyone who violates the policy. 
Second, be sure to track hire dates. This sounds obvious but if an operator is in a situation where they have to reduce their workforce they need to quickly identify who was hired last. I feel like this piece of the legislation could be easily overlooked if there isn't some sort of automated reminder. 
And finally, ensure your organization is up to date and compliant with all Fair Workweek regulations. Just Cause is meant to be an evolution of Fair Workweek, and that legislation has been around long enough that some unlucky restaurant operators have already kicked the tires a bit, and the brilliant legal minds among us have a good idea of where it's tripping operators up. 
Complying seems especially difficult with the gray areas you mentioned earlier. When will we know more?
That's a great question. Typically with new regulations like this, legislators will put out guidelines to help clarify some of the gray areas, but there's no way to predict exactly when that will happen. 
Given that Just Cause regulations are meant to protect the employee, operators who put the employee first in all of their policy development and application have a better chance of navigating this legislation than those who don't. And those who have strong tracking and automation in place will find themselves in a much stronger place to meet the requirements and mitigate the risk.