How to Reduce Fair Workweek Costs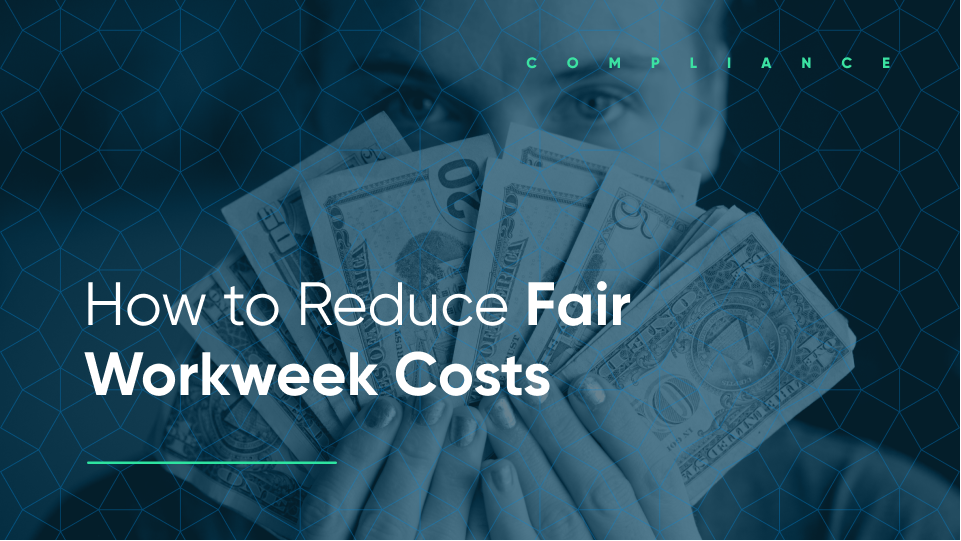 Hospitality businesses based in New York City, Chicago, Seattle, and other major cities are well aware of Fair Workweek predictive scheduling laws. Designed to create a stable, predictable workplace for hourly foodservice employees, Fair Workweek requires employers to follow a set of strict scheduling rules.
While Fair Workweek is a great step in the right direction towards creating a better employee experience, it's highly disruptive to day-to-day restaurant processes. 
Compliance isn't cheap, either. If an employer needs to overstep a Fair Workweek scheduling requirement for any operational reason, they're required to pay premium payments towards the affected employees. 
Premium payment fees vary by city and tend to fall on the smaller side, but they add up very quickly — especially for brands managing hundreds of employees. These payments typically come in the form of one-time fees issued to the employee, or as overtime hours.
There are several ways to accrue Fair Workweek premium payments, including:
Making changes to an employee's schedule after it's posted

Asking employees to leave a shift early or stay late

Failing to give an employee an 8-10 hour break between shifts

Asking an employee to wait on an on-call list
We all know how hectic restaurant operations can be, which means these premium payment-inducing scenarios happen on the regular. Faced with this reality, more and more hospitality operators are turning to technology to manage and reduce their Fair Workweek compliance costs.
To reduce Fair Workweek costs, you need to understand them
Naturally, all Fair Workweek costs are associated with the employee schedule. Managers looking to reduce Fair Workweek costs must start by scheduling smarter.
But where do we begin? Start by tracking and understanding your labor spend. 
Do you have an idea of how much money per week your managers are spending on Fair Workweek costs? Why are those costs occurring? Is it because of inefficient scheduling, or was your team strapped for labor and needed to make last-minute scheduling adjustments to compensate?
Identify which labor spend is necessary and which is avoidable.
Alongside labor needs, hospitality operators must have an understanding of customer demands.
That extends beyond just your busiest days. You need to have a solid understanding of which employee skills are in most demand and when, as well as historical factors affecting custom demand — that combines calendar date, day of the week, weather, and more.
While it's impossible to fully predict daily labor requirements given the unpredictability of the hospitality industry, diving deep into these data points empowers managers to uncover patterns and mitigate the risk of accidental Fair Workweek premium payments.
Your hourly workforce is another area to take into consideration when filling unexpected workforce gaps.
Do you have employees with the ability to work in multiple store locations? Are there opportunities to cross-train team members, allowing them to perform multiple job functions in one shift?
Taking a step back, it's easy to see that, in order to avoid Fair Workweek premium payments, restaurant operators must take a data-driven approach to operations. But data analysis isn't a standalone requirement — it should be integrated deeply into all the tools you use, including your scheduling platform, to ensure you truly are running truly labor-efficient operations. 
But no matter what strategies you employ to reduce or avoid Fair Workweek costs, remember that non-compliance is extremely expensive. Failing to follow Fair Workweek will incur legal penalties, employee back pay, and a lot of administrative burdens on your already busy team. In fact, we have a famous saying here at Harri when consulting clients on Fair Workweek compliance, "when in doubt, pay it out."
But that doesn't mean you should haphazardly pay employees premiums to "proactively" avoid potential Fair Workweek payments. Operators must utilize an integrated HC< platform to ensure labor-efficient compliance.
When your scheduling is on point, you reduce the risk of  Fair Workweek premium payments and unnecessary overtime hours. 
Because Harri was built specifically with hospitality in mind, we baked Fair Workweek compliance features right into the platform to ensure restaurant operators are well-equipped to create effective, compliant schedules.
A major reason why restaurant managers accrue Fair Workweek premium payments, is because the laws are so complex that it's impossible to remember every single requirement when managing large teams.
What might seem to be an effective labor strategy can actually be filled with Fair Workweek violations, emphasizing the need for a compliance-minded scheduling platform.
Built-in Fair Workweek compliance
Our Fair Workweek-compliant scheduling platform takes all overlapping wage and labor requirements into consideration, including federal, state, and local laws.
When scheduling labor in Harri, Fair Workweek compliance (and related premium payments) are factored into the schedule in real-time. When inputting employee shifts, Harri will automatically flag if it requires a compliance-related meal break, overstepped right to rest requirements, will accrue overtime, and other potential labor-related fees.
The real-time calculation of compliance violation fees within standard labor costs empowers managers to make smarter labor decisions and determine if a premium payment is truly necessary. This is also a fantastic tool to ensure managers stay within labor spend boundaries required by your brand. 
Data-driven scheduling
As we mentioned earlier, granular labor and employee analytics is a must-have when crafting schedules that minimize Fair workweek premium payments. Harri's powerful scheduling platform combines your existing data with powerful forecasting to ensure smarter schedules.
Demand-based scheduling is a great way to start off the schedule-building process.
By factoring in key data points essential to day-to-day operations, Harri allows operators to see what services will be in demand most, and when.
Our intelligent scheduling platform factors in historic sales data like:
Sales by calendar day

Sales by day of week

Holiday or holiday weekend sales data

Shift weather and how it impacted sales
If your existing scheduling tool can only process this information by the day, it's not digging deep enough for your teams to effectively fine-tune their labor strategies. Harri breaks down shift data down to the daypart for a granular understanding of sales trends.
Once you have an idea of customer demand, it's time to mix in employee data.
Position-based scheduling makes use of employee information, like skills, availability, and scheduling preferences, for compliance schedules that also fit the needs of your team. With the click of a button, managers can autofill shifts based on these factors to quickly fill labor gaps with the right people. 
And once your star employees are assigned a shift, Harri's Fair Workweek alerts restaurant managers if their data-driven schedules are Fair Workweek-compliant or not. More on that below!
Fair Workweek violations will be necessary to a certain degree, such as the last-minute allocation of labor. But these last-minute schedule changes are the fastest way to incur Fair workweek premium payment charges. 
Unpredictable reasons, such as needing to fill a labor gap if an employee calls in sick, or having to send a team member home due to an unexpected low in service, may require last-minute schedule changes. But even if changes are out of your control, you're still required to pay affected employees.
The problem is, restaurant managers are incredibly busy. It's impossible to expect them to remember every single Fair Workweek premium payment trigger when they're navigating a hectic hospitality environment and overseeing dozens of employees per location.
That's why Harri sends non-compliance alerts when a manager mistakenly violates Fair Workweek requirements, such as the last-minute schedule changes mentioned above, or if an employee is late to clock out of a shift.
Awareness is key to assessing if a premium payment is truly necessary, which is why Harri requires managers to give final approval before taking non-compliant actions. A simple reminder can cause managers to reconsider if it's truly necessary to ask an employee to stay late — and pay the premium as a result. If the labor is needed, operators can feel more confident that premium payments contribute to the brand's operational success.
What all is said and done, the only way to truly know if your labor strategies are cost-effective is to assess your labor spend.
Harri doesn't just provide detailed labor reports, our powerful reporting tools also separate out Fair Workweek specific costs to empower managers to dream up smarter compliance strategies.
When viewing Fair Workweek reports, operators can see important data such as:
How much money was spent per month on Fair Workweek premiums — holistically or broken down by location

Shifts that incurred premium payments

Which employees received premium payments, how much, and when

Managers that approved Fair Workweek premiums
This data is also handy should your business undergo a Fair Workweek compliance audit, where you'll be asked to provide a paper trail of every Fair Workweek violation and proof of premium payment.
Technology to combat Fair Workweek costs is the future of hospitality operations
Fair Workweek compliance is no simple task, and as the restaurant industry continues to move towards employee-centric laws, it's very possible that predictive scheduling laws will become even more complex in the future.
Utilizing compliance-driven HCM technology is a must-have to ensure labor-efficient operations across your entire hospitality business. While managing costs via spreadsheets certainly is possible, it promises human error and process inefficiencies that will result in compounding (and avoidable) labor costs. 
See how Harry ensures Fair Workweek compliance and reduced premium payments for major brands like Jersey Mike's.