From the Frontlines: A Conversation with Amanda Romano on Employee Referrals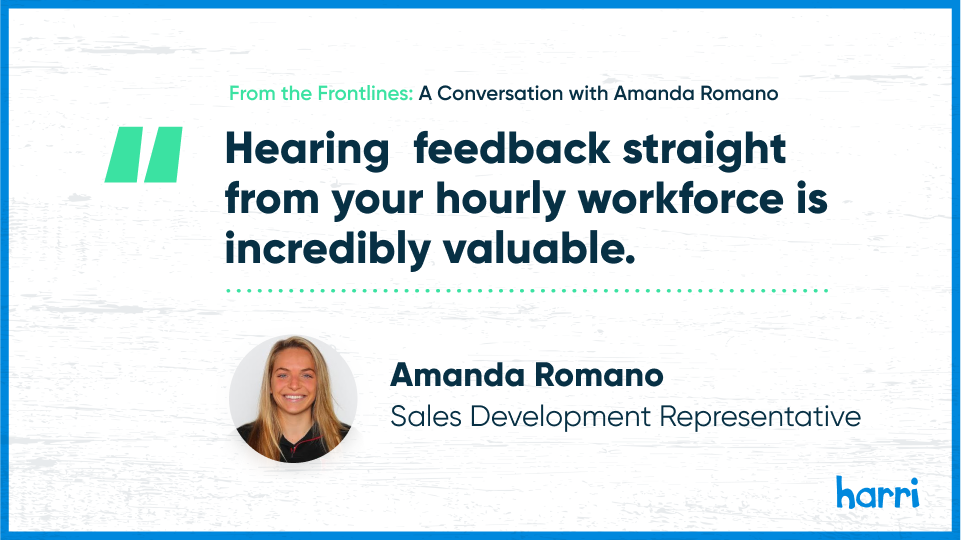 Welcome back to From the Frontlines! In this series, Harri highlights members of our team who are up to big things and have inside insights into the hospitality industry. This week we chatted with Amanda Romano, a Sales Development Representative at Harri. In this episode, we discuss employee referrals and using employee-focused tactics to increase team retention rates.
Hey Amanda, thanks for joining us today! What are some hiring trends you're seeing as hospitality navigates the labor shortage?
A recent study showed that teenagers are entering the workforce faster than any other demographic. We know employee referrals are a highly effective hiring tool, but that's even more true with this demographic. This is an excellent labor opportunity, but many brands, especially those in and around major cities, avoid hiring minors altogether — that's because child labor law compliance is extremely difficult when scheduling minors. 
But they're an incredibly valuable workforce, especially during the summer. Some operators are taking to compliance software to mitigate those challenges, open their available talent pool, and get ahead of the competition. Partnerships with local schools in certain markets are popular, too.
That makes a lot of sense. In terms of securing a candidate's attention, how can employers increase the odds of a successful referral?
Think of the job description as your elevator pitch. If the candidate doesn't know much about your brand or workplace, their decision to apply or not hinges on your job description. The fact that you're dealing with referrals helps, but applicants will have questions prior to an interview.
Candidates need to know upfront the position compensation rate, health and safety precautions in the workplace, growth opportunities, benefits, perks, or even if you offer the flexibility of video interviews. A lot of hospitality workers are switching jobs because they're overworked in their current position due to the staffing shortage, so if you can offer flexible scheduling, definitely broadcast that too.
It sounds like it all ties back to the employee experience. How do hospitality operators create great employee experiences? 
Exactly. The employee experience is somewhat of a newer concept in hospitality. So while some brands might have the resources to create an employee experience that attracts and retains talent, they might not know how to do so.
Because good employees are your best resource to find talent, not just in hospitality but in any industry, turn to them. Once per month ask how likely they are to recommend your company to a friend and have them write a few sentences on why they would or wouldn't recommend it. Hearing that feedback straight from your hourly workforce is incredibly valuable and should be acted on.
You mentioned that team members are more likely to leave if their company is understaffed. What are small things operators can do today to boost retention rates?
Meaningful, one-to-one communication between managers and employees is such a simple yet incredibly overlooked way to retain team members. Tell them they're doing a good job when they do something great. Broadcast that to your team. Ask team members if there's anything they need. A genuinely happy culture starts with a simple thanks.