From The Frontlines: A Conversation With Julian Malfregeot on COVID-19 Relief for Restaurants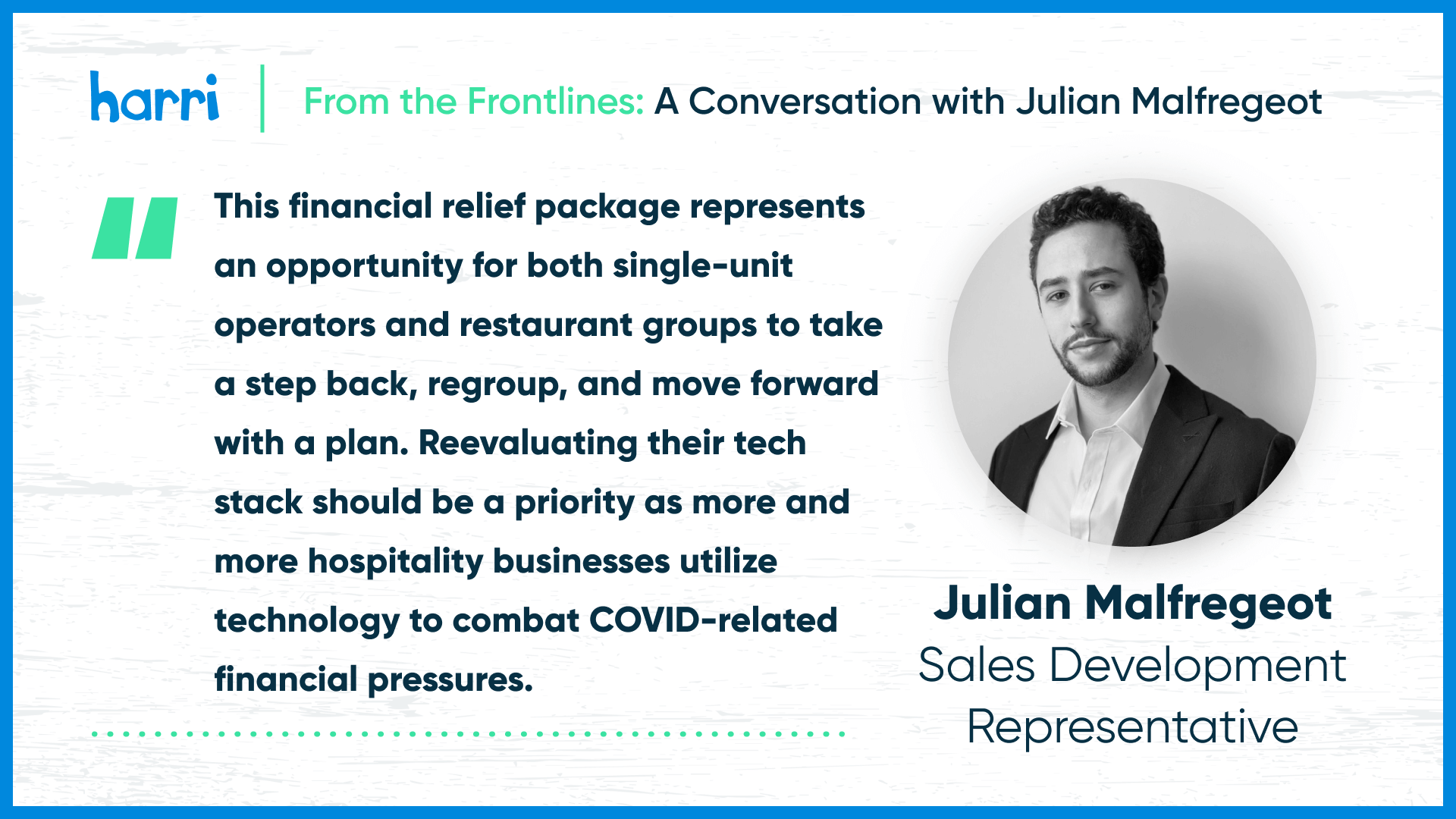 Welcome back to From the Frontlines! In this series, Harri highlights members of our team who are up to big things and have big insights into the hospitality industry. This week we chat with Julian Malfregeot, a Sales Development Representative here at Harri. This week, we discuss the upcoming 2021 Restaurant Revitalization Fund and how hospitality can prepare for the next wave of COVID-19 relief.
Thank you for joining us Julian and welcome to Team Harri! What are some major restaurant-specific differentiators you're seeing with the newest COVID relief package?
Excited to be here! As it currently stands, the COVID-19 Restaurant Revitalization Fund will offer $28.6 billion to assist small restaurants (less than 20 locations). These funds cover a period from February 15, 2021, to 8 months after the final bill is signed. Unspent funds are subject to a 1% interest rate.
Regarding the package as a whole, we're seeing $300 unemployment benefits, which is $100 lower than the previous bill. The COVID relief package also proposes a $15/hr minimum wage. Although this isn't expected to pass, it's a clear sign that the fight for $15/hr won't be ending anytime soon.
Great overview. How can restaurant operators prepare to maximize back-office efficiency?
This financial relief package represents an opportunity for both single-unit operators and restaurant groups to take a step back, regroup, and move forward with a plan. Reevaluating their tech stack should be a priority as more and more hospitality businesses utilize technology to combat COVID-related financial pressures. 
With a potential $15/hr minimum wage in the future, tech to manage labor costs will be a must-have. Scheduling tools to ensure the right employees are working at the right time will prove invaluable. Operators will also benefit from an employee health screening tool to ensure workplace safety and increase guest confidence in their brand.
That makes sense. If the $15/hr minimum wage isn't passed this round, can operators hold off on preparing?
The sooner restaurants start preparing, the less disruption they'll face in the future. While most restaurant owners aren't against a $15/hr minimum wage, the jump is too high for some brands to accommodate at once, especially in lower-income states. If the hospitality industry wasn't hit so hard by COVID-19, $15/hr wouldn't be as strong of a concern. 
Hospitality's talent crisis isn't going away. Some restaurants are already proactively raising wages for new and existing employees to gain a competitive hiring advantage. This also incentivizes employees to come out of unemployment and re-join hospitality. In both cases, scheduling, talent sourcing, and ATS tools have been vital to find and retain great team members.
Is there anything that restaurants should be concerned about regarding this bill?
Operators definitely need to do their research. It's unclear just how difficult the application process will be, especially for these smaller restaurants with little to no legal resources. The bill does nothing to revitalize restaurants that closed as a result of COVID, and financial aid for those that can claim it may arrive too late. 
Franchisees are definitely worth noting, too. Because restaurants operating in groups with 20+ locations cannot apply for this assistance, franchise owners may struggle if they don't receive support from HQ, which unfortunately isn't an uncommon scenario.