From the Frontlines: A Conversation with Ryan Mang on Building Business Momentum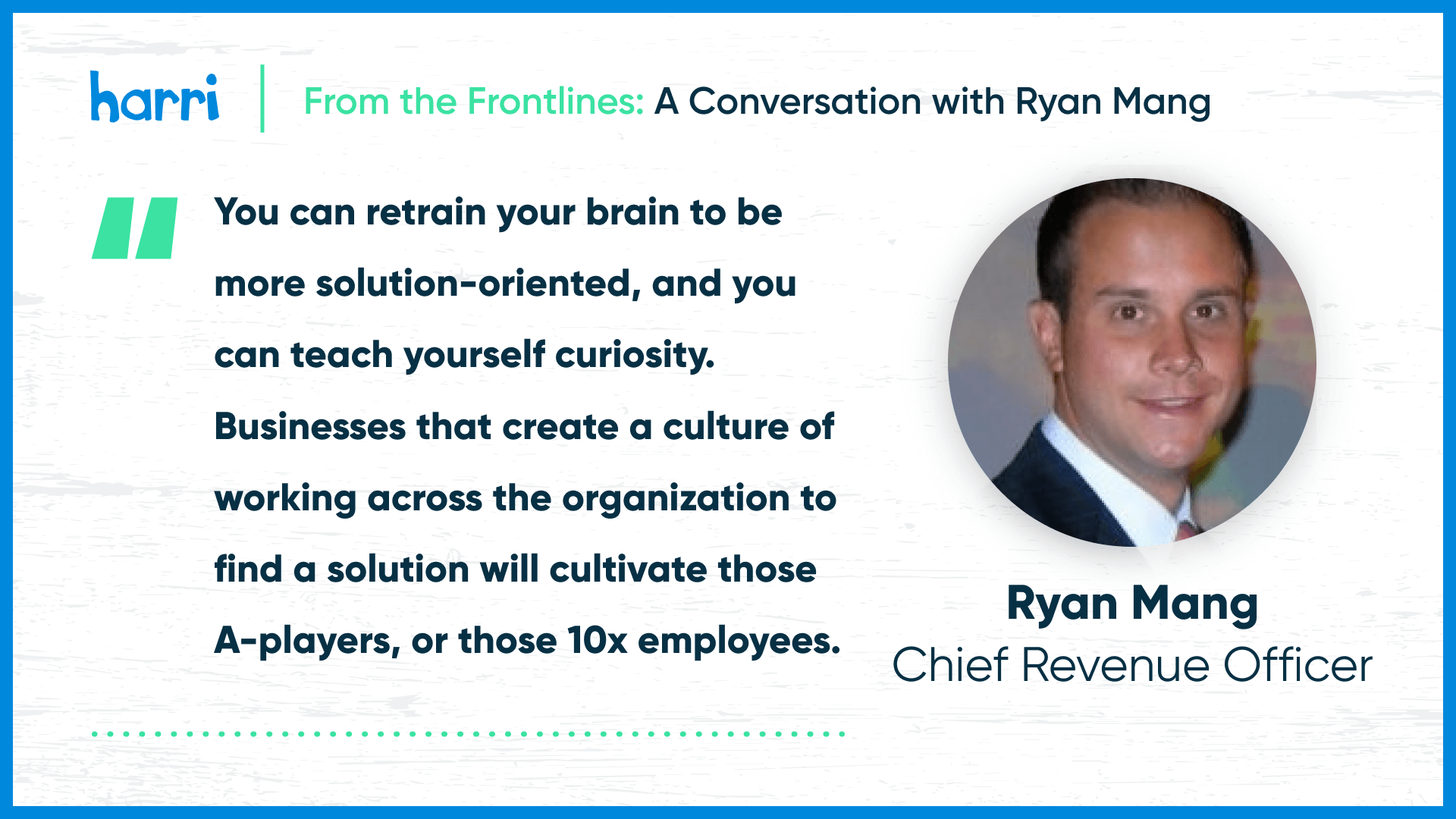 Welcome back to From the Frontlines! In this series, Harri highlights members of our team who are up to big things and have big insights into the hospitality industry. This week we chat with Ryan Mang, Chief Revenue Officer here at Harri. In this episode, we discuss the strengths of early-stage businesses and how they can build internal momentum to create high-quality, high-value products. 
Thanks for joining us today, Ryan! What is early-stage business momentum and how can it be created?
Thanks for having me. Momentum comes from Happy Customers experiencing delightful products. My job is to put those experiences on center stage for those that are going through similar challenges. You build software to solve complex challenges, this industry for a long time has deserved their own platform and Harri is that platform. 
Vertical platform opportunities in this industry are everywhere, but my theory is: if you can build what will be adopted by the "field," you'll get differentiated datasets and happier employees. That's what will set Harri apart from the pack. 
You made a great point on smaller businesses being nimble! But is that enough to compare to well-established players in the market?
There's really only one way that an early-stage company can dethrone a strong incumbent, and that's hiring the right people. While smaller businesses can't compare to powerhouses in terms of financial resources, they can find high performers that want the ability to make an impact in the industry and within your organization. It boils down to separating the High Potentials from A-Players.
Harri's Employee Health Check platform is a perfect example. A customer let someone on our Customer Success team know that their business was looking for a health screening tool to safely operate during COVID-19. That team member passed the feedback over to our product team, and they were able to turn out a powerful tool that met Harri's high standards in just 2 weeks.
Thanks to our team's empathy, ability to foresee future market needs, and amazing execution speed, we released the first mobile health check tool on the market, and that's something we're really proud of. But it wouldn't have been possible if Harri wasn't nimble.
Amazing! How else does your team measure momentum?
Momentum isn't independent of any department, it's a cross-functional effort. 
For sales, it's not just bringing in new logos, but bringing in the right logos that fit who we consider our ideal customer profile. From there, solutions architects need to analyze those brands once they're brought in, and create repeatable processes so we can more easily bring on similar brands. Implementation and CS need to ensure a smooth onboarding and a great customer experience to keep retention high. When that's all said and done, marketing gets the message out so more of those ICP brands can see that your business is faster and better than the competition.
Do you have any suggestions on how team leaders can find those A-players?
Businesses that create a culture of working across the organization to find a solution will cultivate those A-players, or what our community calls 10xers. You can retrain your brain to be more solution-oriented, and you can teach yourself curiosity. Empathy is very important, if not the most important.