State of the Union: Hospitality Labor Conditions Whitepaper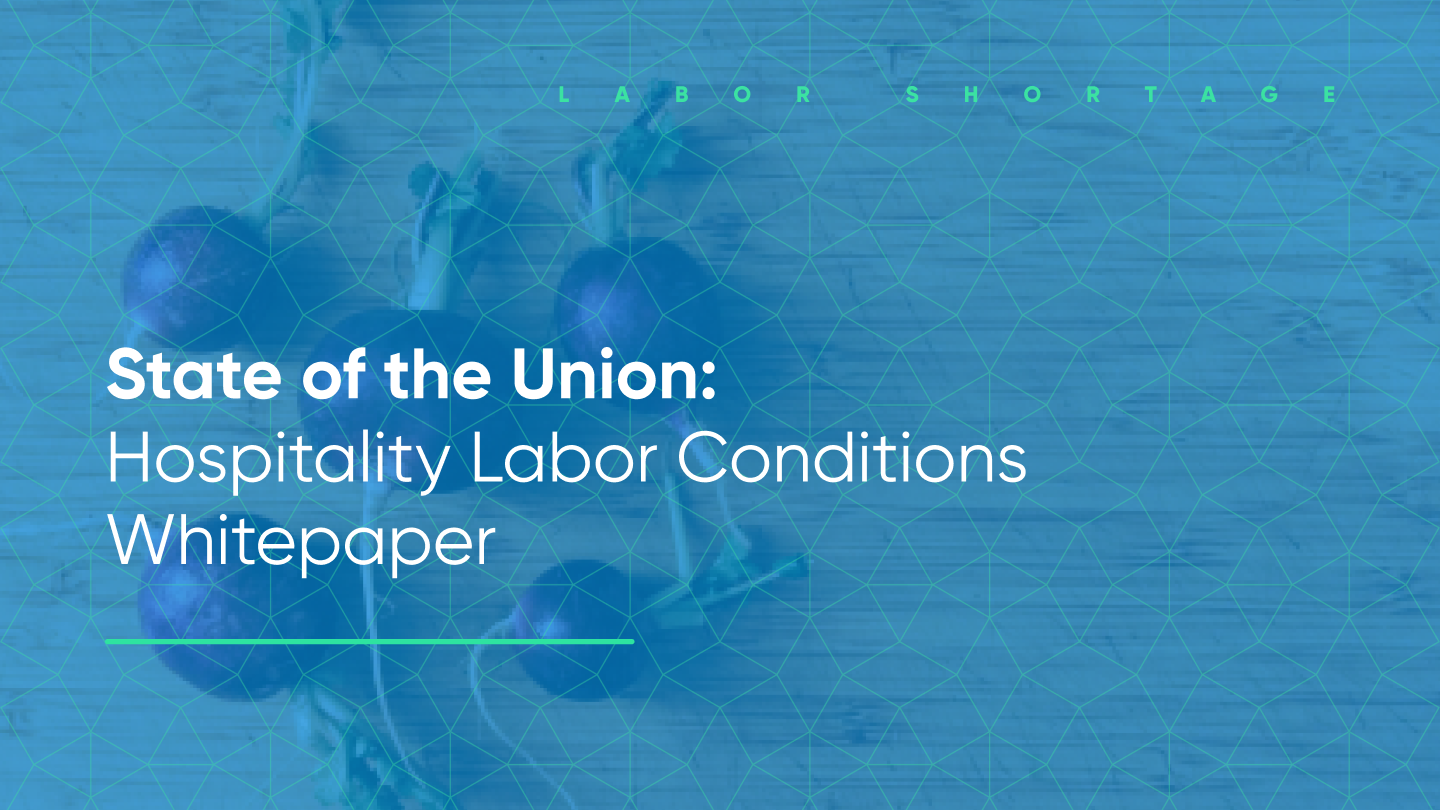 This whitepaper analyzes various official data sources in the US and UK, as well as data gathered from our own platform, to draw conclusions about the future of hospitality's workforce.
A global labor crisis continues to challenge service-based industries with no end in sight. We're short 10 million people of working age willing to work in hospitality. Wages are hyperinflated, and there's a mismatch between labor supply and demand.
Today, we look into the many factors that lead us to where we are today so we may understand how to tackle these issues at their core, dive into employee sentiment and willingness to remain in the industry, as well as what operators can do to adapt to the rapidly changing labor climate. 
Displacement: where has hospitality talent gone, and why?
It's impossible to boil down hospitality's labor shortage into one single cause. It was born out of the overlap of many opposing economical, social, and political factors — a perfect storm.
While pandemic-related unemployment benefits took the brunt of the blame, the issue runs much deeper than benefits alone.
Geographic disruption in the wake of COVID-19
During the height of COVID-19, dense urban areas quickly thinned out as both US and UK citizens flocked to the suburbs. With that large shift came the displacement of a large portion of the hospitality workforce. Leaving urban establishments fighting for a thinning talent pool.
Seasonal patterns, like summer tourist rushes or higher education semesters, were disrupted. There were no more post-sporting event drinks, and we saw mass closures in Broadway and the arts, which tend to attract hospitality workers looking for a side job in-between shows. Restaurants located around these high-traffic landmarks suffered major losses seemingly overnight.
Immigration slowdowns and labor supplies
COVID-19 essentially halted all forms of immigration in the US and UK, which was further solidified in both markets by executive orders designed to suspend immigration processing. Because restaurants rely on immigrant labor to fill workforce gaps, immigration slowdowns took their toll in the US and UK.
In the US, the Trump administration bolstered efforts to remove and regulate immigration, creating deep complexities in an already complicated process. This was most strongly enforced during his election from 2017-2021. While the Biden administration began to roll back these restrictions early 2021, there wasn't nearly enough time for hospitality's labor pool to recover by the time the pandemic struck.
Immigration and customs enforcement increased from 4,330 to 10,939 from 2016-2019, with border patrol apprehensions increasing from 310,531 to 851,508. This especially cuts into countries that make up a large portion of hospitality's workforce. The DHS made 77% more apprehensions in 2019 compared to 2018, largely driven by increases in apprehensions of El Salvadoran, Guatemalan, and Honduran nationals along the Southwest Border.
Across the pond, the passing of Brexit significantly impacted the labor market by influencing the migration of EU nationals back to their respective homelands. Immigration and customs enforcement increased from 110,104 to 158,581 from 2016 to 2018, and with an estimated 3.7 million EU Nationals resettling, mass numbers of front-line UK hospitality workers were displaced into new countries. Post-Brexit, we saw 5.6M applications for settled status as well.
Culinary arts graduates on the decline
Enrollment into culinary programs was steadily declining in both markets before COVID-19, with a 32% decrease in degrees awarded from 2012 to 2018. Unsurprisingly, COVID-19 dropped that number even further. University enrollment as a whole slowed down, and you can't effectively teach someone hands-on hospitality skills over Zoom.
What does that tell us? Operators need to recapture the imagination of those who view hospitality as a career, not just a job. Career-driven hospitality professionals are the next generation of our industry and have the highest probability of staying within the hospitality industry for years to come. Student scarcity will continue to contribute to long-term restaurant labor shortages until we add more supply into the talent feeder.
Hospitality pushed workers away while other industries pulled them in
Pandemic-related closures hit hospitality hard, harder than most industries. When we pushed, others pulled. In the wake of COVID shutdowns and economic turmoil, the volatility of mass layoffs and prolonged furloughing resulted in a displacement of labor to surging industries. 
Higher wage opportunities lead the charge, with workplace flexibility and the ability to work remotely further supporting hospitality workers' decisions to move to tech-savvy sectors.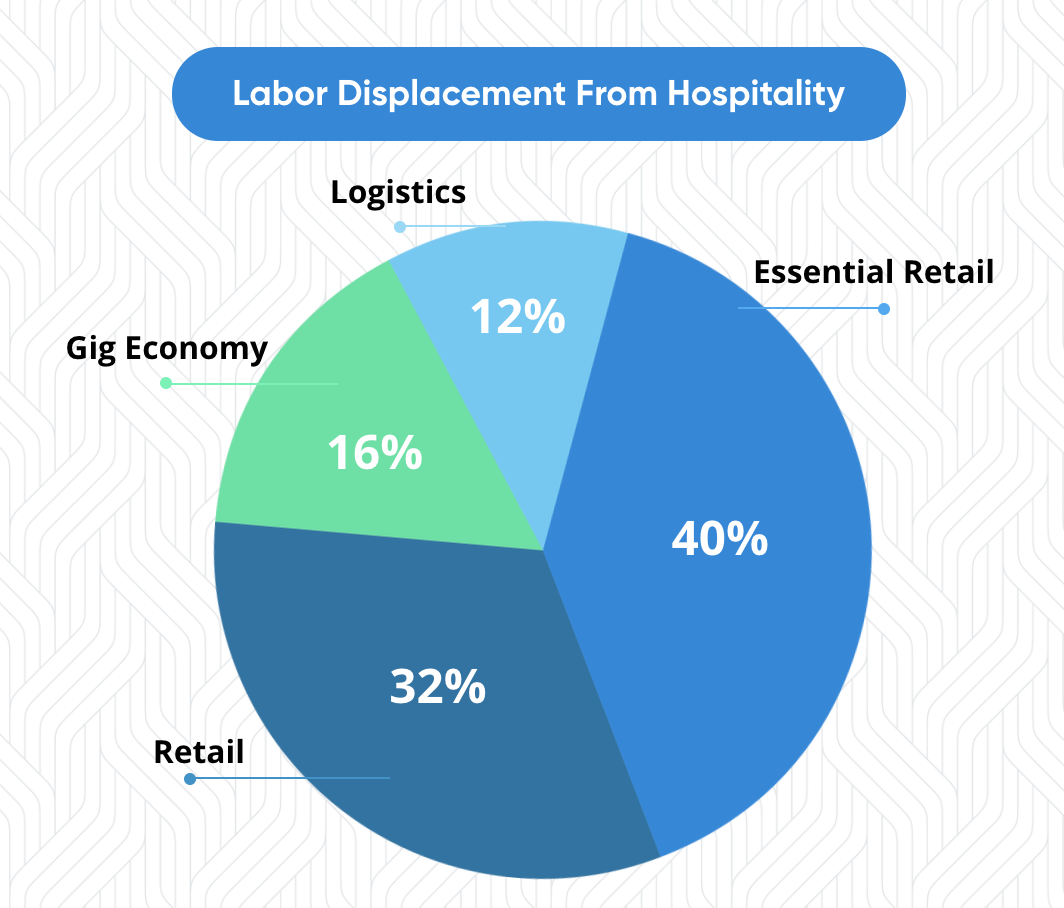 Research from our Labor Crisis Conditions and Sentiments Report showed that, in the wake of COVID-19 and vaccination requirements, essential and traditional retail, logistics, and the gig economy were the primary 'destinations' for hospitality employees.
Whilst we've regained much of what was lost in total jobs figures, there's a significant percentage of those who found work in these adjacent industries who do not intend to return.
Employee perspective: why did talent move?
For some, the pandemic unveiled a silver lining that allowed employers to address team-wide employee experience concerns. Sustainability, stability, career growth, benefits, and more contributed to the dilemma, thus pushing restaurant workers away from the industry.
What matters most to employees?
We developed our 2021 Employee Experience Report to understand the full picture of what matters most to hospitality workers coming out of the worst of the pandemic as well as their intern to return to the industry. This survey provided a global view of employee sentiments gathering data from over 6.700 participants.
In order of importance, the following categories contribute to an optimal employee experience:
Having a reliable, predictable schedule

Feeling part of the team

Having direct access to tool and training resources
Restaurant operators would be wise to survey their own employees to learn of any additional workplace needs that can be met. After all, an ounce of retention is worth a pound in recruitment.
Hospitality's negative perception as a workplace
The way employees work is becoming increasingly important to their willingness to stay in hospitality, especially when less customer-centric industries can offer highly competitive benefits. This resonates even stronger for restaurant workers in particular, where mask policies are confusing, inconsistent, and possibly even insulting to customers. 
Now there's a need to address the negative perceptions of working in restaurants.
Concerns like health and safety, guest interaction, work-life flexibility, general instability, and lack of desired or clear career pathing require strategies and programs to be built in response.
Wages skyrocket in and around hospitality
Wage inflation pressure has reached a tipping point in the US. Regulation and competitive dynamics are driving unique behaviors and tactics to attract talent. But competitive wages are far from cheap, and oftentimes paying workers a living wage results in unprofitability thanks to hospitality's historically thin margins. 
Notably, incentives and programs have headlined the US new cycles. Short-term incentives like signing bonuses have gained popularity, but employees tend to flock to businesses offering the best compensation and benefits. We are not only trying to outbid one another, but the broader job market is responding in a similar fashion, "why should I work here when I can make that much there?"
And that's not all. Rising wages across the country have indirect impacts on hospitality operations, driving up transportation and supply costs that ultimately lead to more expensive end-products. Combine this with compliance-related labor costs, which tend to scale with wages, and it's clear that the cyclical nature of wage inflation will have lasting effects on the industry's ability to source and retain labor.
Adapting to the talent shortage: what can operators do?
Hospitality may be home to a wide range of sub-verticals, like fast-casual and fine-dining, but adaptation strategies remain fairly consistent across the board. Technology adoption, most notably, plays a significant role in cost-savings and operational success.
Optimize your basic talent acquisition processes
Conquering the labor shortage isn't about finding the shiniest piece of technology. Adrenaline shots into the employee experience are not nearly as effective as perfecting the fundamentals.
Business leaders and unit-level managers alike need to remove friction in their operational processes and work on the organic fabric of finding and attracting candidates.
Operators should be able to confidently answer questions like:
How long does it take to apply to a frontline job in my business?

What's my response time to an applicant?

What is our average time-to-hire?

Do we have an employee referral program in place, and is it automated? 
Time kills all good deals in a normal market. During a labor shortage, anything short of instant response time is a waste of effort. Operators must review their hiring processes, identify gaps, and begin to supplement and streamline wherever they can.
Reimagine employee scheduling
On-demand scheduling is a thing of the past. Between expensive compliance requirements, especially those related to Fair Workweek, and the workforce's growing demand for scheduling flexibility, it's clear that hospitality's labor module needs a facelift.
But while this might surface thoughts of operational overhaul, smarter scheduling can be used as a mechanism for team retention. Employees need to be happy with their shifts, the hours they're working, and their pattern of hours week over week. Today's schedules should be equitable, meaning that all employees have equal opportunities to work those prime shifts and earn higher tips. They should be predictable and meet patterns of flexibility, thus giving employees a chance to achieve work/life balance. 
Technology is an important piece here to achieve labor-efficient schedules that work for your employees and for your operational needs, especially during a labor shortage when we must do more with less. Granular analytics empower managers to better understand compliance requirements and shift behaviors so you can continuously optimize team schedules. 
Solid communications drive team engagement
The single most important lesson that we learned from COVID-19 is the necessity to clearly and effectively communicate with our employees, especially those on the frontlines. When we needed to talk to employees, there was no way to reach them. Those unofficial team group chats or break room bulletin boards proved inefficient during uncertain times.
While technology certainly is the answer here, your messages won't go through unless your communications tools are linked with tools your workers use every day. They won't want to download a new app or remember a new login. Utilize the timeclock, a device they need to log into work each day to get paid, or the app they use to view their schedules, something employees check regularly.
Successful engagement requires wholistic, interconnected flows. Anything short of this is a waste of time, effort, and implementation dollars.