From the Frontlines: A Conversation with Taylor Light on Creating a Tech-driven Employee Experience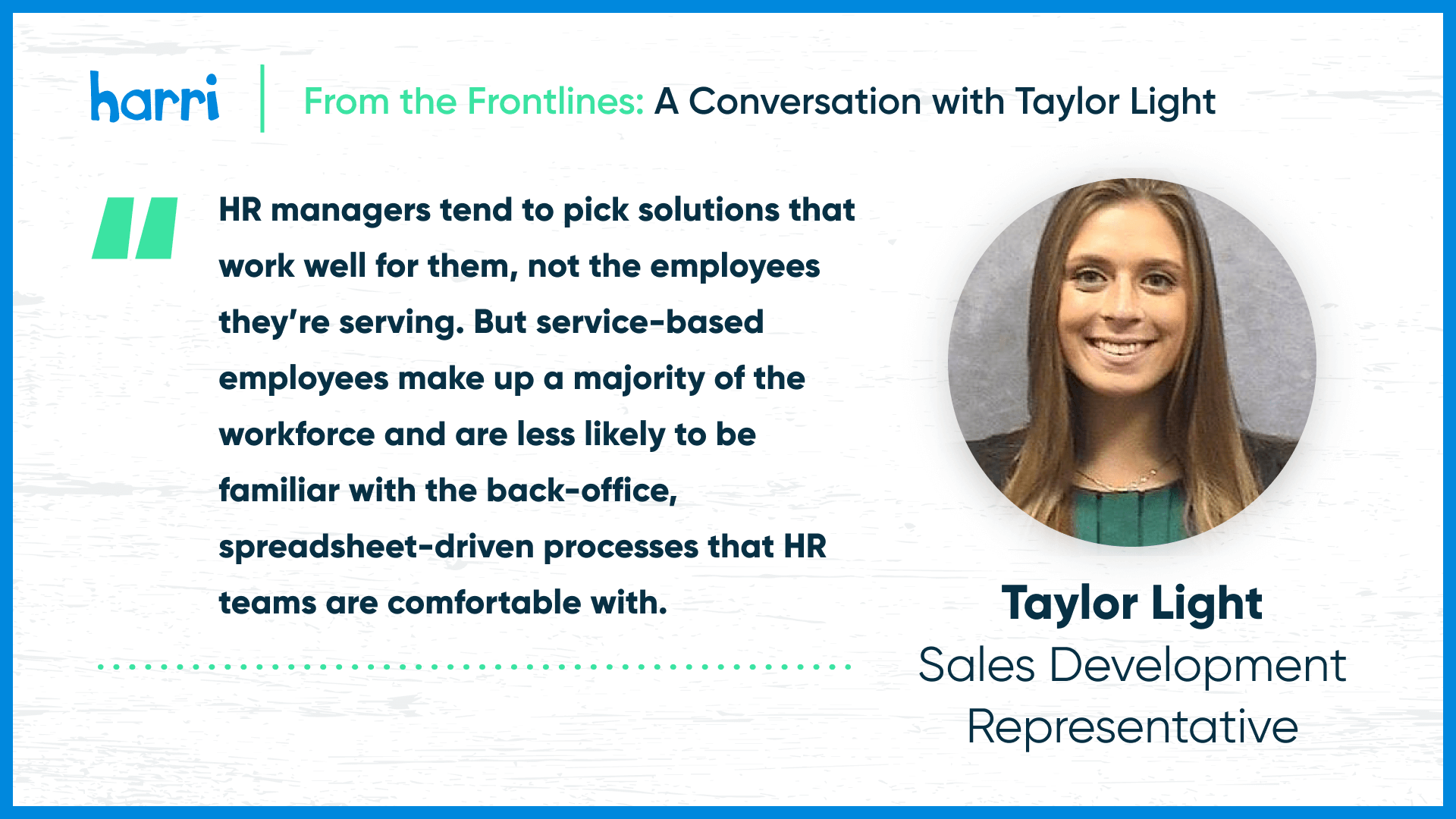 Welcome back to From the Frontlines! In this series, Harri highlights members of our team who are up to big things and have big insights into the hospitality industry. This week we chat with Taylor Light, a Sales Development Representative here at Harri. In this episode, we discuss tech-driven employee experiences and how not to approach HCM tech in the workplace.
Thank you for joining us today! What's a major problem you're seeing in the hospitality industry today?
Thanks for having me! The hospitality industry is developing faster than managers or HR leaders can react. Between daily job responsibilities, COVID-19 safety protocol, and a high-stress work environment, service-based workers are extremely overwhelmed.
So what does that mean? A negative employee experience and high turnover rates, which lend themselves to high labor costs and a poor guest experience. Big names in hospitality are starting to adopt tech solutions to make work easier for their employees and to incentivize them to stay rather than jump to a competitor before the first 90 days.
So is a tech-based solution the best way to create a better employee experience?
Yes and no. HR leaders might find a problem with time and attendance, so they implement a new clock-in technology. Then they notice onboardings are extremely slow, so they implement a digital onboarding solution. They pile all of these separate tech systems onto their teams which only adds to the problem of employees feeling overwhelmed. 
What's more, HR managers tend to pick solutions that work well for them — not the employees they're serving. But service-based employees make up a majority of the workforce and are less likely to be familiar with the back-office, spreadsheet-driven processes that HR teams are comfortable with. It's a band-aid solution that doesn't address the core problem with today's employee experience.
Great point regarding those back-office processes! How can these companies find a solution that creates a middle ground between back-office and service-based employee needs?
An all-in-one HCM solution is the way to go here because it ties together every aspect of the employee experience in one cohesive platform. That means employees don't need to learn 12 different interfaces or memorize a ton of logins. Deploying tech that's easy to use plays a subtle but very important role in the employee experience. 
Amazon and Facebook are great examples here! They might have a dozen features and back-end systems, but they're designed in a way that's highly intuitive for users. No matter how complex the product is, it's easy to find exactly what you need. That's an important lesson on the effectiveness of a great user experience and is something we strive to replicate at Harri.
Are there any other non-tech solutions HR leaders can implement to support their employees?
Benefits are huge, but hospitality employers need to be careful to avoid benefit overload. Something I see frequently is restaurants listing 40 benefits on their website, 75% of which might only appeal to corporate employees.
I see success in businesses that advertise key benefits that would appeal to service-based employees, like instant-pay, weekly pay, or pet insurance. Those really grab the attention of candidates while making current employees feel appreciated.