From the Frontlines: A Conversation with Mikki Taylor on Hospitality Hiring Challenges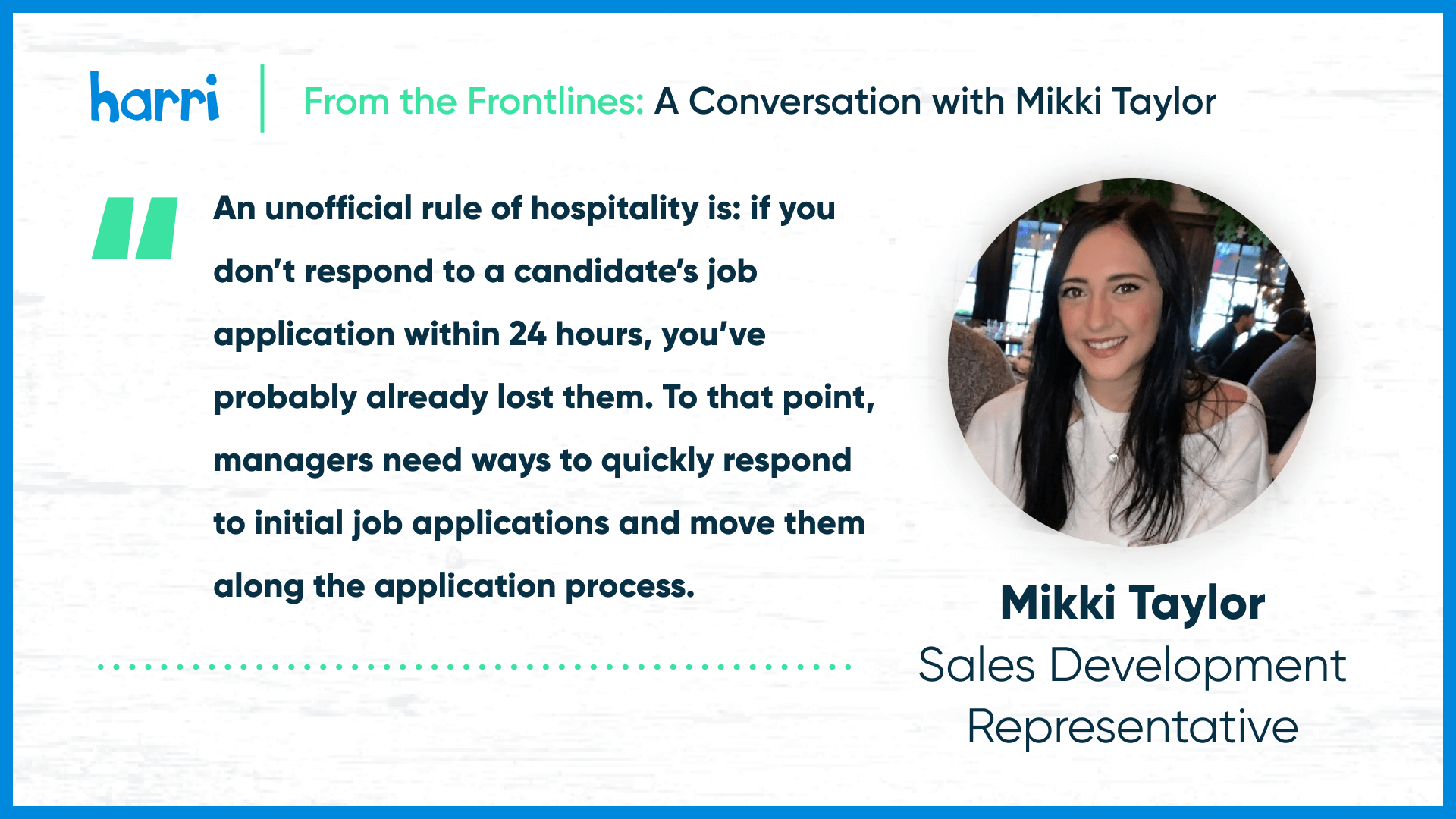 Welcome back to From the Frontlines! In this series, Harri highlights members of our team who are up to big things and have big insights into the hospitality industry. This week we chat with Mikki Taylor, a Sales Development Representative here at Harri. In this episode, we discuss hiring challenges in the hospitality industry and how tech can be used to attract and retain a broader candidate pool without bogging down managers.
Thanks for joining us today, Mikki! Earlier this week, team Harri sat down to discuss Chipotle's hiring boom and what it means for hospitality. What are some takeaways that contributed to that success?
Great to be here! Chipotle focused on four key strategies (digital growth, employee benefits, internal staff promotions, and diversity and inclusion efforts) that enabled them to grow throughout this pandemic, and has made them more of a competition than they already were in the QSR space. 
The fact that Chipotle was able to announce a 15,000 employee hiring spree just months after a 10,000 hiring spree tells us that these focus points are creating clear benefits starting from the bottom up.
Do you think these focus points give Chipotle a leg up compared to other competitors in the space looking for new talent?
These are partially employee marketing techniques, which do wonders for brands looking to not only attract, but retain employees. Some of the most highly desired priorities for frontline employees are location, wages, tips, and scheduling flexibility.
Tuition reimbursement, mental wellness programs, performance-based bonuses, and other unique benefits show that Chipotle is committed to its employee's financial health and long-term growth even beyond that of working with the brand. On top of that, they announced that 70% of general managers were promoted internally, which is an attractive opportunity for those career-hungry candidates that want opportunities for growth in a company.
You made a great point on employee priorities. What are challenges facing hospitality brands seeking to hire during the pandemic?
Hospitality was incredibly competitive even before Covid hit, and the pandemic has only created more of a talent crisis. Employers are struggling to find ways to make their brand or a specific store location more attractive to candidates. 
An unofficial rule of hospitality is: if you don't respond to a candidate's job application within 24 hours, you've probably already lost them. To that point, managers need ways to quickly respond to initial job applications and move them along the application process. This process must be executed without adding even more onto a manager's day-to-day and needs to happen at scale.
Does technology come into play here?
Yes, absolutely. Talent attraction and ATS solutions can be a huge help for hospitality hiring efforts, whether a company is hosting a hiring event or not, by automating parts of the hiring process. TA tools and employment branding helps businesses reach a broader range of candidates and eliminates application barriers for candidates by offering easy "text to apply" solutions. 
"Knockout" questions are another great example. Employers can add a few questions to an online employment application. If the candidate chooses a certain answer, their application is automatically moved to the disqualified pile. This may sound tough, but it's a lot safer for the employer and the candidate eliminating the risk of Covid exposure for an interview that probably wouldn't lead to a hire. It's also extremely efficient on the manager's end giving them more time to focus on (and respond to) candidates that would be a great match for a brand or position.