Digital Transformation of Enterprise HCM: Succession Planning to Unlock Employee Potential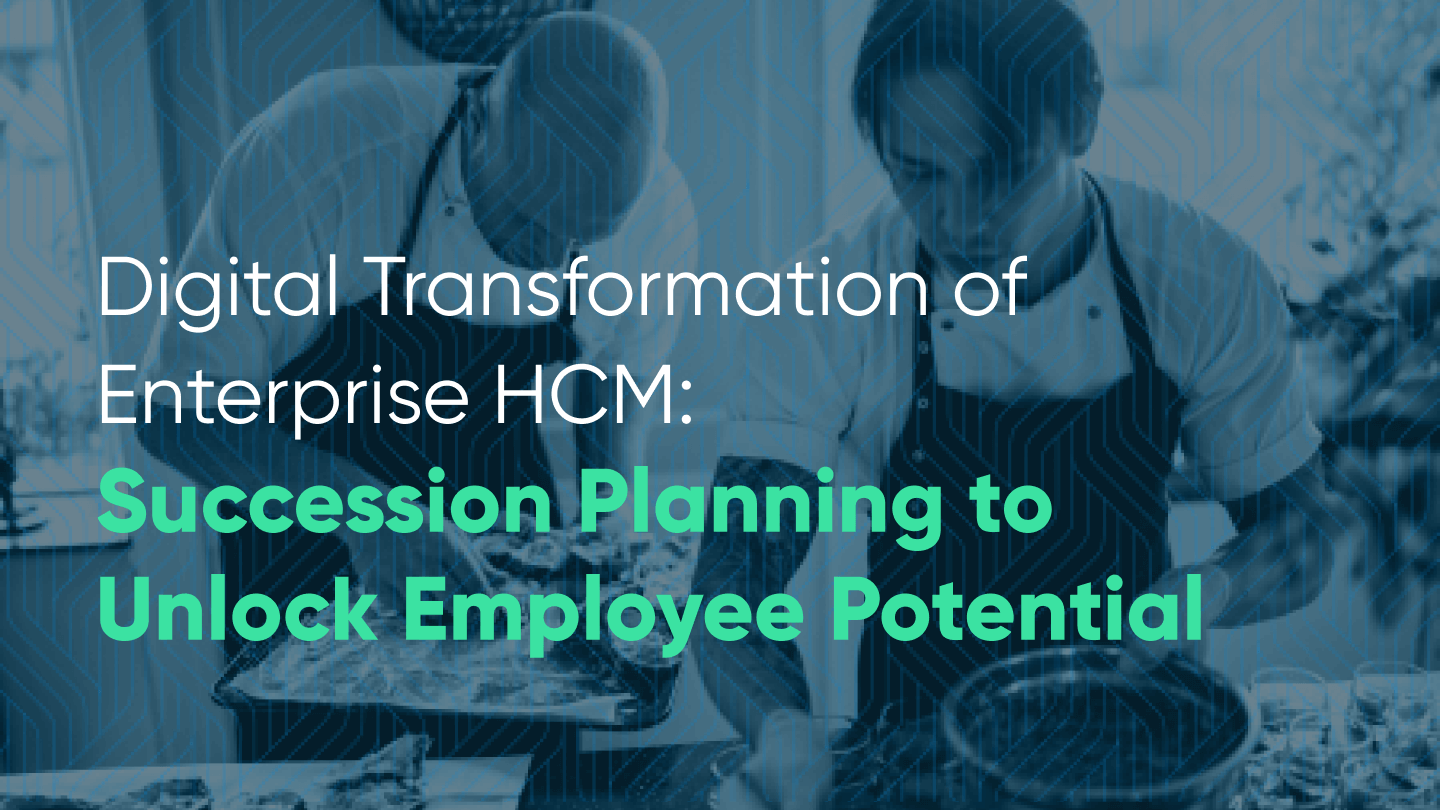 As a service-based industry, hospitality is reliant on high-performing employees that can deliver an amazing customer experience. To do so, managers need to empower and inspire their teams by giving each and every employee the ability to level up their skills and rise through the ranks.
A big part of this process is measuring performance-based metrics. Performance reviews are typically reserved for manager-level or corporate staff, whereas service employees, like dishwashers or cashiers, tend to level out early on in their careers.
This is a huge mistake for enterprise hospitality businesses seeking to attract top talent and drive business performance. It's time we reframe the way we approach succession management for service-level employees.
Understanding the importance of succession management
Hospitality has always suffered from a talent crisis and COVID-19 emphasized that talent drought as workers fled in droves to new industries. Long hours, unpredictable schedules, and no clear baseline for growth only further hurt hospitality hiring efforts. Today's employees value growth and company culture above all else, but hospitality can barely provide.
Succession management challenges those shortcomings by providing employees career growth opportunities. There's a multitude of benefits associated with tracking, measuring, and analyzing employee KPIs across all performance levels that create a win/win situation for all parties involved.
When your employees know exactly what their performance is measured on, they'll strive to grow their skills and achieve career goals. Or they should, but that's not always the case. The ones that do measure up are clear standouts for promotions and raises.
Succession management benefits enterprise hospitality businesses with:
Happier employees

Better retention and reduced turnover costs

Stronger internal knowledge bases and knowledge transfers

Improved customer service, thanks to the above bullets
Chipotle provides an excellent example here. The brand reported that 70% of its general managers were hired internally. It's also hard to ignore the fact that Chipotle performed so well during COVID-19 despite so many industry setbacks.
What is nine-boxing and why is it important for hospitality?
Nine-boxing is a method used to assess talent based on past performance and future potential. This method allows business owners to gauge and apply potential and performance KPIs as they pertain to career progression.
Unfortunately for hospitality, most front-of-house and back-of-house staff are not usually nine-boxed. That means employees aren't given a clear path to success in a company where they already know the processes, the products, and the culture.
And we wonder why talent is being driven away from the industry.
Without the potential for upward mobility, many services-based employees will lose motivation and either (a) not perform to their full potential or (b) may leave the company entirely. Both of these situations have drastic consequences as it pertains to the company's bottom-line finances and labor efficiencies.
So, why are loyal, hardworking front-line employees passed over for succession opportunities? Nine-boxing by hand is a tedious, time-consuming process, and plenty of managers aren't even sure what performance KPIs would look like for a service worker. Many restaurants and other hospitality businesses don't possess the tools, metrics, or time to put a nine-box diagram together. 
Potential is hard to determine and automate, but what if it could be automated for employees of all levels?
Unlocking employee potential with HCM technology
HCM software is rapidly evolving alongside hospitality. Enterprise-level businesses seeking digital transformation shouldn't settle for anything less than a verticalized solution to futureproof operations.
The problem is, most HCM platforms don't give employers the tools to measure service-level employee performance at scale. Some may provide bits and pieces of related data but don't frame that data in a way that charts clear career progression information to hiring managers.
Measure employee potential using performance KPIs
KPIs for your managers are going to look very different from the staff they oversee. But what might KPIs look like for your front-line employees?
Some example hospitality KPIs might be:
Attendance

Clock-in times 

Willingness to pick up additional shifts

Check totals

Tips earned
Think about it. A reliable dishwasher consistently shows up on time, adheres to health and safety codes, and keeps day-to-day restaurant operations running smoothly. These metrics might not typically be seen as KPIs, but they're absolutely necessary when measuring growth and potential for that position.
But what does a promotion look like for your dishwashing staff? Is it a merit raise per year, or do you provide progressional training to Dishwasher I, II, and III positions, each with an increasing amount of operational responsibility? 
Although promoting from within produces higher quality management, hiring a new head is often seen as the easier option because HCM software typically lacks the ability to easily track these "employee potential" KPIs in one cohesive platform.
Employee engagement in relation to employee potential
Engagement is a key employee metric that directly contributes to a business' operational success. After all, your most highly engaged employees will be your A-players. When COVID-19 hit, the hospitality industry scrambled to find unique solutions to new and unpredictable challenges. Top brands like Texas Roadhouse, Papa John's, and ARC Group saw huge success from employee-generated ideas. And those ideas were generated because they maintained high engagement levels across all service workers.
How can you understand and increase employee engagement?
Employee engagement metrics can take many different forms. Maybe you give your team members the ability to thumbs up different parts of their day, or you provide an outlet for them to offer kudos to another team member.
Regardless of your approach, these engagement processes are rarely structured, and never automated.
Automating employee performance KPI tracking and reporting
Even if a hospitality business is able to nine-box service-level employees and keep up with those KPIs, undergoing that process without automation promises a long, tedious road. Restaurant operators overseeing dozens of locations and hundreds of employees would certainly need to consider adding on an additional hire to track, manage, and facilitate employee performance, potential, and succession. 
Automating performance and engagement KPI tracking starts with an all-in-one HCM.
Utilizing a fully unified HCM platform allows hospitality companies to shore up the most prepared employees for eventual promotion and succession; this is done by focusing on the small wins and KPI bumps that might not get noticed with manual analytics.
Consider the engagement metric idea we mentioned earlier, where an employee could essentially "thumbs up" parts of their workday. Take that data and cross-reference it with that employee's daily sales, time and attendance, the hours they worked, the team members they worked with, the overall sales data where the employee works, and other external factors. 
When placed side-by-side, that data tells a story of an employee's performance and factors leading to their success. And once you've begun to gather that data, your HR and training teams can begin data-driven success planning initiatives.
But if those data points aren't weaved together into one cohesive report, your team is going to have a lot of manual work to do — and manually measuring KPIs would either increase labor costs or be time-prohibitive to an already-scheduled workforce. 
Real-time analytics, like Harri's fully customizable data dashboards, allows restaurant operators to sort by a wide variety of factors such as time and attendance data, sales data, tips earned, and much more.
As we know, service-level KPIs are going to vastly differ from those of your managerial staff. Defining individual KPIs by position enables your team to fairly measure, then promote, each employee. 
Enterprise hospitality businesses seeking digital transformation should look for those fully unified solutions in preparation for hiring sprees, retention initiatives, and other HR and operational-driven processes.
The future of performance and potential in hospitality
There's no doubt that tech-based succession management empowers your team to make smarter decisions in a more efficient work environment. Observation-based promotions won't cut it in today's hospitality environment, and those businesses that move quickly will find themselves ahead of the competition in the war for talent.
If you are interested in unlocking employee potential across all levels, please reach out to a team member at Harri. Not only does our robust platform seamlessly weave together all necessary succession planning KPIs, but we're cooking up even more potential and progression features that make team empowerment, engagement, and succession more intuitive than ever.