Recharge: Global Talent Pool and Right to Work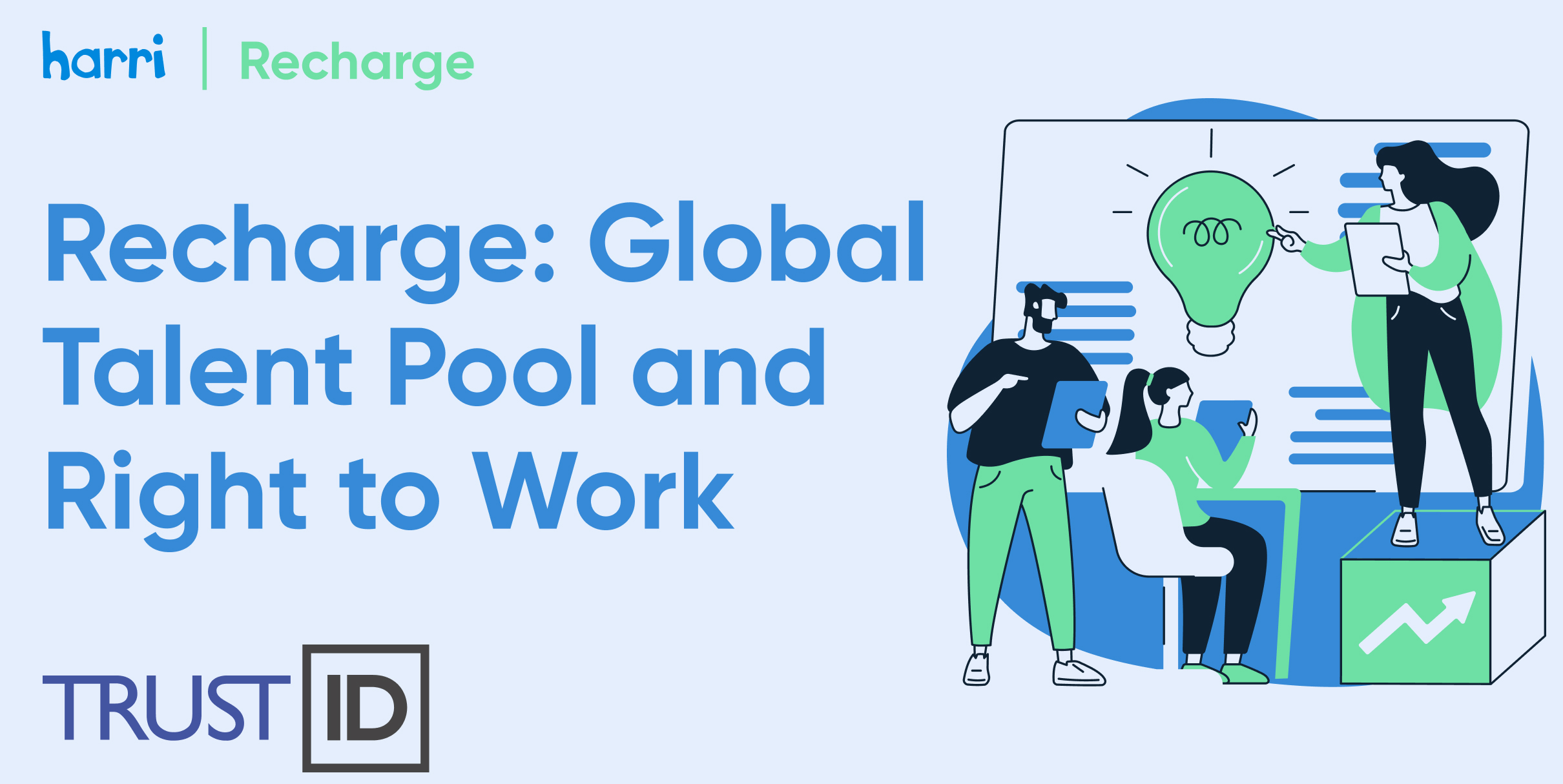 Brexit. Sigh. It's set to have a significant impact on our industry as we battle to rebuild our operations. 
One of the main concerns for the hospitality business currently is the availability of talent. With new restrictions intended to limit UK migration, hospitality is set to be a true casualty of our historical reliance on EU workers. 
With a dip in EU citizens coming to the UK, a growing number of businesses are setting their sights on the global talent pool. This approach presents a huge opportunity, particularly as many companies move towards flexible working for their head office functions, but it's important to have plans in place before opening your doors wide to welcome global talent. 
Here are our top hiring efficiencies to consider.
Everyone's got the same idea when it comes to getting involved with hiring global talent. This means that it's important to be transparent in what exactly you're looking for in a position and clearly communicating your EVP in a way that resonates with a global audience. 
Being clear with your expectations when hiring globally also encourages self-filtering by providing more information about dealbreaker criteria and how to qualify for your roles before candidates apply. Otherwise, you'll bet your hiring team will be suffering from the effects of having to filter an excessive amount of unsuitable talent during first-screening. We want happy recruiters, which is why we've got you. 
Harri enables you to create job-advert templates that consistently and explicitly state the criteria you're looking for when hiring global talent. While this control process is designed to enable unsuitable candidates to opt-out themselves, you'll likely still get some chancers. Fortunately, this is where our bank of screening questions comes in. You can set up specific screening questions of candidates that seek to ascertain suitability around location, skills and relevant Right to Work (RTW) suitability before your recruiters or hiring managers invest time interviewing. Time not wasted = happy recruiters.
2. A robust Right to Work checking process
This isn't a "nice to have" when it comes to recruiting global talent. Identity verification is essential if you want to protect your business from the complexities surrounding right to work. We're not one for scaremongering, but the penalties for employing illegal workers is pretty… yikes. If you don't conduct the correct checks, you may have to pay a fine of up to £20,000 for each illegal worker. 
Fortunately, we're experienced in managing this process for our clients (we hear your sigh of relief!). Working with TrustID, Harri takes the guess-work and complication out of the RTW checking process. Simply upload a scan of a passport and you'll be provided a report within a couple of hours. There's no room for uncertainty and everything is paperless, e-signed, and simple. It'll save you a ton of time (and therefore cost) in manually checking through piles of paperwork. Not to mention ensuring you avoid those hefty fines! This is particularly beneficial when hiring global talent because the RTW checking process is unique to where you seek to recruit.
We believe the benefits of hiring such talent should be celebrated, not avoided due to the complexities of the RTW process. That's why our system has been designed to take any pain out of this process, so you can focus on all the good-stuff associated with hiring those with diverse backgrounds.
3. Process is important to keep your global talent pool warm
So, you've got your transparent job ads, you've got your RTW process nailed, and you're ready to start recruiting globally. Be prepared when widening your talent pool that you'll need a structure and process in place to keep your talent pool warm. 
In our experience, taking such a positive approach to widening your talent pool only serves to broaden the number of suitable applicants you have available for each role. You'll therefore want to be able to nurture your "warm-bench" of talent, so as to benefit from hiring those candidates who were a great fit for your business but not successful for a particular role. 
There are SO many benefits of doing this, particularly in a talent-scarce market that we're set to find ourselves in. These include:
Reduce the cost of recruitment
Your recruitment process doesn't have to start from scratch each time, therefore saving significant time spent sourcing, thus reducing cost-per-hire.
Improve your time-to-hire
You'll save further time with having talent that has been through the pre-selection process.
React quickly to hiring needs with qualified talent 
Second-choice candidates can be quickly pushed through the hiring funnel when there is a need to quickly recruit. 
Now you get the "why" – we're here to help you with the "how". To get started, you'll want to categorise candidates in your recruitment system according to role preferences, skills, specialisms, locations, etc. 
This then enables you to tailor your communications to such tags and it'll be important to regularly engage with them. This might include sending notifications of jobs that match their requirements, sharing your company blogs, or inviting them to hiring events. Here at Harri, we've really flexed our capabilities in this area to support you with managing your new, widened global talent pool. 
Want to see how you can benefit from such functionality? Book a demo here. 
We'll also be talking more about all things global-talent on our webinar with Olajide Alabi on 20th April. Register here.