Harri Reports Tremendous Growth in 2022, Readies to Meet the Needs of the Service Industry in 2023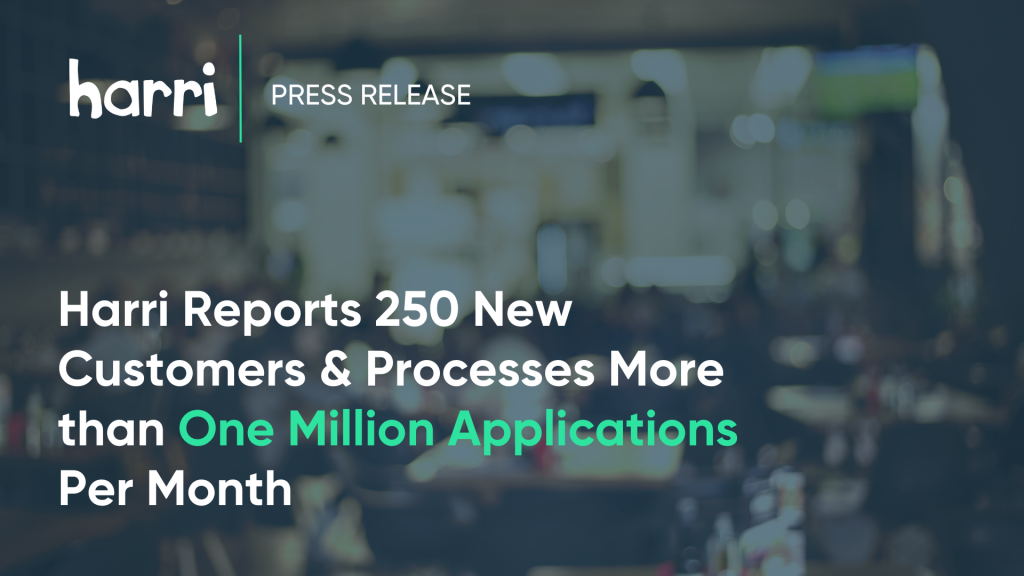 Frontline Employee Experience Platform Expands Global Footprint, Welcomes Nearly 250 New Customers, Processes More than One Million Applications Per Month
Harri Reports Tremendous Growth in 2022, Readies to Meet the Needs of the Service Industry in 2023
Frontline Employee Experience Platform Expands Global Footprint, Welcomes Nearly 250 New Customers, Processes More than One Million Applications Per Month
NEW YORK (February 22, 2023) – Harri, the revolutionary Frontline Employee Experience platform serving over 22,000 restaurant and hotel locations and 4 million hospitality employees globally, today shared details of its 2022 momentum as the company moves forward into 2023. Notably, Harri signed nearly 250 customers, processed more than one million applications per month and saw a more than 50 percent increase in Annual Recurring Revenue year-over-year, with its platform now used in eight languages and more than 30 countries worldwide. In use, that equated to over 3 million messages sent in the platform's CommsHub product and roughly 3 million messages with its Carri Chat and Apply solution.
Company founder and CEO Luke Fryer said, "The service economy has spoken, the balance of power has shifted, and these employees now demand a better work experience. We created Harri expressly for this purpose, changing the game for industries that have been historically underrepresented in the HR Technology space. Harri was built to solve the challenges of this critical workforce segment – and our growth in 2022 reflects that need."
Platform's Focus Leads to a Successful Year
The only platform built and designed around service industry employee workflows, Harri saw a sharp uptick in interest over the last year, winning nearly 250 new customers and working with some of the world's largest brands, including Dunkin'®, Jersey Mike's®, KFC®, Radisson and Taco Bell®. Harri credits its industry-centric platform to this success, able to improve critical metrics such as time to interview by more than 20 percent while expanding customer relationships to include additional brands and breaking into new verticals.
At the same time, with the regulatory environment in the U.S. becoming more stringent, as several states adopted specific regulations impacting frontline workers, Harri's focus on compliance became a key differentiator for the company, able to support the needs of customers down to the local level. Under the guidance of dedicated Chief Compliance Officer Wendy Harkness, Harri helped customers maintain compliance with the industry's most sophisticated and complex legislation, from predictive scheduling acts to pay transparency laws.
Harkness shared, "Compliance is a growing priority for leaders and executives within the service industry. Failure to comply touches both employers and employees, leading to fines that many businesses can't sustain and impacting the very meaning of service and hospitality." 
Evolving to Meet Changing Needs
To meet both the industry's changing needs and the company's continued growth, Harri introduced enhancements to its CoreHR, Harri IQ and CommsHub offerings and welcomed close to 150 new team members globally last year. This included the addition of Keegan Conrey as Senior Vice President of Sales for North America, Jack Gordon as Chief Financial Officer and Jennifer Ravalli as Chief Marketing Officer, as well as the appointment of Harkness. The company also established a partnership with the International Food and Beverage Technology Association (IFBTA) and worked to give back to the community, teaming up with non-profit organizations such as Love146 and Hospitality Unite.
Reflecting on these accomplishments and looking at the road ahead, Fryer commented, "The service industry faced a series of ups and downs in the last few years, particularly around employment, as we went from the pandemic to the Great Resignation to the dynamic labor market we see now. While circumstances will continue to evolve, given Harri's commitment to service and hospitality, we are uniquely positioned to help organizations in these spaces improve the employee experience. And when employees benefit, so too do their employers and the guests their businesses serve."
About Harri
Harri is the global leader in Frontline Employee Experience. The Harri platform is built for companies that have service at the heart of their business and believe that the customer experience will never exceed the employee experience. The Harri suite of talent attraction, workforce management, employee engagement and compliance technologies enable organizations to intelligently attract, manage, engage and retain the best talent to run and improve their business. Harri serves over 22,000 restaurant and hotel locations and four million hospitality employees globally, with emerging growth in retail and healthcare. 
# # #
Note to editors: Trademarks and registered trademarks referenced herein remain the property of their respective owners.
Media Contacts:
Kate Achille
The Devon Group for Harri