HarriX – Redefining Staff Retention – Restaurants & Bars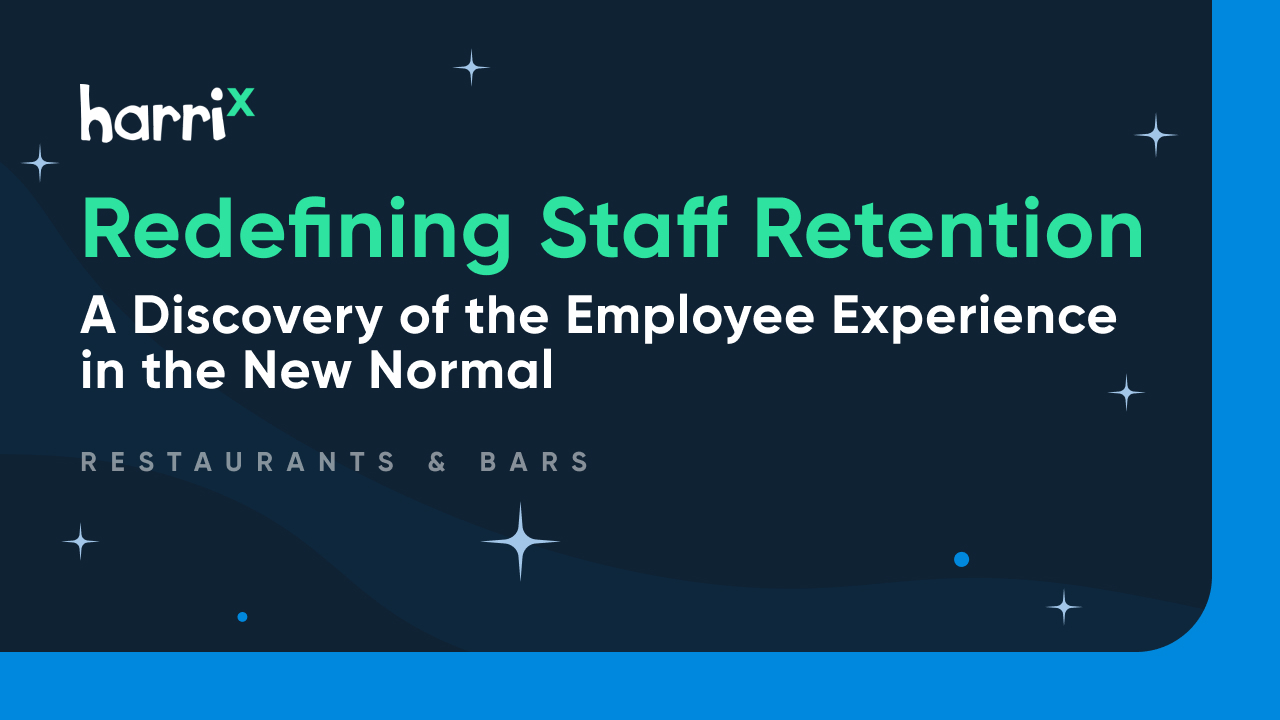 Welcome back to HarriX! In this virtual session, Redefining Staff Retention in a Post-Pandemic World, we take a closer look at how operators are approaching their retention strategy in 2021.
Following on from our Hospitality Recruitment Summit, Chris Fletcher, Co-Founder of EXP101 (as well as his partner in charge Kieron), met with Matt Ingham, Head of Product Solutions at Harri, Frank Bandura, CFO at Gusto, Strahan Wilson, CFO at State of Play, Sophie Canning, Head of Talent Development at Gaucho, and Andrew O'Callaghan, People Director at Dishoom, to discuss the importance of retaining staff during turbulent times.
Here, we share some key moments from the event that you won't want to miss. Read on to find out what was covered.
The Staff Shortage Continues
In our previous session, Kate Nicholls, CEO of UKHospitality, outlined the devastating effects the pandemic has had on the industry. Nicholls explained how hospitality is now a third of the size it was in 2020, and that the hard-hit sector experienced a 28% drop in headcount – the equivalent of nearly three quarters of a million staff. So, it's no wonder 50% of operators are currently experiencing a labour shortage. 

Louise Gallant, Community & Events Director at Harri, noted that this accentuates the need to make hospitality a career of choice. While Matt Ingham added, "we're going to have to be more adaptable to attract talent to the industry, and keep them".
Operators Still Face Recruitment Challenges
Sophie Canning kicked off our most recent session by talking about the main resource in the industry right now: people. 
"The staffing crisis is affecting us at Gaucho and M restaurants. It's a real rollercoaster," said Sophie. "It's going down and we're bringing some great people into our business, but it's definitely been a tough summer recruitment-wise."
She continued to explain how Gaucho is doing everything it possibly can to retain its existing staff and ensure they're happy, engaged and motivated. And they're not alone in doing this, as many restaurants and businesses are starting to feel the financial effects of these recruitment and retention troubles.
Retention Rates Are Affecting the Bottom Line
It seems the staff retention problem caused by both Brexit and the ongoing pandemic may be more challenging than we initially thought. Gusto's Frank Bandura pointed out that it's now having a big impact on the bottom line. "I've spent a long time in this sector and I've never seen anything quite like this," he said. "People have always been high on the agenda in hospitality, but now, people are top of the agenda." 
Many staff have been out of work for extensive periods of time, so training is necessary. But hiring new people and getting them up to speed with your business costs both time and money. Frank noted that on a weekly basis, around 10–12% of Gusto's labour hours are for training. For other restaurants, this number may be significantly higher. 
State of Play's Strahan Wilson acknowledged that while staff training can be pricey, losing and replacing an employee can be just as, if not more, expensive. Wilson made a fantastic point, acknowledging how essential it is to "ensure that we spend the time on developing internal talent, to give us an opportunity to address what's always going to be a tighter market post-Brexit." We couldn't agree more. 
As a result, businesses of all sizes are starting to double down on their retention efforts, and develop and execute stronger plans to retain top talent.
Strategy Is the Key to Success
A strong retention strategy has always been critical for success in every industry, but it's now high on the agenda for restaurant owners across the country. 
Forums may be part of the secret to retaining staff, believes Sophie Canning. She mentioned that Gaucho's MD and People Director have been holding staff forums with various groups in the restaurants every fortnight since reopening. The result? A drastic increase in engagement. 
Sophie believes that listening to your team, understanding their expectations, and learning what they want post-pandemic is important. Similarly, Andrew O'Callaghan noted that having a close relationship with staff and really being involved in their day-to-day lives is helping Dishoom's retention plans moving forward. 
"We realised during lockdown that actually having that closeness, far more than what we would normally have in the day-to-day running of the restaurants, really helped and was beneficial," said Andrew. Adding, "it seems to be working quite well from a retention perspective."
Labour Models Are Changing
On another positive note, the ongoing restrictions and mandatory closures gave restaurant owners more time to rethink their labour models. 
Strahan mentioned that the closure of the business allowed them to consider the purpose of each position within the company. Do they really need that specific role? What do they do? Are they required all day? These were just some of the questions that the team at State of Play asked itself over the course of the pandemic. 
Likewise, Frank Bandura said, "we've made a number of changes to our business model to make sure that we have the right types of people working back of house and front of house." We're looking forward to seeing how these model changes pan out over the next few months.
It's a Candidate's Market
An area of collective agreement among our panelists was that it's now a candidate-led market. Top applicants are very interested in a business' values, behaviours, ethos, mental health policies, and benefits. So, they'll need to be high on the agenda if restaurants want to attract and keep the very best people.
Our panel had one piece of advice for operators looking to retain their staff: listen to your teams. Acknowledge their changing needs and expectations, and talk to them. Figure out what you can do to enable them to perform best in their roles. Make the onboarding process as smooth as possible, and think about labour in a more flexible way. 
"It's all about communication," said Frank. "It's about staying close, listening, understanding and taking action based on what you hear." 
Fortunately, that's where Harri can help. Our communication tools encourage collaboration through group message channels. It's the go-to platform for businesses looking to streamline and unify team conversation, which to Frank's point, is a necessity in today's labour market.
To find out more about how Harri can help you attract and retain top talent click here. Or if you'd like to watch our latest event in full, click here.