Hospitality Vacancies Are at a Record High – How Can the Industry Survive?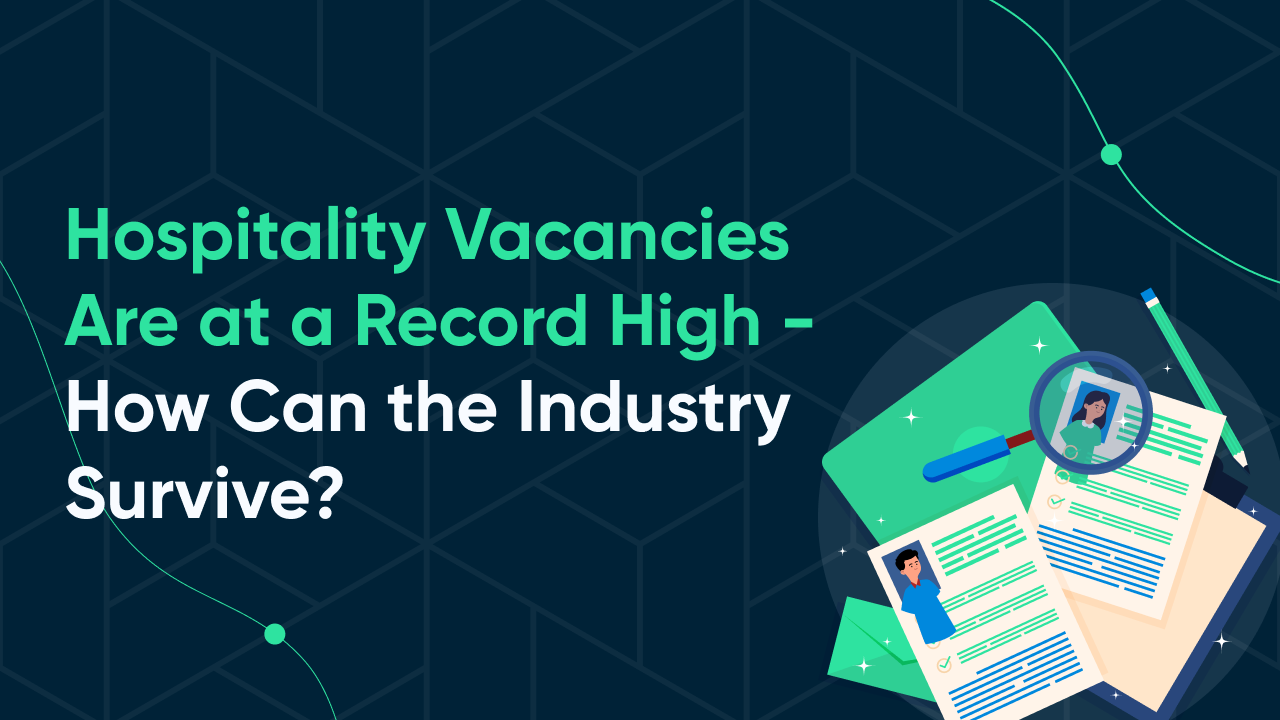 For a few months now hospitality operators have been feeling like they're in the midst of the worst ever recruitment crisis in UK history—and now the official figures have confirmed it. Latest figures from the Office of National Statistics (ONS) reveal that the UK had a record high 1.17m job vacancies in the three months to October. Hospitality recorded the second highest number of empty job roles at 151,000 – up from 139,000 in the previous quarter.
Against this backdrop, an ambitious project, led by ex-Pret a Manger and YO! Sushi marketer Mark McCulloch, has been launched to try and reignite the hospitality talent search. Hospitality Rising is aiming to raise £5m to fund a recruitment campaign to attract more talent into the industry and aid its recovery from the effects of Brexit and the pandemic.
McCulloch has already raised £200k from a range of companies including Peach Pubs, Rhubarb Hospitality Group, Hilton, Wahaca, Loungers, Hawksmoor and Pizza Express. 
"The support we've had from the industry and some of our marketing contacts has been amazing. We now need to raise enough money to really land a high profile that will both attract people back into the industry, and make those who haven't considered our sector see it as a viable, exciting, creative and rewarding career."
So what can you do to attract more people into your job roles, while also making sure you hold onto the staff you've got?
Money Makes the World Go Round
Increasing wages is certainly one way to make your job roles more attractive and to keep existing staff on board. Harri's 2021 Hospitality Employer Inflationary Expectations Report surveyed over 100 employers across a range of hospitality businesses to find out how much wages had increased over the past year and their salary plans for 2022.
Of those questioned, 84.6% said they had increased wages across their hourly workforce at least once during 2021, while 15.4% did not raise wages at all. When it came to salaried workers, 67.3% were given a pay rise, while a third (32.7%) did not get a rise in 2021. Only 16.3% of employers don't intend to increase wages during 2022, with over half (51%) planning to increase wages once, and 27.9% expecting to increase wages twice. When asked how much employers expected to increase wages by, across all positions, the majority (32.2%) anticipated a 5-6% rise, while 26.8% said they expected a 3-4% increase, and 19.55% an uplift of 7% or more.
Harri also asked over 2,600 employees across the sector to find out their views on pay and the current job market. Of those questioned, 61.1% said they hadn't had a pay increase during 2021, while 33.4% said their pay had increased once, and 5.6% had seen their pay increase twice or more. When asked whether they had changed jobs this year in order to get a pay rise, 34.7% said they had, while 44.5% said they planned to change jobs next year to achieve a higher rate of pay.
Asked how much of a pay increase it would take for them to move jobs, nearly a third (31.5%) said £2-£2.75 an hour, while nearly a quarter (21.4%) said £1-£1.75 an hour.  
Of those surveyed, 55.3% said they were on the National Minimum Wage, while 21.3% were on the National Living Wage.
Of course, employers will have to increase pay to these workers from April when the new National Minimum Wage rate of £9.18 an hour and National Living Wage rate of £9.50 an hour come in (up from £8.36 and £8.91 respectively). Such changes will be easy for employers to implement thanks to Harri's auto wage compliance tool which can automatically change an employee's rate of pay based on a series of parameters – age, position or location. 
But it's Not All About the Money
Harri's employee survey also asked how much the current hospitality labour shortage is impacting people's outlook on their current job. The majority of those questioned (40.3%) said they didn't feel impacted, but worryingly, over half (26.4%) said they were ready to change jobs to an industry outside of hospitality. Clearly, employers need to do more to keep staff happy, motivated and engaged in their roles so that they're not lost to other industries. 
When asked in Harri's employer survey what other benefits they had implemented (apart from increased wages) to meet team demands, nearly half said they had introduced a rewards programme. Healthcare benefits were introduced by 43.3% of respondents, and 19.2% help with transport.
According to our latest Employee Experience report, a reliable, predictable schedule is the highest priority for workers, and our Smart Scheduling Module can help keep your employees happy by allowing them to swap, drop and request shifts as they need to, whilst on the go through the TeamLive app.
With skilled, experienced hospitality workers thin on the ground, it could be time to tap into alternative talent pools to fill your vacancies.
The charity Only A Pavement Away (OAPA) acts as a conduit between charities and hospitality operators, with the aim of getting the homeless, ex-veterans and ex-offenders into employment. Those who have been, or who are, homeless face obstacles to entering the labour market, so OAPA connects them with hospitality employers who are willing to train them up to fill roles.
Harri has partnered with OAPA to provide the charity with a free dedicated jobs board and applicant tracking system, which eases the process for applicants and employers, and ensures operators only receive applications from candidates who OAPA consider "job-ready".
Employing young people in hospitality roles is not uncommon – in 2019, of the 1.762bn people employed in the sector, 620,000 were aged 16-24 – and employing more under 18s could be the answer to your woes. A spokesperson for the British Institute of Innkeeping said: "With staff shortages across the board, licensees have had to diversify and attract staff from many different areas and employing young people has been key to overcoming these challenges." In a poll for The Morning Advertiser, 70% of publicans said they would employ under 18s in their pub, with 15% saying they would consider it.
Heath Ball, licensee of the Red Lion & Sun in London's Highgate, said: "We've had some great experiences in employing under-18s, several of whom have gone on to forge careers with us and one who is now a manager of a £1m-plus turnover site and working towards a management degree."
Of course, with Harri you'll have all the tools you need to attract young people to work in your organisation: young people love tech and Harri's Talent Acquisition Suite includes functions like career story pages so you can show off the best bits of your brand, and video interviewing so candidates can communicate, in their own time, why they're the right person for the job.
What's more, Carri, our friendly, human-like AI hiring assistant will appeal to young candidates as she manages the entire application and candidate communications lifecycle in real-time via SMS, web-based chat on your careers page, Facebook Messenger, and more.