Hospitality's Springboard Awards for Excellence: Nominations Open!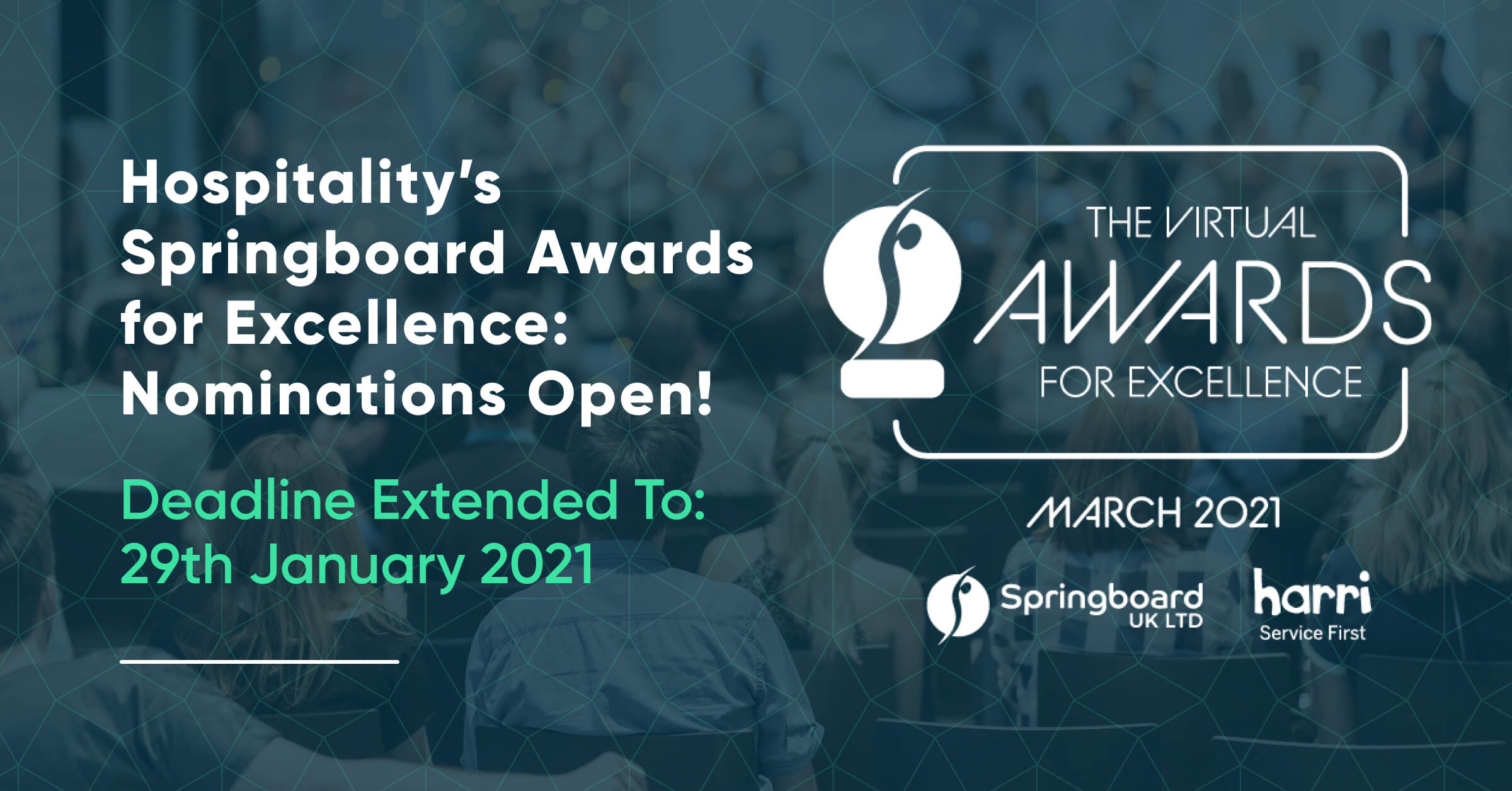 The time has come around again for the Springboard Awards for Excellence. Only this time they will be virtual. This will be an opportunity to nominate the unsung heroes of hospitality and to recognise the amazing work of hospitality businesses and employees, who went above and beyond during the pandemic.
Harri are proud sponsors of these awards for the fourth year running and our aim is to raise awareness so that everyone has an opportunity to nominate and to be nominated. You can nominate as many businesses as you'd like, including your own. This is useful because, like us, you may find it difficult to think of only one business to nominate for this year's awards; if many spring to mind, you can make several entries.
All proceeds from the awards ceremony will go towards the young people that are trained, supported, and redeployed by Springboard during these challenging times. The next generation of hospitality workers are crucial as the industry rebuilds itself. Harri is in great support of helping these young workers build careers in hospitality and leisure, through the Kickstart Scheme, which has been an incredible Government initiative to kickstart the industry.
There are 16 categories which recognise all aspects of People and Development and also innovation; celebrating businesses who have pivoted successfully during this period of time.
The categories are as follows:
1. Best Implementation of Virtual Training
2. Best Internal Covid-19 Training Programme
3. Best Staff Communication – Sponsored by Caterer.com
4. Best Management Preparation
5. Employee Health and Wellbeing – Sponsored by pladis
6. Best Employer – Sponsored by American Express
7. Best Use of Digital Marketing to Promote Sales or Service
8. Best Use of Technology to improve Customer Experience
9. Best Delivered 'Dine at Home' Experience
10. Most Innovative Alcohol Strategy
11. Business Innovation
12. Best National Support for Key Workers – Sponsored by CH&Co
13. Best National Support for Vulnerable People
14. Best Individual Community Engagement – Sponsored by Diageo
15. Best Group Community Engagement – Sponsored by Hand Picked Hotels
16. Best Corporate Social Responsibility
The deadline for entries has been extended to 29th January 2021 and the virtual awards will take place in March (TBC). Harri will be supporting the Awards which are amongst the most prestigious People Awards in the industry today.