Could Apprentices be the Answer to Hospitality's Recruitment Crisis?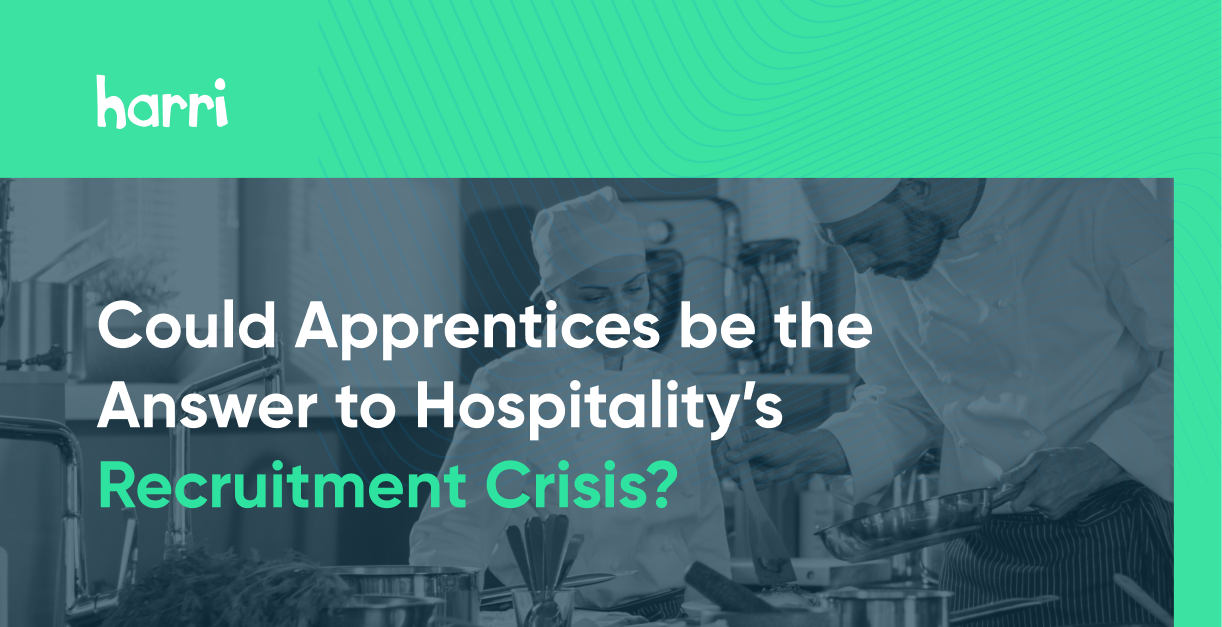 With record vacancies in the hospitality sector, operators need to explore all the options to recruit talent – and that has to include young people with no experience of working in the industry or, indeed, of working at all.
Yes, we're talking teenagers and people in their 20s who may be inexperienced in the world of work, but who are keen to learn, have the right personality, and can quickly pick up the skills hospitality needs.
More and more operators are tapping into this potential talent pool – here we look at how you can make your roles more attractive to young people and find out why they could be good for your business.
Hospitality is in the midst of its worst ever recruitment crisis, with job vacancies rising in the sector by almost 700% from November 2021 to January 2022 against the same period a year earlier. With around 178,000 positions vacant in accommodation and food service, and the holiday season fast approaching, the need to persuade young people that hospitality is a viable and rewarding career choice is more pressing than ever. 
Several operators have recognised this and are going all out to recruit young people by launching their own apprenticeship schemes. The Restaurant Group, which operates Wagamama and Brunning & Price amongst others, says its apprenticeship scheme, which it launched last year, is working well to tackle the recruitment challenge.
Chief executive Andy Hornby told Propel: "There is no doubt that recruitment is still our biggest issue, but I think there are two things that are working best for us. One, and it is early days, is our apprenticeship scheme. We launched it last year with 240 new apprentices starting. They will typically end up with a minimum of five GCSEs and, depending on which course they're on, most end up with a degree, often in chef skills or front of house/commercial skills."
Hornby said that this year the company was doubling up its efforts by taking on 500 new apprentices. "The big joy of it is you've got to stay in two, or even three, years, depending which scheme you're on, to graduate. So it's not just that it helps you recruit, but it also helps retain because they're going to want to see it through," added Hornby. 
Tech-savvy youngsters are changing the demographic
PizzaExpress is one operator that has truly embraced young people in its workforce, with 40% of its employees now under 20 years old. The company's chief people officer Kate Daines said Pizza Express started a huge recruitment drive in April 2021, with particular focus on attracting Gen Z (or 18-24-year-old) workers. 
She told Propel: "What we've seen since then is just a massive change in the demographics of our workforce. We've now got 40% of our workforce who are under 20, which is a huge shift, and that wasn't typical before. We've almost doubled that population, and it has been challenging."
Daines said the company had introduced "digital learning and gamification" into its training, which has proven highly successful at keeping its tech-reliant Gen Z recruits engaged. Harri and CGA's recent 'Working in Hospitality' survey reveals that 88% of hospitality employees would like to see technology in the sector improve, and the degree to which you use tech in your business could certainly mean make or break for taking on Gen Z workers.
Of course, with Harri you have all the tools you need to attract young people to work in your organisation: Harri's talent acquisition suite includes functions like career story pages so you can show off the best bits of your brand, and video interviewing so candidates can communicate, in their own time, why they're the right person for the job.
Carri, our friendly, human-like AI hiring assistant, appeals to young candidates as she manages the entire application and candidate communications lifecycle in real-time via SMS, web-based chat on your careers page, Facebook Messenger, and more. 
And with around a quarter of employees in our survey saying digital clocking-in and out would make their experience better, followed by smart scheduling (24%) and shift management (24%), Harri's time and attendance module and smart scheduling platform provide the perfect solution.
What's more, our fully mobile communications tools will keep young workers connected at all times, wherever they may be. 
Want to find out more? You can book a demo here.