How Can Technology Help Hotels During the Staffing Crisis?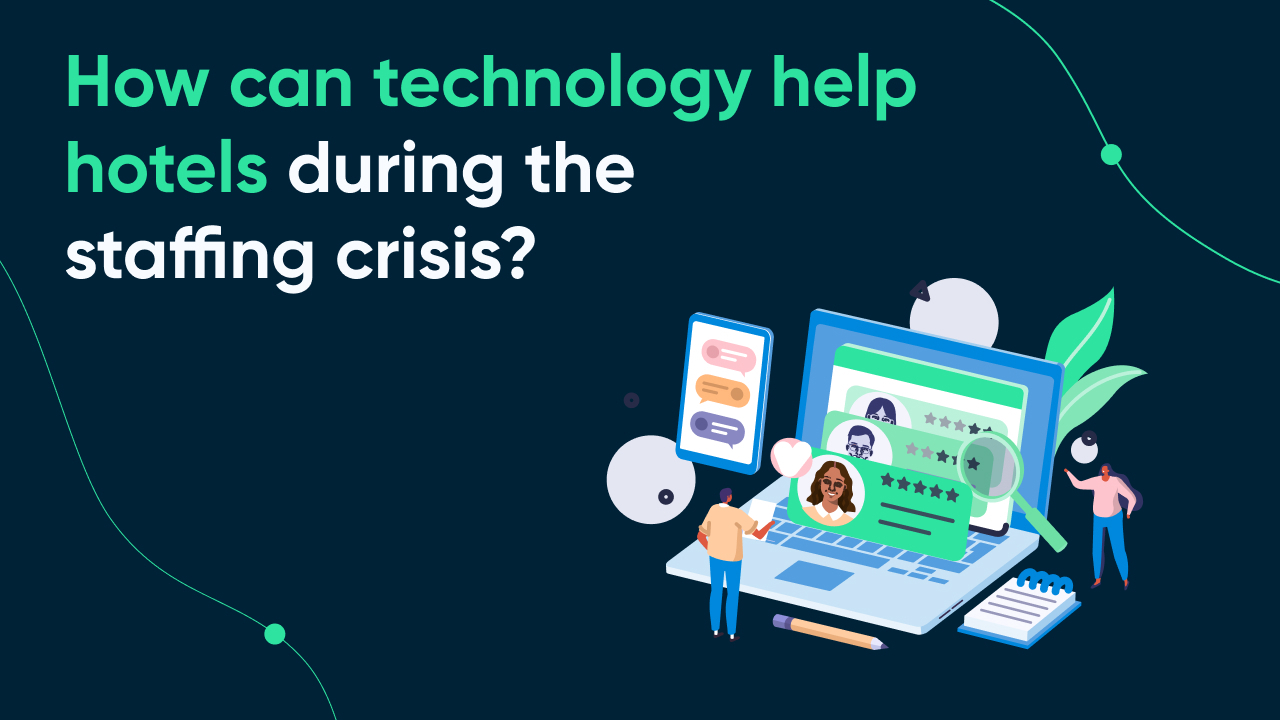 It's no secret that there's a staffing crisis in hospitality right now, thanks to the combined legacy of the pandemic and Brexit. For hotels—requiring housekeeping, reception, concierge and maintenance staff on top of F&B—the struggle to find enough workers to fill their roles is arguably even harder than for pubs and restaurants.
Clearly, the multiple roles in a hotel setting demand many different types of skill, alongside a strong requirement for trust and honesty. Unfortunately there are stories of hotels falling victim to unscrupulous applicants in their desperation to fill roles; there are reports of new employees turning up for a week, then stealing and moving on.
The shortage of housekeeping staff means that even some five-star hotels are leaving rooms dirty from Sunday to Thursday because they simply don't have enough people to clean them.
And this is despite hotels now offering annual salaries of up to £28,000 for cleaners in a bid to lure more workers to take up jobs.
Tech is a Hotel's Best Friend
So, with one of the busiest seasons in the year about to get underway, hotels are unsurprisingly questioning their survival: simply how do hotels keep their businesses afloat with growing demand from customers but skeleton staff?
One major part of the solution lies in embracing new technologies.
Many hotels have already adopted technological aids to help them through the pandemic, with hoteliers forced to adopt automated methods to keep guests and staff safe. However, hotel operators need to recognise that technology isn't limited to helping with bookings, ordering and payments: it can also vastly streamline operations and facilitate better communication between staff.
Streamlining the recruitment process can give managers time back to spend enhancing the guest experience – something which is fundamentally important for customer-centric businesses like hotels. 
Harri's Talent Acquisition Suite offers a host of functions to help with hiring, including screening questions to enable managers to identify the candidates most suited for the role, thereby eliminating the traditional labour-intensive recruitment processes. Also, our video interviewing function allows employees to show off their best selves and to do so in their own time.
Harri's innovative AI hiring assistant Carri can manage the entire application and candidate communications lifecycle via SMS, web-based chat on your careers page, Facebook Messenger, and more. Far from being just a chatbot, Carri's real-time messaging allows candidates to quickly apply and set up interviews, plus Carri can communicate details about the team, benefits and culture with applicants in a personable way, making them feel valued from the word go.
Once you've found the right person for the job, the advantages of Harri's tech don't stop there. Our onboarding solution ensures new recruits get a good first experience of working for your company. 
In a hotel environment, particularly larger hotels where staff can be dispersed, technology is essential for facilitating good communication. Harri's communications tools, which are fully mobile, enable staff across different departments to keep in touch with each other whilst on the go, resulting in a more engaged workforce. 
Employees can easily clock in and out with the time and attendance module, while Harri's smart scheduling platform enables managers to make sure they've got the right people in the right place at the right time, whilst also giving staff the flexibility they crave.
Want to learn more about how Harri can help your business? You can request a meeting here.