Transform Your Team's Communication with Mobile Workforce Management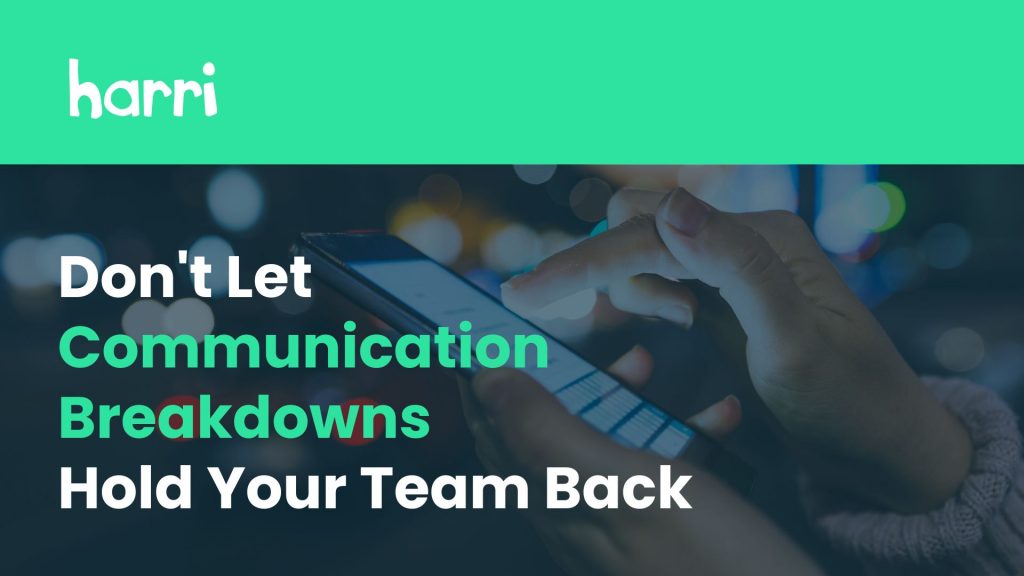 Mobile workforce management is a way of managing and optimizing the productivity of remote workers by utilizing mobile devices to track and measure their activities. It involves a range of technologies and strategies such as scheduling, task allocation, data analysis, communication, and collaboration, all aimed at enhancing the efficiency, quality, and safety of the workforce while minimizing costs and risks.
Effective Team Communication: The Cornerstone of a Successful Business
Effective team communication is critical for success in any industry, but particularly in the hospitality industry. From attracting and recruiting employees to engaging and retaining your current workforce, effective team communication enables everyone to work together towards common goals. 
By fostering an environment of open communication, ideas can be shared, feedback can be given and received, and conflicts can be resolved in a productive and respectful manner. When team members feel heard and valued, they are more likely to be engaged and committed to the success of the business.
Throughout the entire employee lifecycle, from attracting and recruiting to engaging and retaining your workforce, effective team communication is essential. Clear and consistent communication helps to establish expectations, build trust, and foster positive relationships between management and employees. By effectively communicating company values, goals, and expectations, you can attract and retain top talent while creating a positive and productive work environment.
Talent Attraction and Employee Retention
Beyond team management and communication, more and more job seekers are using mobile devices to search for and apply to job opportunities. 98% of applications coming into Harri's platform are submitted from a mobile device, demonstrating how critical it is for employers to optimize their applicant experience for mobile. 
Optimizing the applicant experience for mobile can significantly increase your number of qualified applicants. Mobile accessibility can make it easier for job seekers to apply on the go and can give them more flexibility in their job search. Additionally, younger generations are increasingly relying on mobile devices for internet access and communication, so optimizing the applicant experience for mobile can help organizations appeal to these tech-savvy candidates.
By leveraging mobile technologies, companies can operate more efficiently, resulting in improved productivity and better performance. Mobile communication offers businesses a competitive edge by allowing them to communicate quickly, regardless of the location or time of day. Companies that fail to take advantage of mobile communication are at a disadvantage in today's market.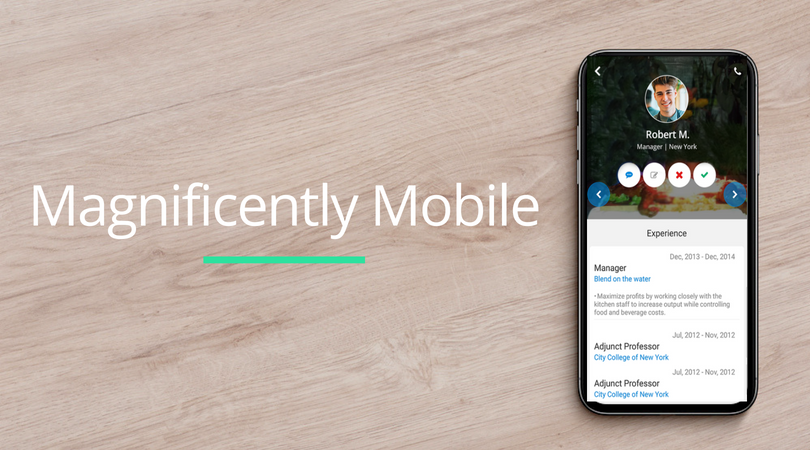 The Harri Hire app empowers hiring managers with the ability to recruit, on the go. The hiring manager app allows managers to create, post, and distribute jobs from the app. They can schedule and conduct interviews by interfacing with the standardized questions and log interview performance in real time. In addition, it allows them to directly interact with candidates at every stage of the hiring process to keep them engaged and drive a timely, positive candidate experience. 
The Harri Hire app also can track the applicant with an organizational filtering system making it easy for managers to review and accept or reject applicants in seconds.
Conversational AI to Streamline Mobile Hiring
In addition to the Harri Hire app, there is also Carri, a chat application that aims to acquire more applicants quickly and efficiently. Carri's unbiased interactions and fast hiring gives managers back more time, while still humanizing every step in the candidate journey. It allows applicants to initiate the application experience by texting, scanning, or messaging across multiple channels. 
Carri is more than just a chatbot; it delivers messages with actionable steps and streamlines the process, no matter the scale, by integrating directly with the Harri ATS. Carri also ensures that the candidate has access to real-time resources to learn more about the team, benefits, and culture.
Simplify the process of coordinating interviews by delegating the booking and logistics to Carri to ensure that interviews run successfully. Automate the activities, communications and helpful reminders that the hiring manager would normally be responsible for prior to the interview taking place. After the interview, collect feedback from the candidate and facilitate next steps to keep the hiring process moving forward.
Mobile Employee Scheduling Management
Smart scheduling plays an important role in improving employee engagement and the bottom line for any business. It helps reduce labor costs without sacrificing customer experience. 
By analyzing the schedules of employees, businesses can optimize the time they spend on certain tasks and ensure that everyone's skills are being adequately utilized. As a result, employees are happier and more invested in their work, leading to increased engagement and productivity. Additionally, optimized schedules help businesses save money on labor costs, allowing them to invest more in customer service and other areas. Overall, smart scheduling is a win-win for both employees and businesses.
In the hospitality industry, a well-planned schedule is critical for success as it contributes to a positive experience for customers. However, dealing with rising costs of labor, balancing employee availability and work laws can turn staffing strategies into workforce chaos.
Harri's scheduling app streamlines workforce scheduling to minimize labor costs without sacrificing quality of service. With its system of automatic and flexible position-based scheduling, you can make sure all available team members are staffed even on-the-fly. 
Ongoing Workforce Engagement to Empower Employees
Centralized mobile communication is efficient and convenient for both managers and employees. Harri's mobile app allows managers to engage with team members at the most opportune time. Communicate with employees through messages, alerts, surveys and more. Collect feedback from employees on the quality of their shift, overall satisfaction, performance, and more to understand what is happening on the frontlines. Keep everyone informed with push alerts and messaging for new services or events. Use multiple forms of media to create the most effective communications possible.
Another powerful feature is the ability for teams to communicate and information to be shared by creating and inviting team members to group message channels that encourage collaboration. You can organize by role, responsibility, location, or unit to easily target the right team members. You can also upload all forms of media to deploy your messages in the best possible format. Finally, with centralized messaging, announcements, and updates to the company newsfeed all team members have access to all the necessary important information creating a culture of transparency and a business with seamless service. 
Advantages of Mobile Workforce Management Solutions for Hospitality Businesses
The advantages of mobile workforce management solutions for hospitality businesses are numerous. One of the main advantages is the ability to increase staff efficiency and effectiveness. 
With mobile workforce management solutions, staff are able to access information such as schedules, task lists, and inventory from their mobile devices, making it easier for them to manage their workload and prioritize their tasks. Additionally, these solutions can help reduce errors and miscommunications, as everyone on the team has access to the same up-to-date information. 
Another advantage is better employee engagement. Employee engagement is an essential aspect of organizational success. When employees are engaged, they feel connected to the organization's goals and are more likely to be productive and stay with the company long-term. 
Engaged employees are more likely to offer innovative ideas and take initiative, leading to a more positive work environment and better performance overall. In short, better employee engagement is vital for achieving business objectives and fostering a healthy and productive work culture.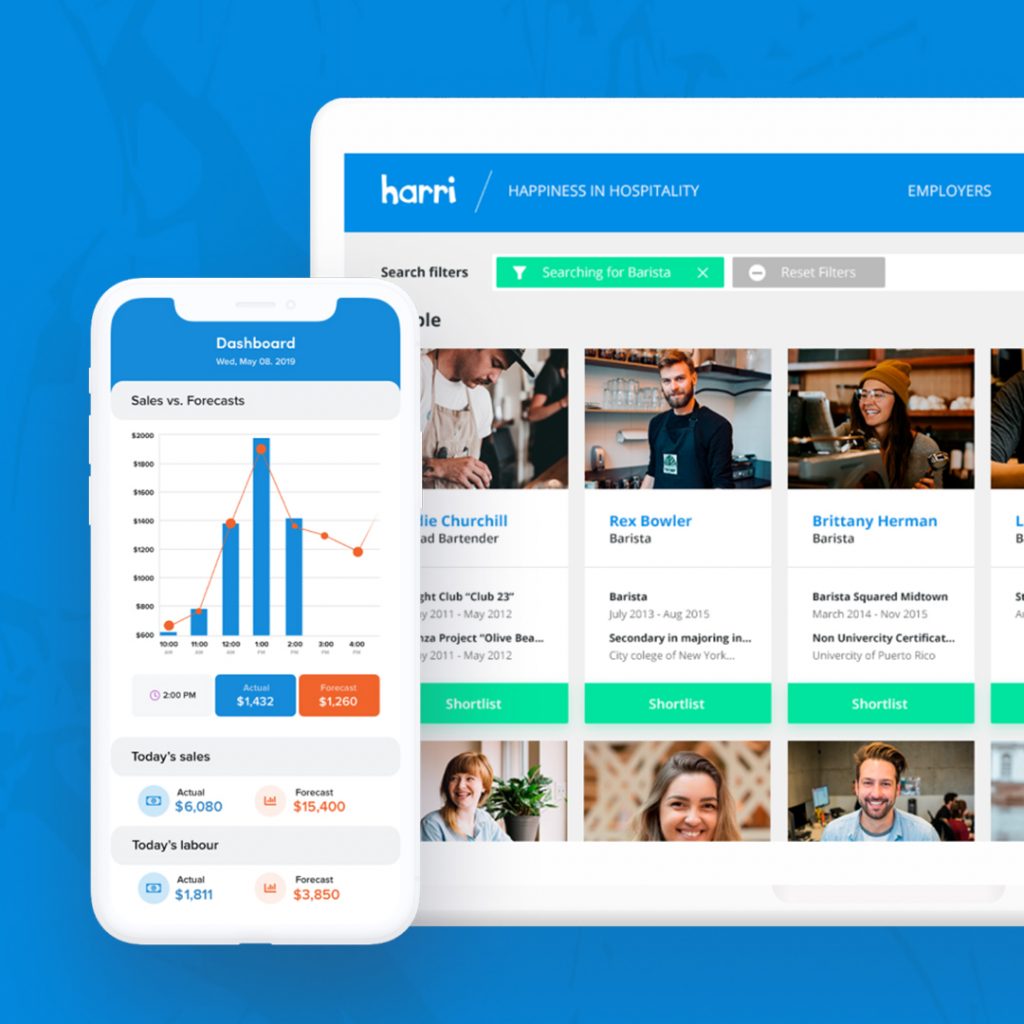 Discover the Best Workforce Management Solutions with Harri
The Harri Mobile App is an all-in-one platform that offers solutions for hospitality businesses. Features like labor forecasting, drag-and-drop scheduling, and integrated payroll and POS systems make it a complete solution for restaurants, hotels, and other hospitality businesses. Finally, the app monitors time and attendance by allowing for employees to clock-in and out of shifts using facial recognition technology to eliminate the risk of buddy punching and time theft. There are also administrative permissions and rules for early, late, or unscheduled shifts that occur at the point of clock-in or out.
The Harri app offers solutions for hospitality businesses in a variety of ways, from streamlining hiring processes to enhancing communication between staff and management. With features such as automated job postings and applicant tracking, Harri helps businesses save time and find the best candidates for open positions. 
Furthermore, Harri provides a platform for communication and collaboration, enabling managers and employees alike to stay informed and up-to-date on important information. Overall, Harri is a comprehensive solution for hospitality businesses looking to streamline their operations and improve their bottom line.
To see how Harri can help your company first-hand, be sure to get a demo now!