Job Vacancies Still Holding Back Hospitality's Recovery but There are Some Positives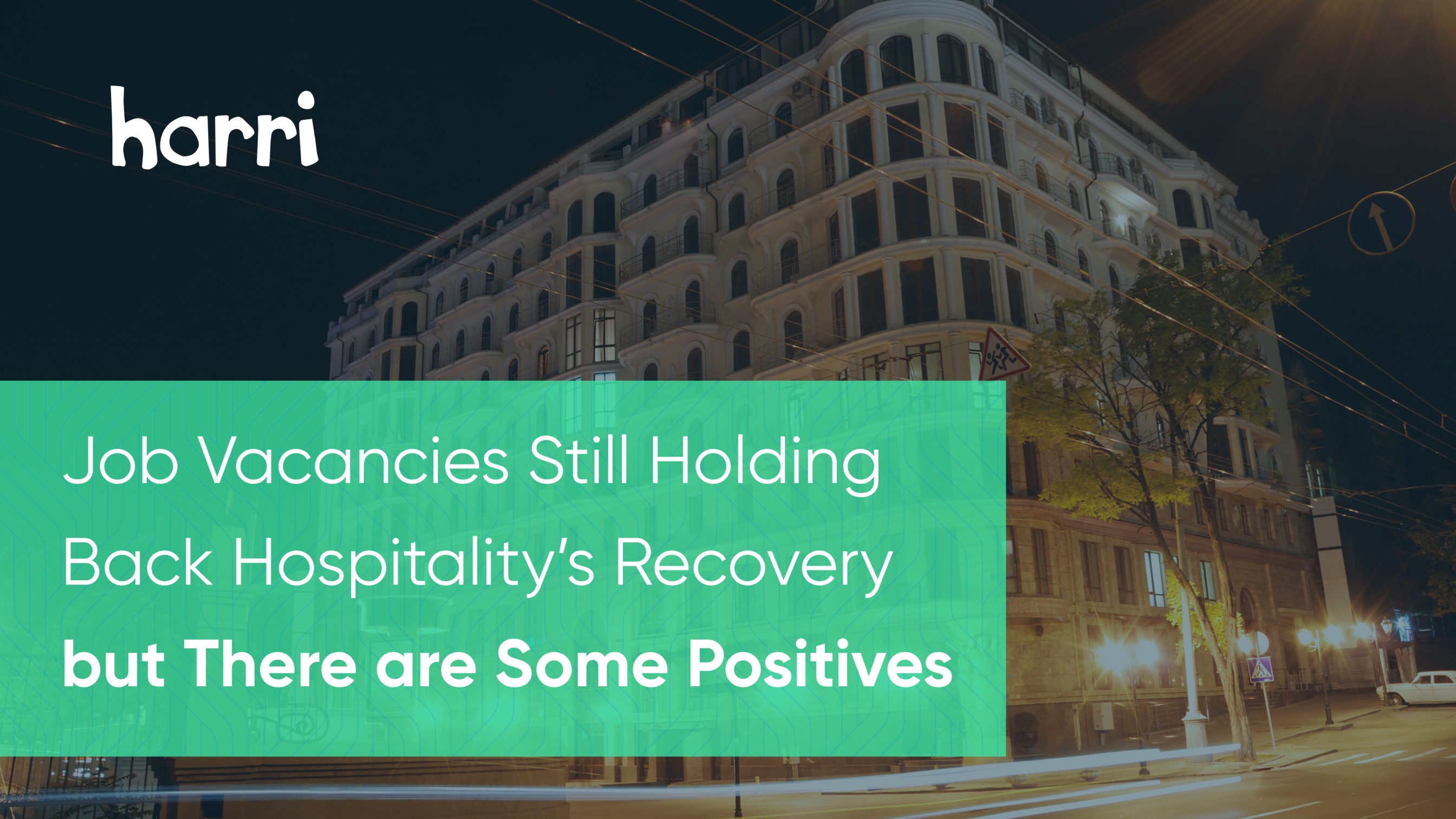 Staff shortages continue to be a major problem for hospitality businesses, and the knock-on effects are being felt by the whole sector.
Here we explore the extent of the staffing crisis, whilst also looking for some glimmers of hope that things will get better before too long…
The latest data from the Office for National Statistics revealed there were 174,000 unfilled jobs in hospitality between March and May this year – a new record and an increase of 8,000 on the previous quarter. A new report, UK Hospitality's Next Challenge, produced by Barclays Corporate Banking, suggests businesses are finding it hardest to recruit for front-of-house, cleaning and delivery roles.
The report, based on a survey of 605 senior managers from hospitality and leisure firms with 10 or more employees, found that 94% of businesses are struggling to fill gaps in rotas. Of those surveyed, 20% listed cleaning roles as being hardest to fill, 18% listed front-of-house roles as "causing the most issues", while 16% are struggling to recruit for delivery positions. 
Almost a fifth (16%) of bars and restaurants said they were finding it difficult to hire waiting staff, while 14% said they were finding it hardest to recruit chefs and kitchen staff. Difficulties finding staff with environmental, social and governance (ESG) expertise were reported by 18% of restaurants.
Another survey organised jointly by UKHospitality (UKH), the British Institute of Innkeeping (BII) and the British Beer & Pub Association (BBPA) found that 81% of operators are looking to fill vacancies in front-of-house roles, 76% are looking to recruit chefs, 67% kitchen porters and 53% assistant managers.
Staff shortages have caused almost half (45%) of operators to cut trading hours or capacity in order to cope, according to the joint survey by UKH, BII and the BBPA.
The survey showed staff shortages have reached a critical level, forcing one in three hospitality businesses to close one or more days a week. Another effect of the staffing crisis has been on training: while almost 90% of hospitality managers believe investment in training would help recruit and retain staff, many are reluctant to do so because of the perceived time investment, according to research by HIT Training.
Harri's own 'Working in Hospitality' survey – carried out in conjunction with CGA and forming the basis of our Transforming the Employee Experience in Hospitality report – found that good training is a big want for employees.
However, current provision appears to be falling below expectations, with more than a third of employees saying either that it has been too basic (30%) or too long (7%), while only a quarter were very satisfied that their training had left them confident to fulfil a role to the best of their ability. 
Almost 90% (according to HIT research) of employees state they would be more likely to stay in a role longer if their employer invested in training from the outset. Worryingly, three-quarters of all hospitality managers surveyed said they were concerned about the time it takes to train and the knock-on impact on customer service and pressure on other staff.
But there is some reason for optimism…
Barclays' survey found that more than three-quarters (77%) of operators are confident of growth this year and predicted an average 30.5% uplift in revenue compared with pre-pandemic levels. 
This equates to a £36bn rise in annual turnover over 2019, and a £54bn increase on 2021. Profit margins are now at 41.3% on average, compared to 39.1% pre-pandemic.
What's more, out-of-home food and drink sales grew in all 10 of the country's biggest city centres over the four weeks to June 4, according to research from CGA and Wireless Social. The latest Top Cities report shows sales were between 1% and 13% higher than in the corresponding four-week period in 2019 in each city.
This is the first time all 10 cities have been in growth since the first report at the beginning of 2022, with sales growing in London for the first time since the start of the pandemic. 
Barclays also found that the situation for workers is improving as employers put up pay in a bid to attract and retain talent. Employers are also introducing new incentives, including permanent flexible working arrangements (by 23% of businesses) and increases in staff welfare budgets and signing-on bonuses (both 22%). 
Almost one in five employers (19%) have increased staff wages this year, with senior managers getting an average increase of 7.7% (equivalent to £2,014 a year for a full-time worker). Delivery riders and drivers have received an average pay rise of 7.5%, equivalent to £1,616 per year for a full-time worker.
Wages have increased by an average of 7.4% for housekeeping staff (£1,642), 7.3% for bar staff (£1,145) and 7.3% for finance staff (£1,936). Kitchen staff have been given a 6.9% rise on average, equivalent to a salary bump of £1,196 for a full-time role.
So, labour costs are on the rise as businesses try to attract staff with higher salaries, and added to that are increasing supplier and utility costs. In fact, the joint UKH, BII and BBPA survey found that the biggest factors facing operators are the rising costs of energy (74%), goods (55%) and labour (54%), with the three organisations warning that only 37% of hospitality businesses are currently turning a profit.
Meanwhile, Barclays' report reveals that restaurants' utility bills have already increased, on average, by 37% year-on-year.
Times are certainly tough, and one thing you can do without is wasting money on recruitment by either taking on the wrong person, or losing talented workers in a fiercely competitive labour market. That's where Harri's all-in-one HCM platform comes in – helping you avoid costly mistakes when it comes to finding and retaining staff.
Our talent acquisition suite will enable you to rapidly attract, source, and onboard best-match candidates for your vacancies, so you can get back to running at full capacity as soon as possible.
What's more, our smart scheduling platform will enable you to deploy your team in the most efficient way, while our communications tools help keep everyone in touch, motivated and working as one to bring your customers the best experience possible.